There are dire psychological consequences.
02 August 2018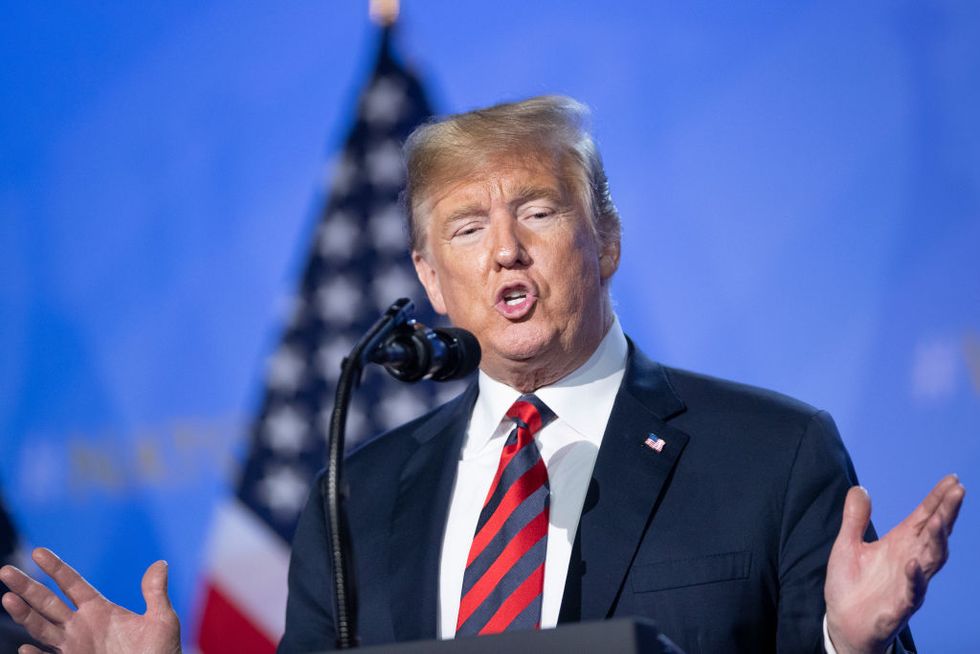 BRUSSELS, BELGIUM - JULY 12: U.S. President Donald Trump gestures during a news conference at the 2018 NATO Summit at NATO headquarters on July 12, 2018 in Brussels, Belgium. Leaders from NATO member and partner states are meeting for a two-day summit, which is being overshadowed by strong demands by U.S. President Trump for most NATO member countries to spend more on defense. (Photo by Jasper Juinen/Getty Images)
The Trump administration has recently come under fire for its policy of forcibly separating children from their parents. Although Trump issued somewhat of a mea culpa, by signing an executive order ending his own administration's policy of forcible separation, the damage was still done.
Through the executive order, Trump is basically ordering that the policy that children be separated from their undocumented parents be replaced with a policy that entire families would be detained, despite previously asserting that "you can't do it by executive order."
Prior to the initial policy, no law existed requiring the separation of children from their parents. Now, his attempt at a face-saving executive order still has the potential to cause emotional, physical, and psychological damage to these children, even when detained with their parents.
"So we're going to have strong — very strong borders, but we're going to keep the families together. I didn't like the sight or the feeling of families being separated," said Trump.
Many medical groups denounced the initial policy, calling it traumatic, with the potential to cause toxic stress and irreversible harm to brain development. Numerous photos were released depicting the psychological effect of the policy on the separated children—photos showed children visibly upset and crying. Many children separated under the initial policy have yet to be reunited with their parents, meaning that sustained psychological damage continues to exist. According to CNN, a court order initially mandated that all children separated by Trump's policy were to be reunited by July 26th. After that deadline passed, a third of separated children had yet to be returned to their families, with no plan for reunification in sight,
"Any forced separation is highly stressful for children and can cause lifelong trauma, as well as an increased risk of other mental illnesses, such as depression, anxiety, and post-traumatic stress disorder," said Dr. Altha Stewart of the American Psychiatric Association. "Many families crossing the United States border are fleeing war and violence in their home countries and are already coping with the effects of stress and trauma. These children deserve our protection and should remain with their families as they seek asylum."
Dr. Colleen Kraft, president of the American Academy of Pediatrics, spoke out against the policy when it was first announced. Staff had told Kraft that they were not allowed to physically comfort the children.
"We know that separation of children from loving caregivers promotes something called toxic stress in their brain. There are certain patterns of stress that result in disruptions of brain architecture in children and can result in young children in developmental delays," she said.
Dr. Ana María López, president of the American College of Physicians, also highlighted some of the physical repercussions of the forced separation.
The lifetime impacts range from behavioral problems and mental health trauma to a person's physiology.It can raise the risk of chronic illness — cardiovascular disease and even cancer. From a health perspective this approach is really hurtful and damaging to families," she said.
Even though Trump has issued an executive order to end his own policy, the damage has still been done to the children who were separated from their parents. Many advocates are claiming that the executive order is still a no-win piece of legislation that will further traumatize the minors already separated from their families.
"First, there are more than 2,000 children already separated from their parents; the executive order does nothing to address that nightmare. Second, this executive order effectively creates family prisons, which we already know are a threat to the well-being of children," said Michelle Brané, director of the Migrant Rights and Justice Program at the Women's Refugee Commission.
"The president doesn't get any Brownie points for moving from a policy of locking up kids and families separately to a policy of locking them up together. Let's be clear: Trump is making a crisis of his own creation worse." said Karen Tumlin, director of legal strategy at the National Immigration Law Center.
Keep reading...Show less