Representative Ruben Gallego told MSNBC Senator Sinema was 'nowhere to be found' when it came to helping campaign for her fellow Arizona Democrats.
14 November 2022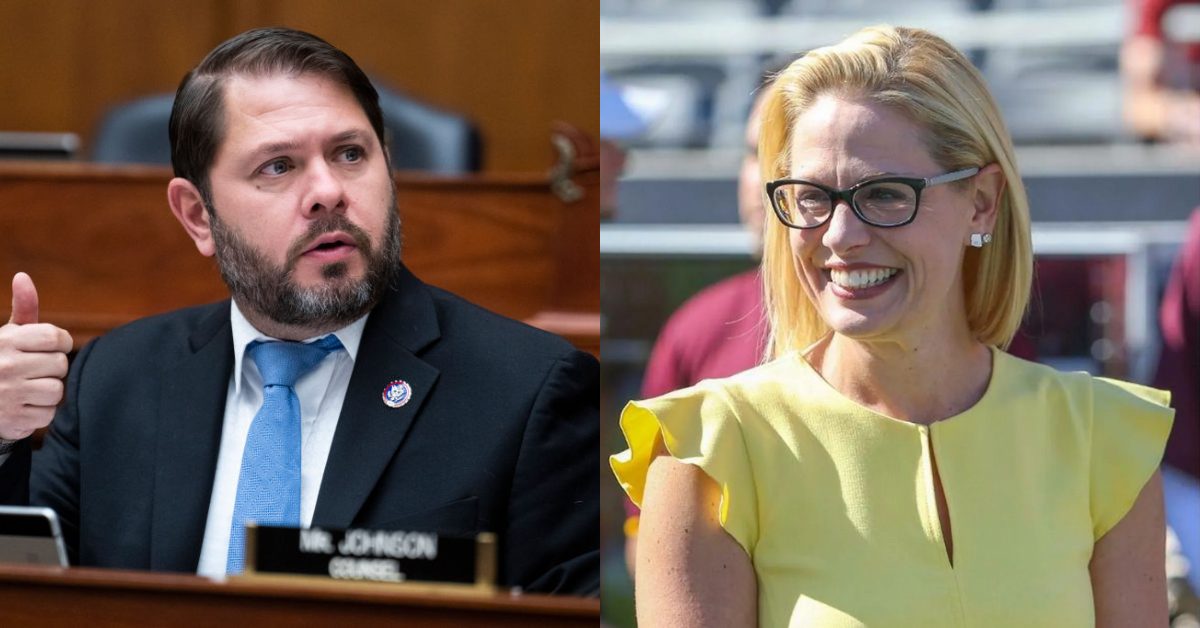 Tom Williams/CQ-Roll Call, Inc via Getty Images; Icon Sportswire/Getty Images
In an interview with MSNBC, Arizona Democratic Representative Ruben Gallego said that Arizona Democratic Senator Kyrsten Sinema had done "nothing" to help Arizona candidates ahead of the midterm elections.
Gallego said Sinema was "nowhere to be found" when it came to helping campaign for her fellow Arizona Democrats and that no one saw her "at one public event for anybody."
He added that Sinema—who has been repeatedly accused of obstructing her own party's agenda—"only cares about herself," a sign that she has continued to fall out of favor with the party at large.
You can hear what he said in the video below.
Gallego said:

"This year, the reason Democrats won is because we fought together as a party."
"I was out there campaigning for every Democrat in Arizona. I was personally donating money, raising money for them, for our Senators, for everyone up and down the ticket."
"We fought as a team in Arizona and we won. Senator Sinema was nowhere to be found at all."
"We did not see her at one public event for anybody and when we have some of these races that are in the mix right now, she could have been a very good surrogate to help out a lot of our candidates and she did nothing."
"Because she only cares about herself."
"She doesn't care about how this would help us take control of the Senate. She actually predicted that we would lose control of the Senate in front of [Senate Minority Leader] Mitch McConnell while she was getting an award from him."
Gallego referred to a widely derided speech Sinema gave in September praising McConnell during an appearance at the McConnell Center at the University of Louisville, saying she has forged a friendship with him "rooted in our commonalities," their "pragmatic approach to legislating" and their "respect for the Senate as an institution."
Sinema's remarks were soon savaged by left-wing news outlets, which pointed out that she initially embarked on a career defined by progressive advocacy.
Gallego's remarks are the second time he has openly criticized Sinema in the last week.
As results continued to roll in on the night of the elections, Gallego sarcastically thanked Sinema "for all your help this year" after she posted a tweet in which she expressed her support for Democratic values.
Many have echoed his criticisms of Sinema, who has continued to distance herself from her party and has been subject to speculation that she will one day caucus with Republicans.
Sinema began her political career in the Arizona Green Party and rose to prominence for her progressive advocacy, supporting causes such as LGBTQ+ rights and opposing the war on terror. She left the Green Party to join the Arizona Democratic Party in 2004 and was elected to a seat in the United States House of Representatives in 2012.

After her election, she joined the New Democrat Coalition, the Blue Dog Coalition and the bipartisan Problem Solvers Caucus, amassing one of the most conservative voting records in the Democratic caucus.
When Sinema won the 2018 Arizona Senate election, her victory was well-regarded, perceived as a win for progressives and for the LGBTQ+ community, who acknowledged that she is the first openly bisexual and the second openly LGBTQ+ woman (after Tammy Baldwin) to be elected to both chambers of Congress.
Opinions on Sinema have soured however as she continues to face accusations of obstructing Democratic President Joe Biden and the Democrat-controlled Senate from enacting legislative accomplishments.
Last year, President Biden was forced to meet several times with Sinema and West Virginia Democratic Senator Joe Manchin—a moderate who faces similar criticism—after they balked at the size of a major spending bill designed to respond to the climate crisis, invest in infrastructure, and expand education, healthcare and childcare.
Sinema was also publicly criticized by CNN commentator Don Lemon, who ripped her for commemorating Dr. Martin Luther King Jr. Day despite undermining Democrats' attempts to pass voting rights reform.