The perfect campaign ad.
10 September 2019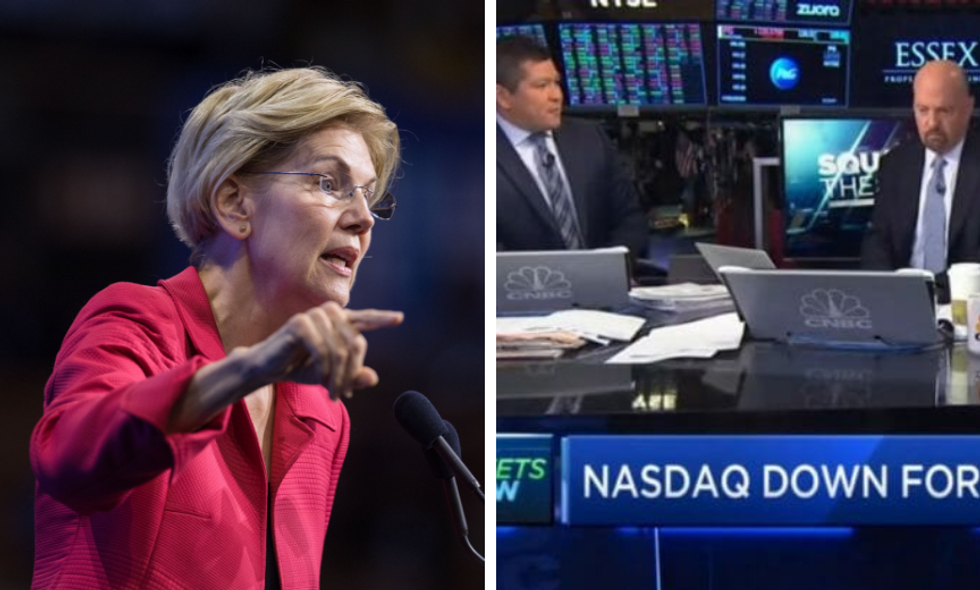 Getty Images/CNBC
Video footage of a CNBC panel discussing banking and a certain 2020 presidential candidate made waves on social media.
When it comes to average voters, a big bank CEO's opposition to a candidate is often more beneficial than the CEO's endorsement.
TV Personality and financial commentator Jim Cramer spoke with other financial experts on the panel and they agreed unanimously, Big Banks want anyone but Senator Elizabeth Warren (D-MA).
Watch the exchange here.
"She's got to be stopped." Jim Cramer and a @CNBC panel discuss Wall Street executives being absolutely terrified… https://t.co/8qHrgLgMti

— Adam Best (@Adam Best) 1568136250.0
Cramer called Warren "a champion of the left wing for her bank-bashing and wealth-taxing proposals," and he's got a point. In a Senate hearing, Warren once told an infuriated Wells Fargo CEO to his face that he should be fired. Policy-wise, she's called for a wealth tax and for greater restrictions on Wall Street.
Warren wrote in a Medium essay:
 "To raise wages, help small businesses, and spur economic growth, we need to shut down the Wall Street giveaways and rein in the financial industry so it stops sucking money out of the rest of the economy."
Considering the often predatory greed of big bank CEOs and giant corporations, that lack of endorsement was viewed as a positive rather than a negative.
@jbouie "Liz Warren: A sub-optimal situation for the banks"

— Ted Houser (@Ted Houser) 1568141665.0
@jbouie @TVietor08 If they dont want her..it makes me want her more

— Dan w (@Dan w) 1568147670.0
It was even suggested Warren could use the comments as a campaign ad.
this honestly watches like it was made by a PAC on elizabeth warren's behalf https://t.co/jmxH0AJrd1

— b-boy bouiebaisse (@b-boy bouiebaisse) 1568140007.0
@jbouie Between this and "nevertheless she persisted" I'm marveling at how Warren provokes her enemies into giving her good media.

— Nied (@Nied) 1568140111.0
@jbouie This is a profound endorsement of Warren's effectiveness. The campaign has to put this their advertising.

— Al Cohen (@Al Cohen) 1568141297.0
@jbouie Man, I bet Warren's real bummed she's lost the Jim Cramer fanboy demo. Tough blow to the campaign.

— Drew Gibson (@Drew Gibson) 1568140226.0
@jbouie The way they all laugh when he says "we had the least income inequality in the 50s and 60s" as if that outcome was a joke. Wow.

— Justin Anderson-Weber (@Justin Anderson-Weber) 1568140181.0
@jbouie @AJentleson I need this on a loop. Watching rich men talk about the squirming of richer men at the prospect… https://t.co/ZbinYaWZQ7

— William Scot Grey (@William Scot Grey) 1568141359.0
And Warren wholeheartedly agreed:
I'm Elizabeth Warren and I approve this message. https://t.co/2Ewkbm0ZwA

— Elizabeth Warren (@Elizabeth Warren) 1568151574.0
As of Tuesday September 10, 2019 it is 419 days until the 2020 presidential election.
Senator Elizabeth Warren's book This Fight Is Our Fight: The Battle to Save America's Middle Class is available here.
********
Listen to the first four episodes of George Takei's podcast, 'Oh Myyy Pod!' where we explore the racially charged videos that have taken the internet by storm.
Be sure to subscribe here and never miss an episode.
Keep reading...Show less