Lindsey Graham went on Hannity amid Donald Trump's Fulton County, Georgia RICO indictment to claim that Trump's fate should be decided 'at the ballot box,' and everyone had the same response.
15 August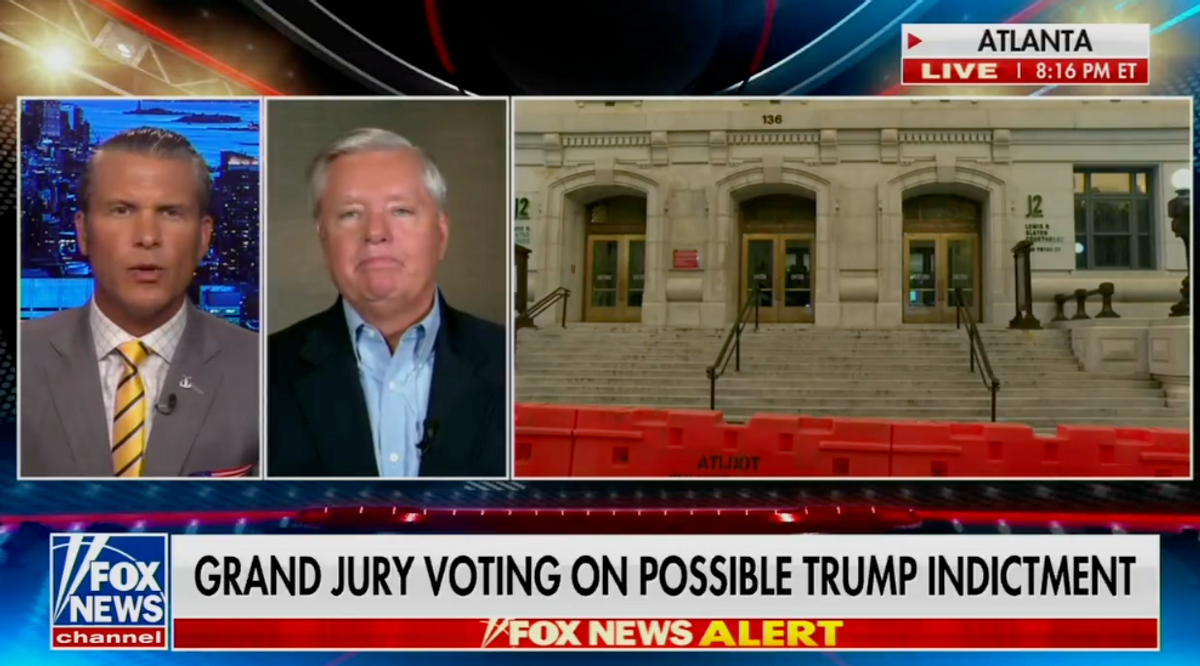 Fox News
South Carolina Senator Lindsey Graham had a lot to say in Trump's defense in light of his fourth indictment yesterday, this one charging him with racketeering and coercion in connection with his attempts to overturn the 2020 Georgia election, but Graham's defense had little to do with reality.
Graham appeared on Fox News last night and said that the mounting charges against Trump were "unfair" and claimed that prosecutors were trying to use the law to influence the outcome of the 2024 election.
Graham condemned the indictments with a bizarre defense:
"The American people can decide whether they want him to be president or not. This should be decided at the ballot box, not a bunch of liberal jurisdictions trying to put the man in jail."
You can view a clip of Graham's interview with host Pete Hegseth below:
Graham apparently completely failed to see the irony in his statement: The American people did decide at the ballot box — Trump's refusal to accept their decision, and everything he did to try to overturn it, is what led to nearly all of his current criminal charges.
A whole lot of people on social media pointed out that irony for Graham.
In this most recent indictment, Trump was far from the only one charged. Among the 19 defendants named in the criminal complaint were many well-known Trump attorneys and political allies such as Rudy Giuliani, Sidney Powell, John Eastman, and Kenneth Chesebro, as well as many others.
During a press conference late Monday night, Georgia District Attorney Fani Willis called the whole thing a "criminal conspiracy" with the "illegal goal of allowing Donald J. Trump to seize the presidential term of office beginning on Jan. 20, 2021."
She continued, asking that the defendants surrender themselves and giving a deadline:
"The grand jury issued arrest warrants for those who are charged. I am giving the defendants the opportunity to voluntarily surrender no later than noon on Friday the 25th day of August 2023."
Whether Trump and the others named in the complaint will surrender before August 25 remains to be seen. Either way, Trump is going to be even busier trying to make it to all of his required court appearances as these trials unfold over the next year.