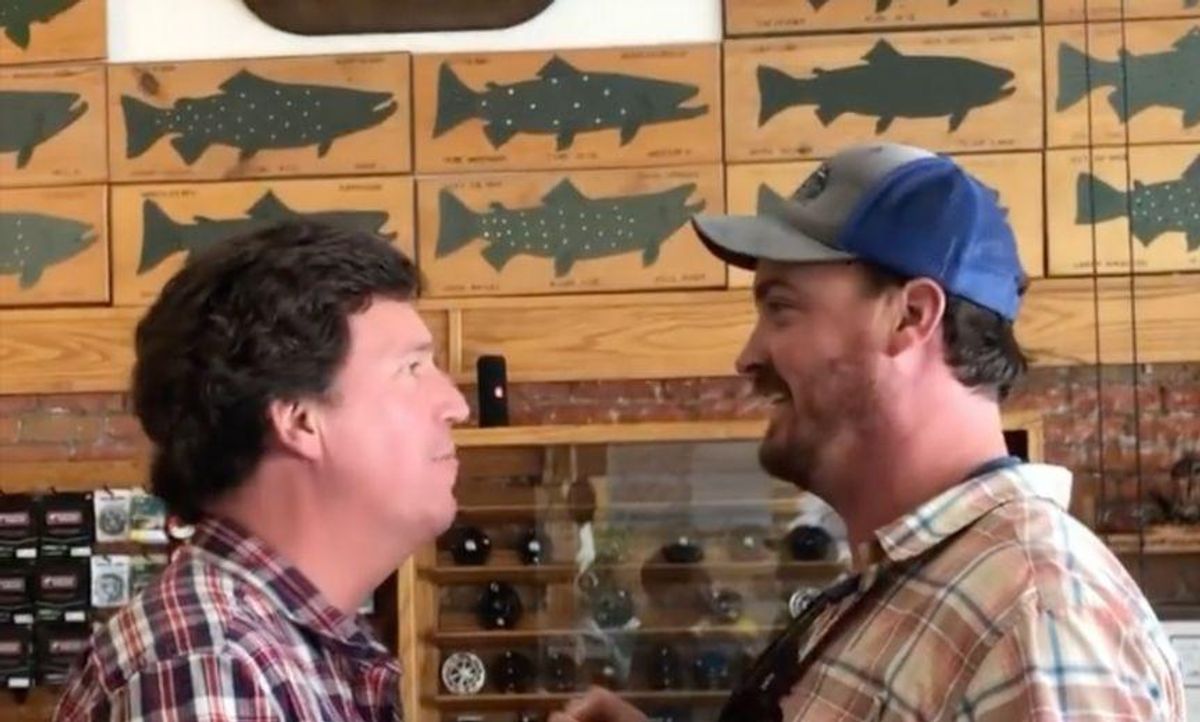 danbaileymt/Instagram
Far-right Fox News host Tucker Carlson constantly broadcasts racist conspiracy theories and medical disinformation to millions of viewers each night. His on-air callouts often lead to harassment, even if his segments have no basis in fact.
So people applauded a Montana man, Dan Bailey, who went viral this week for confronting Carlson in a bait and tackle shop, shaming him for how he's used his platform.
Watch below.
Bailey said to Carlson:

"You are the worst human being known to man. I want you to know that."
In an Instagram post, he continued:
"This man has killed more people with vaccine misinformation, he has supported extreme racism, he is a fascist and does more to rip this country apart than anyone that calls themselves an American."
Fox News issued a statement in response to the confrontation, with a spokesperson saying:
"Ambushing Tucker Carlson while he is in a store with his family is totally inexcusable — no public figure should be accosted regardless of their political persuasion or beliefs simply due to the intolerance of another point of view."
But Carlson's on-air diatribes constantly result in the harassment of whichever target he selects, be they a Capitol Police Officer or a female tech reporter.
Carlson even encouraged Americans to confront those who wore masks outside in public:
"So the next time you see someone in a mask on the sidewalk or on the bike path, do not hesitate. Ask politely but firmly, 'Would you please take off your mask? Science shows there is no reason for you to be wearing it. Your mask is making me uncomfortable."
People weren't here for Carlson's—or Fox's—hypocrisy.
A Fox News camera crew once staked out the stoop of my apartment building in DC and screamed questions at me with a… https://t.co/6LQOMGi05c

— Ben Rhodes (@Ben Rhodes) 1627259491.0
Setting an angry mob on some random college professor for being too woke or something is perfectly acceptable howev… https://t.co/wU512rrxag

— Schooley (@Schooley) 1627252746.0
The Fox position is that it's only permissible to accost and ambush college profs who irked Jesse Watters - or pare… https://t.co/EwjjN7t4cl

— David Frum (@David Frum) 1627304738.0
Hahahaha you have entire segments on your most popular shows that do literally that https://t.co/oG2fRLOQNQ

— Ken Tremendous (@Ken Tremendous) 1627258879.0
He urged viewers to accost mask-wearers on the street, and to call child protective services on parents who mask up… https://t.co/QXE1A4myEa

— Jan Wolfe (@Jan Wolfe) 1627258600.0
This is total BS. Jesse Watters waited outside my house, followed me when I left my driveway, and accosted me with… https://t.co/L2nicQchWP

— Vivian Schiller (@Vivian Schiller) 1627257024.0
Umm..,@FoxNews loves ambush interviews so much they gave twit @JesseBWatters his own show. https://t.co/2sxbTUdr2j https://t.co/ZXvlkvotNM

— stuart stevens (@stuart stevens) 1627265342.0
People applauded Bailey's strong condemnation.
INJECT THIS STRAIGHT INTO MY VEINS https://t.co/ZwJKyMzAn0

— Brett Meiselas (@Brett Meiselas) 1627176661.0
In caption form… this will never get old! https://t.co/V2wJDzxRrb

— Lisa Drew (@Lisa Drew) 1627184251.0
when i grow up i want to be Montana Man https://t.co/b2jOqZaceW

— Captain Jordy (@Captain Jordy) 1627175687.0