A fight over supplementation of vitamin A makes it to the federal court of appeals.
14 November 2017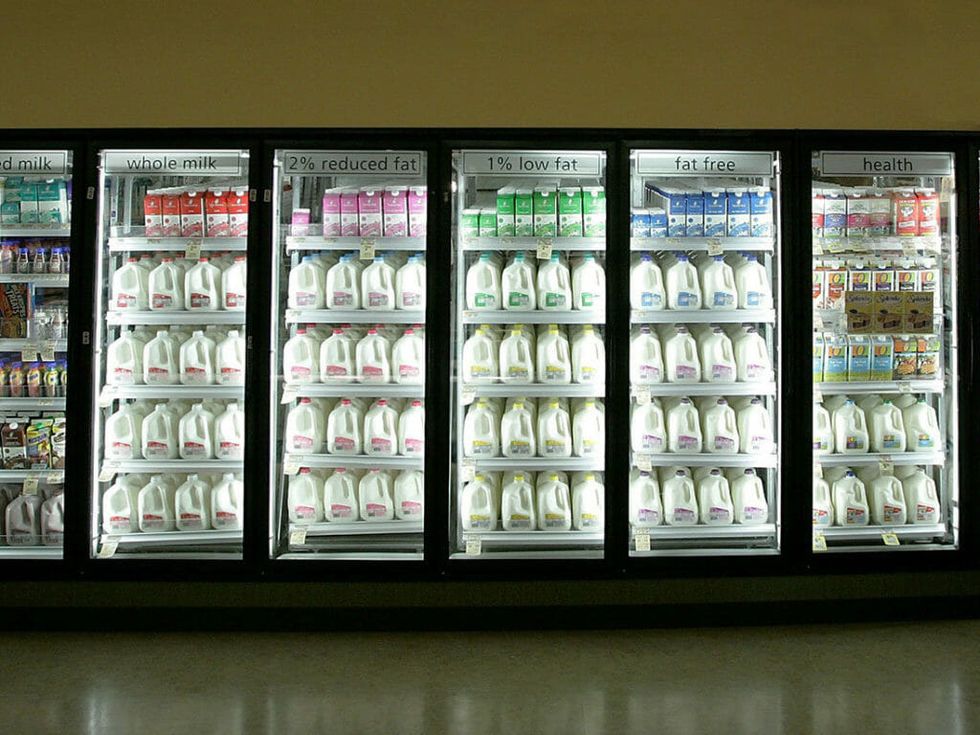 LIVERMORE, CA - JULY 18: A Safeway customer shops for milk at Safeway's new "Lifestyle" store July 18, 2007 in Livermore, California. Safeway unveiled its newest Lifestyle store that features numerous organic and natural foods as well as expanded produce, meat, seafood and floral departments. The store also offers freshly made desserts and baked goods, a coffee roaster, a fresh nut bar and wine section with over 2,000 wines, some of which are stored in a climate controlled wine cellar. (Photo by Justin Sullivan/Getty Images)
Those who don't consider fat-free milk to be "real" milk may sympathize with Florida: The Sunshine State just lost $437,000 in a battle to rename a dairy's skim milk "imitation milk."
Back in 2011, the state Department of Agriculture claimed a small, family-run creamery was being deceptive when it labeled its skim milk "skim milk." Not because it didn't contain milk, but because it refused to add vitamin A.
Under state and federal law, the Department of Agriculture argued, skim milk must contain the same nutritional value as whole milk in order to be labeled "milk." Because vitamin A is contained in milk fat, skim milk—whose milk fat has been removed—needs vitamin A to be added back in.
Florida pays nearly $437,000 after losing skim milk battle: https://t.co/Ot1AGRFjyS

— NBC 6 South Florida (@NBC 6 South Florida) 1508772034.0
Most large commercial dairies add vitamin A just before packaging. A note on the Organic Valley co-op's website reads: "We are required by law to add vitamin A to all of our skim/fat free/nonfat milk, lowfat milk and reduced-fat milk. This is because vitamin A is 'fat soluble,' so you lose vitamin A content when you reduce fat in fluid milk."
However, the dairy in the Florida case, Ocheesee Creamery, 50 miles west of Tallahassee, Fla., refused to supplement its skim milk, claiming it didn't want to add ingredients to a natural product. ("We're stepping back in time," reads its website.) Instead of complying with the state Department of Agriculture's labeling request, it poured thousands of gallons of skim milk down the drain.
In November 2014, Ocheesee owner Mary Lou Wesselhoeft, represented by the nonprofit Institute for Justice, filed a free-speech lawsuit against Florida's Department of Agriculture and Agriculture Commissioner Adam Putnam, claiming her creamery was censored in not being able to call its milk "skim."
"All Mary Lou wants to do is sell skim milk that contains literally one ingredient — pasteurized skim milk — and label it as pasteurized skim milk,"Institute for Justice lawyer Justin Pearson said in a release.
In 2016, Wesselhoeft lost her case and appealed to the 11th Circuit Court of Appeals, which subsequently ruled in her favor.
"The State was unable to show that forbidding the Creamery from using the term 'skim milk' was reasonable," the three-judge panel wrote in its ruling, noting that the milk could have simply been labeled with a disclosure that it does not contain vitamin A.
In September 2017, the panel ruled that the state of Florida was to pay all legal fees in the case: $437,000.
Adam Putnam costs Florida 1/2 a million $$ due skim milk lawsuit stupidity He obviously does not have common sense https://t.co/6Eu3m9gyOb

— Le Chat Biden Democrat (@Le Chat Biden Democrat) 1509125602.0
Since 2011, the state has paid more than $20 million to cover expenses and fees for lawyers who have sued the state.
"[The case vindicated] Mary Lou's right to resume her skim milk sales with an honest label," reads an article on the case on the Institute for Justice. Today, Mary Lou is selling skim milk again, and she was never forced to betray her principles."
As for haters of skim milk, however, the ruling was seen more as a disappointing legitimization rather than a victory for civil rights. Lamented one commenter: "Just call it whitewash and be done."
Keep reading...Show less