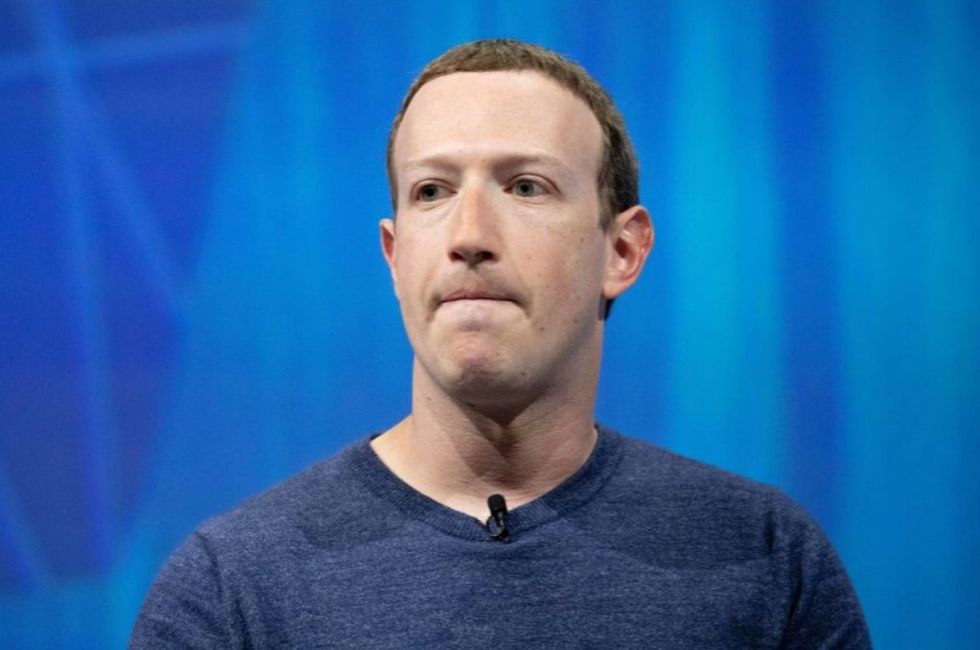 Mark Zuckerberg, chief executive officer and founder of Facebook Inc. attends the Viva Tech start-up and technology gathering at Parc des Expositions Porte de Versailles on May 24, 2018 in Paris, France. (Photo by Christophe Morin/IP3/Getty Images)
On July 31, via their online newsroom, Facebook Head of Cybersecurity Policy, Nathaniel Gleicher, announced:
About two weeks ago we identified the first of eight Pages and 17 profiles on Facebook, as well as seven Instagram accounts, that violate our ban on coordinated inauthentic behavior."
The announcement by Gleicher falls under a subheading of "What We've Found So Far" in Facebook's full announcement, "Removing Bad Actors on Facebook." According to the announcement:
"Today we removed 32 Pages and accounts from Facebook and Instagram because they were involved in coordinated inauthentic behavior. This kind of behavior is not allowed on Facebook because we don't want people or organizations creating networks of accounts to mislead others about who they are, or what they're doing."
"We're still in the very early stages of our investigation and don't have all the facts — including who may be behind this," the announcement states. "But we are sharing what we know today given the connection between these bad actors and protests that are planned in Washington next week."
It's clear that whoever set up these accounts went to much greater lengths to obscure their true identities than the Russian-based Internet Research Agency (IRA) has in the past... We face determined, well-funded adversaries who will never give up and are constantly changing tactics."
Facebook reported that "more than 290,000 accounts followed at least one of these [8] Pages" with four seemingly liberal leaning —"Aztlan Warriors," "Black Elevation," "Mindful Being," and "Resisters"— pages having the bulk of followers while the remaining four had 0-10 followers. The pages also made 9,500 posts, bought 150 ads worth $11,000 and created 30 events.
Examples of posts from pages removed by Facebook July 31, 2018. (Facebook)
"Resisters" created a counter-protest slated for Washington DC on August 10-12 then invited five legitimate groups to join them. Facebook took the event down and notified the other pages and is in the process of notifying those individuals who indicated "Going" on the event page.
The removed event centered on a planned "Unite the Right 2" rally that weekend in the nation's capital. Efforts to amplify the "Abolish ICE" message were also found in the "coordinated political influence campaign."
Resisters event removed by Facebook (Facebook)
The cybersecurity team shared their findings with "US law enforcement agencies, Congress, other technology companies, and the Atlantic Council's Digital Forensic Research Lab." Back in May, Facebook announced partnering with the Atlantic Council to "prevent our service from being abused during elections."
According to congressional sources, in a series of briefings on Capitol Hill, Facebook officials stated they "found evidence of some connections between these accounts" and accounts run by Russian hackers and intelligence officers during the 2016 presidential campaign.
"Resisters" interacted with one of the Russian Internet Research Agency accounts —already disabled by Facebook— back in 2017. The latest batch of "bad actors" activities contained similarities to the Internet Research Agency, but disguised their efforts better using VPNs, internet phone services and third parties to purchase their ads.
This latest campaign focused again on divisive social issues, like the Russian interference campaign did in 2016 —fomenting discord in United States politics and the Brexit campaign in the United Kingdom.
While Facebook's announcement frequently pauses to emphasize their increased efforts in cybersecurity since the Brexit and U.S. presidential interference, people online are critical of the breach reaching the level it did. A sentiment they expressed online.
Judd Legum, founder of ThinkProgress cited not only Facebook's breaches...
1. Facebook vacuums up all your personal information and sells it to the highest bidder. But wait, there is more!… https://t.co/LrX0MjOjbx

— Judd Legum (@Judd Legum) 1533055350.0
...but also their failure to remove misinformation from known sources like Alex Jones and InfoWars...
2. And I haven't even gotten to the COMMUNITY. You can connect with great people like ALEX JONES and brands like I… https://t.co/lYeCxgkIZl

— Judd Legum (@Judd Legum) 1533055616.0
...and their relationship with Fox News...
3. Facebook also is funding quality content from TRUSTED NEWS SOURCES. For example it is paying for Fox News to pr… https://t.co/GmPQA2Zwvw

— Judd Legum (@Judd Legum) 1533056048.0
...and the minimal investment, $11,000, to influence 290,000 accounts directly and all of the people those accounts influence...
4. Facebook emphasizes the small dollars spent on these influence campaigns. But this is actually the point. They… https://t.co/Sm4le5Z0cP

— Judd Legum (@Judd Legum) 1533056553.0
...and the importance of accurate information.
5. Remember about HALF of all U.S. adults get their news from Facebook So this stuff is a BFD. Facebook's entire… https://t.co/KRxUg4WHrY

— Judd Legum (@Judd Legum) 1533056853.0
To which several people replied, "If you're not paying for it, you're not the customer, you're the product being sold."
The Trump administration has not yet commented on today's confirmation of National Intelligence Director Dan Coats' warnings of an ongoing cyber threat.
Keep reading...Show less