customs and border patrol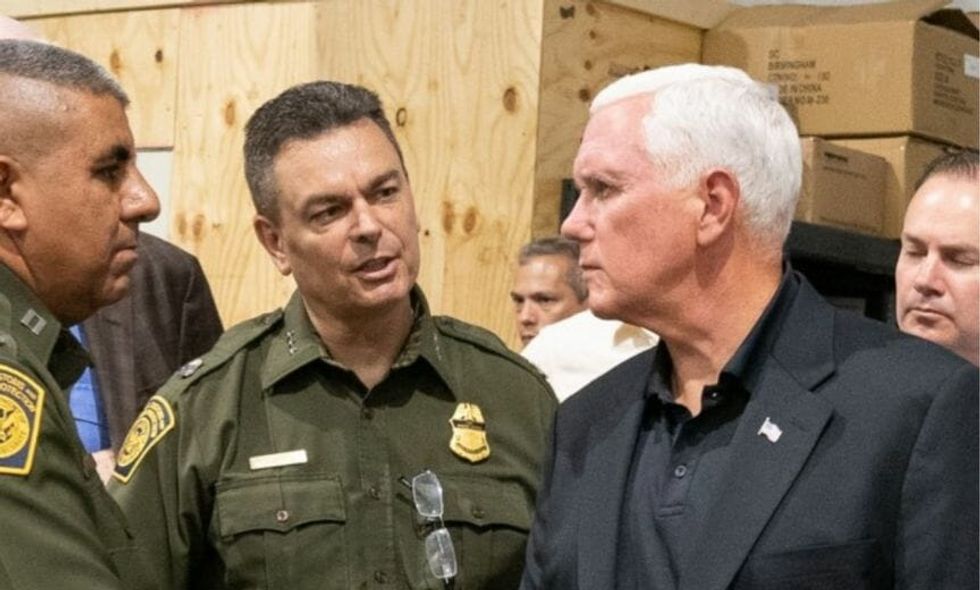 @VP/Twitter
As concerns mount over the inhumane conditions of migrant detention centers across the nation, Vice President Mike Pence visited two border facilities in McAllen, Texas on Friday.
The Vice President soon tweeted about the Donna Processing Center, a two month old tent facility, praising the center's "humane and compassionate care."
Pence, with press pool in tow, was then escorted to the nearby McAllen Border Station. Washington Post reporter Josh Dawsey documented the conditions, which stood in stark contrast to the compassion Pence praised at Donna Processing Center.
The pictures reveal nearly 400 men in a cage so crowded that there wasn't room for all of them to lie down on the stone floor to sleep—let alone room for cots. According to Dawsey, the stench was overwhelming as many of the men hadn't showered or been given toothbrushes in over ten days. They were hungry and gestured to the press to help them.
The press was only allowed in the room for 90 seconds, but that was enough for Dawsey to see the squalor of the facility.
The condition couldn't have been more different than the processing center they'd seen before.
The Vice President's office later offered a statement.
A video of the facility was later released, with many of the migrants wearing face masks to filter the stench.
Pence said of the facility:
"I was not surprised by what I saw. I knew we'd see a system that was overwhelmed."
He later said that the facility is an example of why increased border security is necessary, blaming Democrats for the conditions.
People were horrified by the pictures Dawsey circulated.
The conditions appear similar to those described by Congresswomen Alexandria Ocasio-Cortez (D-NY), Ayanna Pressley (D-MA), Rashida Tlaib (D-MI), and other representatives who visited a detention center in McAllen Texas.
The three testified today before the Congressional Oversight Committee as part of a day-long hearing regarding conditions at the facilities.
Pence ended the day by praising Customs and Border Patrol for its service.
Keep reading...Show less