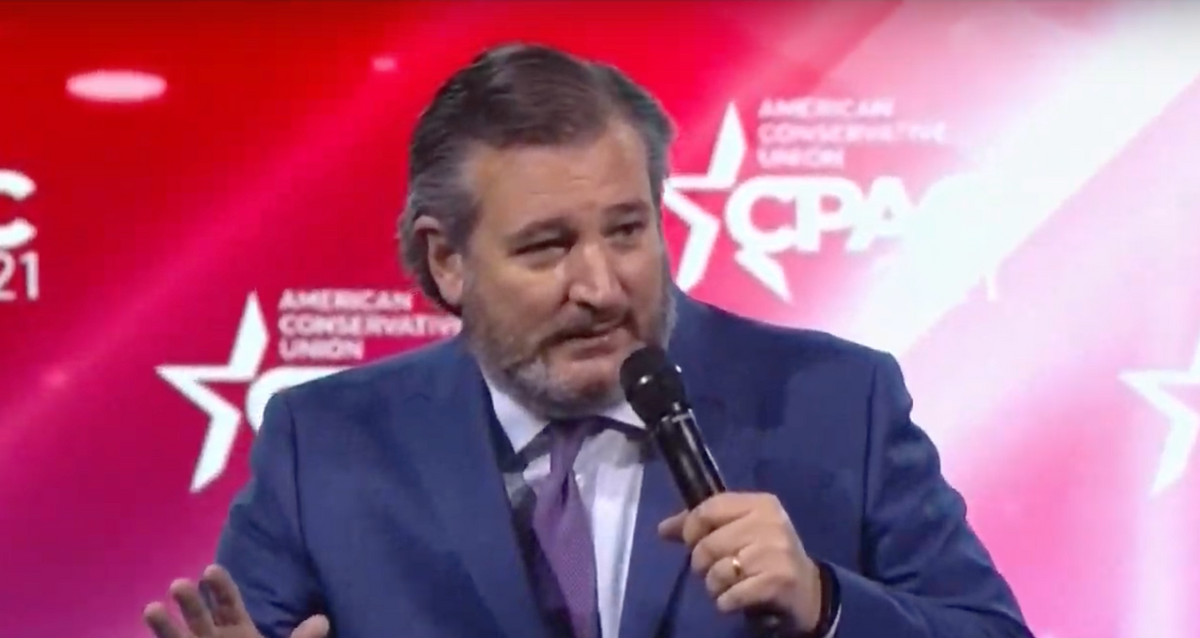 The Sun/YouTube
After widespread criticism for amplifying lies that incited an insurrection and abandoning his state during an emergency, Senator Ted Cruz (R-TX) found something on Friday he'd been looking for all year: a supportive audience.
Cruz found that audience at the Conservative Political Action Conference (CPAC), where he delivered an off-the-rails speech awkwardly invoking Braveheart and mocking safety protocols for the pandemic that's killed over half a million Americans.
But one consistent theme throughout Cruz's speech was the questionable claim that the Republican Party is the party of the working class.
It's a claim whose contradictions are self-evident to those familiar with the party's actions, especially since former President Donald Trump's ascent to the White House.
The party slashed taxes for the rich with their fully throated support of Trump's 2017 tax bill. Cruz, who accused pre-Trump D.C. as "government of the lobbyist by the lobbyists for the lobbyists," received more money from the gun lobby than any other candidate in his 2018 reelection campaign. He's defended oil manufacturers' bids for pandemic relief—manufacturers who happened to be some of his most generous donors.
Cruz welcomed another contradiction when he claimed:

"The Republican Party is not the party just of the country clubs. The Republican Party is the party of steel workers and construction workers and pipeline workers and taxi cab drivers and cops and firefighters and waiters and waitresses and the men and women with calluses on their hands who are working for this country."
The Senator reiterated that the GOP wasn't 'the party of country clubs' on his Twitter account shortly after.
There's just one problem: former President Trump, whom Cruz showered with adoration for much of his speech, owned at least 17 golf resorts as of 2016, and his chronic golfing throughout his presidency was widely condemned by his critics.
Oh, and—as people pointed out—Trump lives in his favorite country club: Mar-a-Lago, less than 250 miles from where Cruz was speaking.
Twitter users didn't hesitate to point this out to Cruz.
Others pointed to the extravagance of other notable Republicans, including Cruz himself.