hoto Essay At The Regional University Hospital Of Lille, Salengro Hospital, Department Of Neurosurgery. (Photo By BSIP/UIG Via Getty Images)
We have all heard horror stories about patients who remember or feel surgeries, even though they were under general anesthesia. While these cases are fairly rare, they shed light on the notion that when it comes to certain general anesthetics, our brains might be in more of a sleep and dreamlike state than previously realized.
Researchers from the University of Turku in Finland have revealed that even under general anesthesia, some parts of the human brain are still able to process sensations from their surrounding environment. This will occur even when the patient cannot recall any of it upon waking.
Keep reading... Show less
Despite some of the most significant advances in brain research in the past decade alone, consciousness — and the brain's role in it — are still areas of constant discovery. As an example, French researchers from the Institut des Sciences Cognitives (ISC) Marc Jeannerod in Lyon, France, were able to revive the brain of a 35-year-old man who had been in a vegetative state for 15 years to a state of minimal consciousness through vagus nerve stimulation (VNS). They published their results last month in the journal Current Biology.
People in a vegetative state still typically breathe on their own and have periods of wakefulness (unlike a coma in which they are unconscious the entire time) but are usually unresponsive to external stimuli and don't communicate. "They don't have a presence in the world," study leader, neurologist Angela Sirigu, told National Geographic. On average, after about a year in a vegetative state, the chances of recovering brain function are quite low, which makes the French patient's improvement remarkable.
Keep reading... Show less
It sounds like a scene from a science fiction movie or spooky Halloween tale: A hospital patient dies, but can hear everything going on around them, including being pronounced dead.
It turns out, this actually happens.
Keep reading... Show less
[DIGEST: NCBI 1, 2 & 3, Science Alert]
Scientists have discovered a giant neuron wrapped around the entire circumference of a mouse's brain. This neuron is densely connected across both hemispheres: So much so that these researchers believe it could finally explain the origins of consciousness. Consciousness relies on connections between all parts of the brain. The connections of this giant neuron center around an area of the brain that has been linked to regaining consciousness, seizure disorders, gender differences in the brain and the perception of time.
Keep reading... Show less
"Skynet for Dummies" via Flickr user Kenny Louie
Dr. Selmer Bringsjord, a researcher at Rensselaer Polytechnic Institute, has programmed Nao robots, simple programmable robots available to the general public, to pass a very simple "self-awareness" test. This is a major landmark in the ongoing quest to discover whether consciousness can reside in mechanical bodies: critical question that philosophers have pondered for centuries, and closely tied to the question of whether humans will some day be able to upload our own consciousness to computers.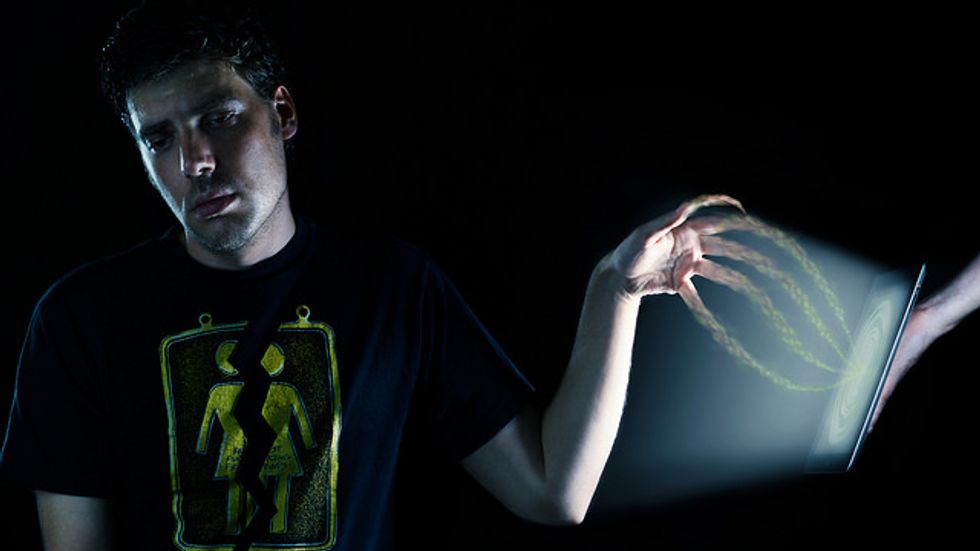 Keep reading... Show less
This article is the second in a series about using technology to overcome the most primal challenges to humanity: disease, aging and death.
When I taught Introduction to Cognitive Science at the University of California, Los Angeles, I put the following thought experiment to my students: Imagine that we could study a single neuron in your brain so well that we know everything about it. We know how it reacts to signals from other neurons, we know how it responds to neurotransmitters and hormones. We know exactly how it affects the rest of your brain and body. And with that knowledge, we build a tiny artificial imitation of that one neuron, and we replace the original neuron with our imitation. Nothing is different about how your body or brain works: as far as everything else in your body is concerned, nothing has changed.
Keep reading... Show less