comey mueller hugging kissing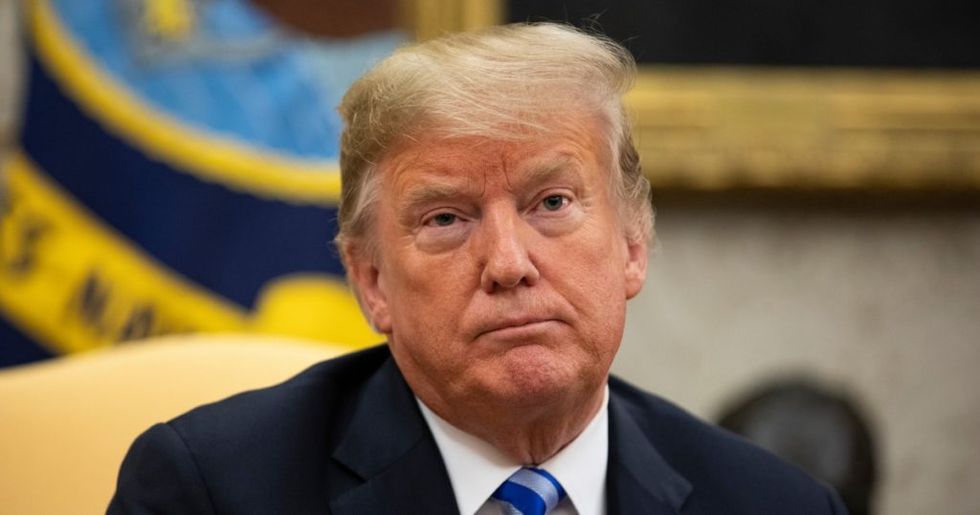 WASHINGTON, DC - SEPTEMBER 05: US President Donald Trump listens to a question as he meets with the Emir of Kuwait Jaber Al-Ahmad Al-Sabah in the Oval Office of the White House on September 5, 2018 in Washington, DC. (Photo by Alex Edelman- Pool/Getty Images)
In his second interview with the Daily Caller in as many days, President Donald Trump on Wednesday boasted that he possessed intimate pictures of former FBI Director James Comey and Special Counsel Robert Mueller, whom the president often claims are "best friends."
Trump was asked if he had interviewed Mueller as a potential FBI director, a position Mueller had previously held under Presidents George W. Bush and Barack Obama.
"I liked him," Trump recalled of Mueller, "but I didn't give him the job."
When pressed on why not, Trump said he had a "business dispute" with Mueller and that "he's Comey's best friend."
Trump then made a stunning claim - that he has pictures of Comey and Mueller "hugging and kissing."
I could give you 100 pictures of him and Comey hugging and kissing each other. You know, he's Comey's best friend.
This occurred moments after Trump had reiterated his belief that Mueller's investigation into Trump-Russia collusion and obstruction of justice is "illegal."
"I view it as an illegal investigation," Trump groaned. "It should've never been started. It should've never been allowed to start." The president added that he is "not the target of this investigation, just in case you don't realize."
I consider it to be an illegal investigation. It should've never been allowed to have happened.
The president also referred to Mueller and his team of prosecutors as "17 angry Democrats," however the typical line of attack is "13 angry Democrats" (Mueller is a life-long Republican).
No one believes Trump has pictures of Comey and Mueller kissing, but here is one of Trump kissing Comey.
Social media remembers a video of Trump and his now TV lawyer Rudy Giuliani embracing - while Giuliani is dressed in drag.
Regardless, Twitter immediately fired back at Trump. Put up or shut up, Mr. President.
Same.
How... why? We have questions.
Ouch.
Others alluded to other ridiculous claims Trump has made.
Like when he said Muslims were cheering in the streets after 9-11.
And the newly released book by Bob Woodward in which administration officials trash the president and his unfitness for office.
And pictures of Trump hugging the Clintons.
And kissing Vice President Mike Pence.
Seriously, this happened, and it's only Wednesday.
Keep reading...Show less