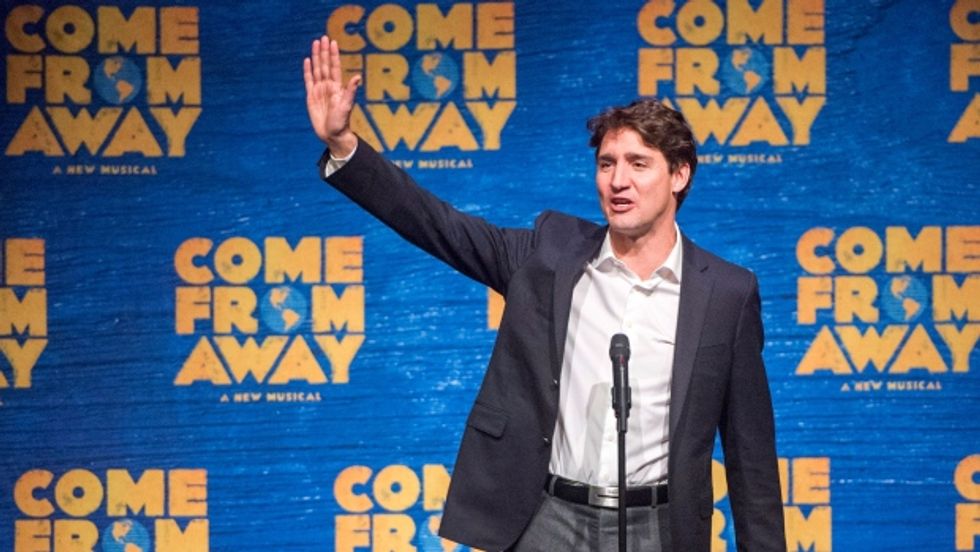 Prime Minister Justin Trudeau of Canada hosted Ivanka Trump as his guest of honor at Come from Away, a Broadway show about Canadians opening their borders and homes to foreigners in need. The first daughter sat in the audience last night between Trudeau and Nikki Haley, the American ambassador to the United Nations.
The audience, which included a delegation of 600 people brought to the show last night by the Canadian consulate general in New York and 125 world ambassadors, greeted Trudeau with a standing ovation. Many of the Canadians in attendance wore clothing bearing the maple leaf. Taking the stage for brief remarks before the performance, Trudeau chose not to discuss public policy. Instead, he praised the show's story, about a small town in Newfoundland that fed and housed thousands of air travelers from around the world, their flights diverted when North American airspace was closed during the September 11, 2001, terror attacks.
"The world gets to see what it is to lean on each other and be there for each other through the darkest times," he said. "There is no relationship quite like the friendship between Canada and the United States. This story, this amazing show, is very much about that, and it's about friendship as well."
Prime Minister @JustinTrudeau addressing Newfoundland's contribution in 9/11, canada and US friendship and innovati… https://t.co/j4OQE8cRbb

— Melissa Royle (@Melissa Royle) 1489623745.0
"When we think about our friends, we think about the people we like to kick back with after a hard day at the office, who we want to see on the weekend, maybe go camping or golfing with or people you want to catch up with for birthdays, mark milestones. … But thats actually not what friendship is about," Trudeau continued. "Our friends are there for the tough times, when you lose a parent or a loved one, when you get knocked off your path in a difficult moment in your life. … And that is ultimately what this story is all about, being there for each other. Being open, being engaged and knowing that drawing together through dark times is what is very best for the human spirit."
Trudeau's gesture is rich with symbolism, coming at a complex time for U.S. relations with its northern neighbor. Dozens of asylum seekers have fled to Canada from the U.S. following President Donald Trump's executive orders banning refugees and travelers from certain countries. Federal judges in Hawaii and Maryland have since issued nationwide temporary restraining orders on a revised version of the ban.
When asked if he and the president's daughter spoke, Trudeau said she enjoyed the show, "as did everyone in the theater."
Ivanka Trump and Nikki Haley, the American ambassador to the United Nations, greet Canadian officials. (Credit: Source.)
Keep reading... Show less