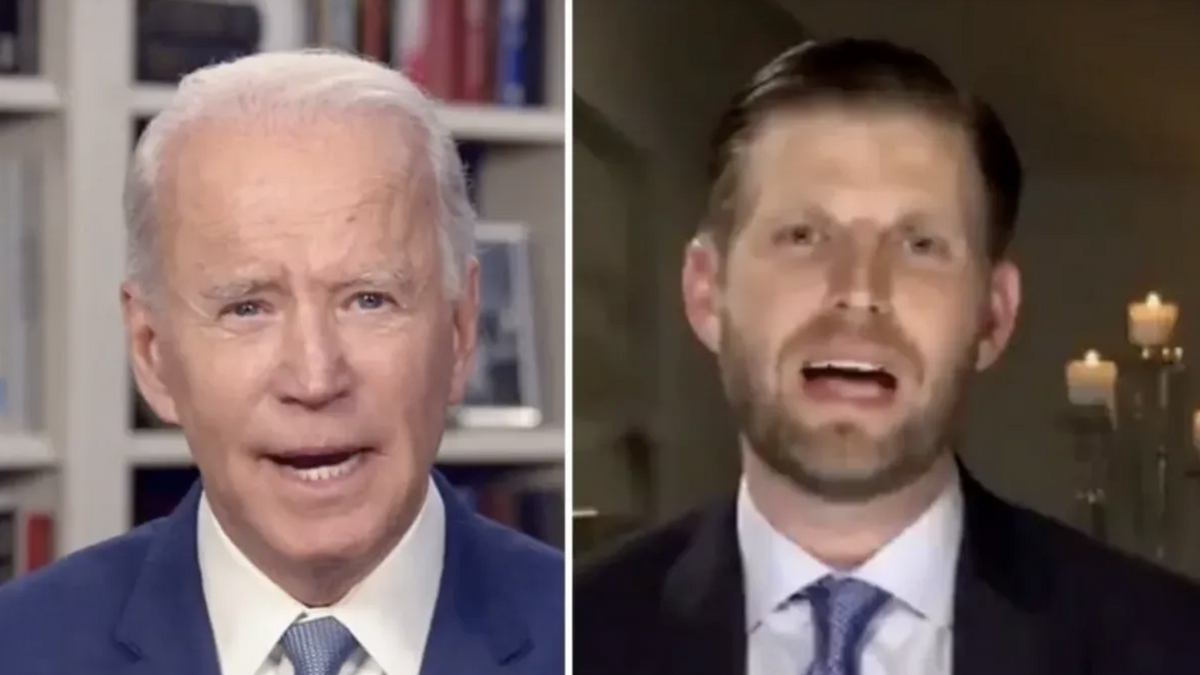 JoeBiden.com via Getty Images // Fox News
Democratic nominee Joe Biden continues to best President Donald Trump in national polls of the 2020 election.

Trump and his allies are trying to slow Biden's momentum by claiming that he's cognitively unfit to be President. Trump claimed that the former Vice President wouldn't be able to pass a cognitive test and gave him the nickname "Sleepy Joe."
The President's son, Eric, echoed that position on Sunday afternoon.
Eric Trump claimed that the media is unwilling to discuss Biden's so-called "cognitive decline."
Despite the Trump campaign's best efforts, the American public has less faith in Trump's cognitive abilities than Biden's, according to multiple polls. A Monmouth University poll from the beginning of the month showed that 52 percent of voters believed Biden had the mental and physical capacity to be President. Only 45 percent said the same of Trump.
An even more recent Fox News poll found found that 51 percent of respondents didn't believe Trump had the "mental soundness" to be President.
If that wasn't bad enough, people soon began replying to Eric Trump, confronting him with the times his father demonstrated a lack of cognitive stability.
Several people cited Trump's chaotic interview with Fox News' Chris Wallace, especially at the point in the interview when Trump bragged about passing a cognitive test which included a question asking him to identify an elephant.
For his part, Biden has said he's eager to put his cognitive abilities on display at the debates in September.