If it looks like a blue wave...
09 October 2018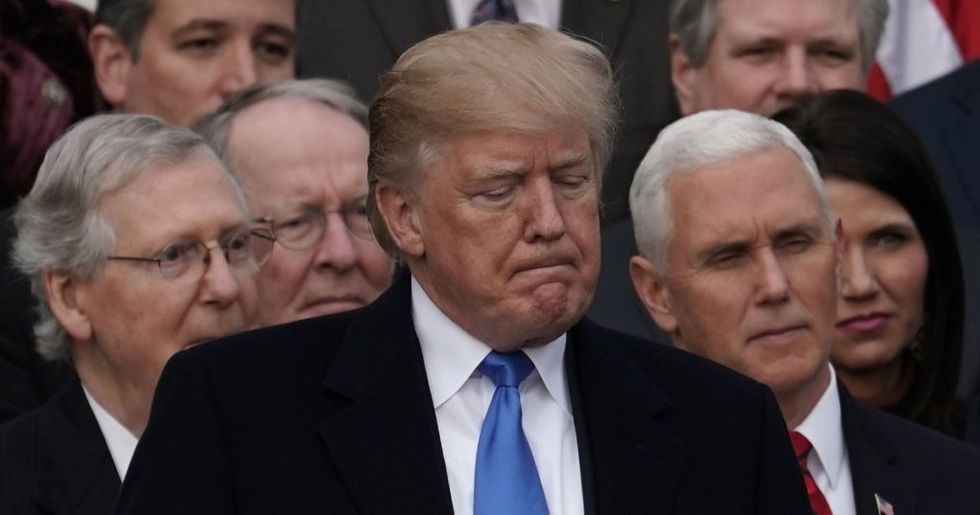 WASHINGTON, DC - DECEMBER 20: U.S. President Donald Trump (C) pauses during an event to celebrate Congress passing the Tax Cuts and Jobs Act with (L-R) Senate Majority Leader Sen. Mitch McConnell (R-KY), Sen. Lamar Alexander (R-TN), Vice President Mike Pence, Rep. Kristi Noem (R-SD) and other Republican members of the House and Senate at the South Lawn of the White House December 20, 2017 in Washington, DC. The tax bill is the first major legislative victory for the GOP-controlled Congress and Trump since he took office almost one year ago. (Photo by Alex Wong/Getty Images)
Democratic voter enthusiasm is surging with just one month to go until the midterm elections, a new CNN/SSRS poll released on Tuesday reveals.
Excitement about the upcoming election among Democrats and Democratic-leaning Independents has surged, with 62 percent of respondents saying they are either extremely enthusiastic or very enthusiastic to vote. That's a seven-point boost from September.
On the Republican side, enthusiasm has basically held steady, going from 50 to 52 percent since last month.
These numbers show that Republican hopes of a bump in enthusiasm within their party in the wake of Brett Kavanaugh's divisive confirmation to the Supreme Court may be nothing more than a desperate fantasy.
That's because Americans trust Democrats more than Republicans on the issue of sexual assault, allegations of which nearly sunk Kavanaugh's nomination, 50-39 percent, according to the poll.
Still, Republicans are adamant that they're winning.
On Monday, Senate Majority Leader Mitch McConnell (R-KY) said the ongoing protests of Kavanaugh, which he described as a "mob," "certainly had a good impact for us" and that Republicans "are pretty excited."
Democrats, McConnell claimed, "managed to deliver the only thing we hadn't figured out how to do, which is to get our side fired up."
President Donald Trump also cited a "left-wing mob" on Twitter and at several rallies.
You don't hand matches to an arsonist, and you don't give power to an angry left-wing mob. Democrats have become to… https://t.co/VB23FlFvOT

— Donald J. Trump (@Donald J. Trump) 1538875282.0
That mob, the survey says, is set to trample Republicans in November.
CNN explains just how much momentum is swelling behind Democrats:
"In fact, Democrats' enthusiasm today more closely resembles the 2008 presidential election. Just before President Barack Obama was elected, 45% of Democrats and Democratic-leaners said they were extremely enthusiastic about voting that November. In 2008, Democrats won eight seats in the Senate and 21 in the House, as well as a victory in the presidency."
The poll has even more good news for Democrats hoping to ride a blue wave to victory, which this year means the potential to take back the U.S. House of Representatives.
On the generic ballot, Democrats hold an impressive 13-point advantage over Republicans, the survey found, with 54 percent of likely voters saying they intend to vote blue. Just 41 percent said they intend to vote for the GOP.
"This is the widest margin of support for Democrats in a midterm cycle since 2006, when at this point, the party held a whopping 21-point lead over Republicans among likely voters," CNN noted. "That's also when Democrats seized control of the House from Republicans, making Nancy Pelosi speaker until 2011."
Like the enthusiasm gap, voter preference on a generic ballot defies the messaging coming from the White House.
Trump in recent weeks has boasted about a "red wave" he believes will help Republicans hang onto control of Congress. Since June, Trump has tweeted about a red wave seven times.
Great night for Republicans! Congratulations to John Cox on a really big number in California. He can win. Even Fak… https://t.co/MDk7LJgCin

— Donald J. Trump (@Donald J. Trump) 1528290994.0
Republicans should stop wasting their time on Immigration until after we elect more Senators and Congressmen/women… https://t.co/4HZ9ZIiNfr

— Donald J. Trump (@Donald J. Trump) 1529665590.0
Presidential Approval numbers are very good - strong economy, military and just about everything else. Better numbe… https://t.co/oqCMk8lNYq

— Donald J. Trump (@Donald J. Trump) 1533499277.0
As long as I campaign and/or support Senate and House candidates (within reason), they will win! I LOVE the people,… https://t.co/RY6QtbDhp4

— Donald J. Trump (@Donald J. Trump) 1533741955.0
Great Republican election results last night. So far we have the team we want. 8 for 9 in Special Elections. Red Wave!

— Donald J. Trump (@Donald J. Trump) 1534336238.0
A Blue Wave means Crime and Open Borders. A Red Wave means Safety and Strength!

— Donald J. Trump (@Donald J. Trump) 1534847899.0
The president hasn't offered any evidence of this. In fact, a key demographic may spell doom for the party of Trump.
Women are especially emboldened to vote for Democrats in November, the survey said. Women plan on voting blue over red by a whopping 30-point margin - 63 to 33 percent. CNN said that if the polling data translates into actual votes, Democrats could see the most gains in the House since 1976, thanks to women voters.
Still, there is a little bit of light for Republicans.
The poll found that despite there being much higher levels of excitement for Democrats, Americans aren't convinced the party can pull off a resounding victory.
Half of those surveyed expect Republicans to hold on to Congress, compared to just 34 percent believing the same for Democrats.
Republicans also hold a slight edge over Democrats on which party Americans trust to handle the economy, 48-42 percent, and which can better manage national security issues, 50-39 percent.
On other issues, like health care, immigration, the Russia investigation, and the federal budget, however, Democrats are enjoying sizeable leads over Republicans.
All told, likely voters said they hoped Democrats manage to make big gains. The poll showed that 38 percent of Americans would prefer to have Democrats in control while 34 percent would rather have Republicans in charge.
Cautious optimism is building on Twitter - polls are promising, but people actually have to show up and vote.
@katzish @SarahPalinUSA @michellemalkin @MonicaCrowley @KatiePavlich Could it be that suburban women are angry at t… https://t.co/uubv5rg2xu

— j paul (@j paul) 1539109160.0
@katzish @joshtpm Somehow I'm just not feeling that "red wave" @RealDonaldTrump keeps banging on about.

— Gordon G. Forbes 🇺🇸🗽🏳️‍🌈🌊 (@Gordon G. Forbes 🇺🇸🗽🏳️‍🌈🌊) 1539102440.0
@jimsciutto Polls don't vote. No time for complacency, so vote like your life depends on it …… this time it does!… https://t.co/mC4WWPFpPz

— Andrea Valentini 🇨🇦 (@Andrea Valentini 🇨🇦) 1539101408.0
@GypsySpirit46 @jimsciutto Find who you know in swing districts and remind them to vote!: https://t.co/OK5cVdrSIg

— Outvote (@Outvote) 1539108701.0
@jimsciutto Ignore the polls. Dont be lazy. Go register and VOTE.

— WickedSmaht (@WickedSmaht) 1539102314.0
@jimsciutto Don't let up. We cannot let up.

— shoot me into the sun (@shoot me into the sun) 1539101365.0
@jimsciutto Polls don't win elections voting do!! Get out and vote!

— NeNae9308 (@NeNae9308) 1539101562.0
The poll was conducted by the Social Sciences Research Services from October 4-7. Live interviewers polled 1,009 random adults by landline or cell phone. The margin of error is plus or minus 3.8 percentage points.
Keep reading...Show less