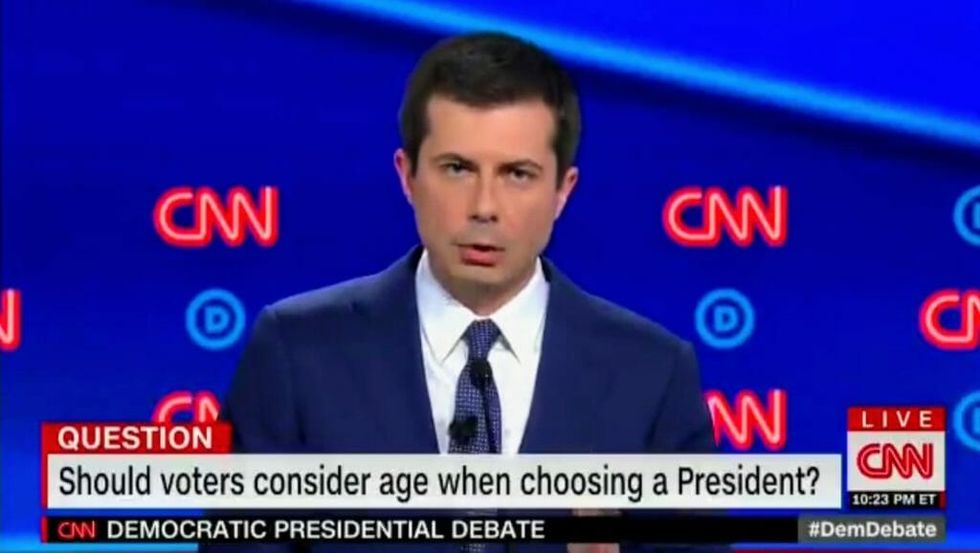 CNN
C
The second round of Democratic presidential debates occurred Tuesday night. During the course of the evening—where moderators and candidates were admonished for using Republican talking points—Indiana mayor Pete Buttigieg issued a message to the GOP members of Congress.
Looking into the camera, the South Bend mayor said for any Republican congressional member watching:
"Consider the fact that when the sun sets on your career ... the thing you will be remembered for is whether in this moment, with this President, you found the courage to stand up to him or you continued to put party over country."
Watch his remarks here.
People found the assessment to be spot on.
While some assessed Buttigieg's chances in the primaries.
Some noted Buttigieg had a specific valuable skill.
Others thought the intended audience was impervious to criticism.
While some reflected on what they thought Trump and GOP strategy for 2020 would be based on recent statements, tweets and actions by the POTUS.
The second group of Democratic candidates take the stage Wednesday night. The 2020 presidential election is 460 days away as of Wednesday, July 31.
To learn more about Pete Buttigieg, his book Shortest Way Home: One Mayor's Challenge and a Model for America's Future is available here.
Keep reading...Show less