It's difficult to find hosting when you traffic in hate.
17 August 2017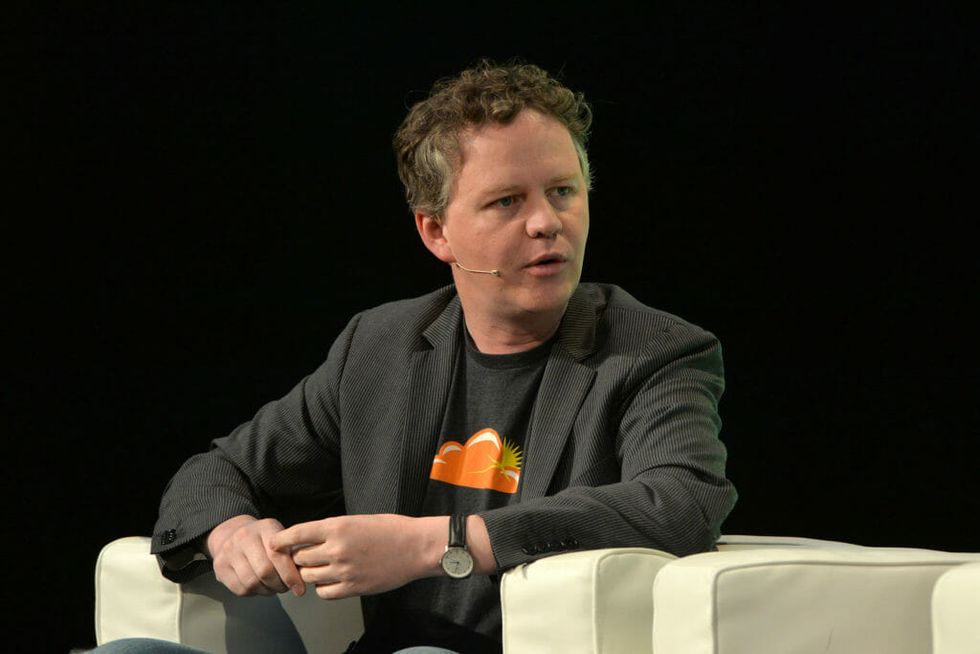 LONDON, ENGLAND - OCTOBER 21: Left-Right: Cloudflare Partner, Matthew Prince appears on stage at the 2014 TechCrunch Disrupt Europe/London, at The Old Billingsgate on October 21, 2014 in London, England. (Photo by Anthony Harvey/Getty Images for TechCrunch) *** Local Caption *** Matthew Prince
The Daily Stormer is no more.
Over the weekend, authorities identified 32-year-old Heather Heyer, a paralegal who lived in Charlottesville, Virginia, as the woman who was killed after she was struck by a Dodge Challenger driven by James Alex Fields, who had traveled to the city from Ohio to protest at the "Unite the Right" rally with fellow white nationalists.
Web hosting company GoDaddy said on Sunday it had given The Daily Stormer––which calls itself "The World's Most Genocidal Republican Website"––24 hours to move its domain to another provider after the extremist web site published an article slamming Heyer for her physical appearance and accusing her of espousing "anti-white male" views.
@Amy_Siskind We informed The Daily Stormer that they have 24 hours to move the domain to another provider, as they… https://t.co/5oibZRjZOh

— GoDaddy (@GoDaddy) 1502681053.0
Immediately afterward, a post appeared at the top of The Daily Stormer claiming the site had been taken over by members of Anonymous. A Twitter account devoted to Anonymous news claimed the group did not hack the site, saying that the folks behind The Daily Stormer could have orchestrated the "hack" themselves, in a bid to rile up supporters and portray the website's removal as a conspiracy. The posting on the site claims the hackers were acting "in defense of the Jewish people."
This is likely to be the derps from dailystormer engaging in a silly troll to woo their clueless base. If we're pro… https://t.co/avZmtO0Zwi

— Anonymous (@Anonymous) 1502694350.0
@_Blerk_ Look at the cliche script of the site. It will give them a cute claim later that we're part of the "Jewish… https://t.co/WKVV5Dm7VI

— Anonymous (@Anonymous) 1502695175.0
After GoDaddy's eviction, The Daily Stormer tried to move its domain over to Google. Google terminated the website's request an hour after registering, saying it violated its terms of service. The site reappeared yesterday with a new Russian domain, but the site disappeared after Cloudflare reversed its long-held policy to remain content-neutral and evicted The Daily Stormer from its denial-of-service (DDoS) attack protection.
"This was my decision. This is not Cloudflare's general policy now, going forward," Cloudflare CEO Matthew Prince (pictured above) told Gizmodo. "I think we have to have a conversation over what part of the infrastructure stack is right to police content."
Prince explained in an internal email that he doesn't believe CEOs of internet companies should police content on their networks––he clarified that duty should be left to law enforcement––but said he felt compelled to act because the operators of The Daily Stormer are "assholes."
"I realized there was no way we were going to have that conversation with people calling us Nazis," Prince said. "The Daily Stormer site was bragging on their bulletin boards about how Cloudflare was one of them and that is the opposite of everything we believe. That was the tipping point for me."
Cloudflare's terms of service reserve the right for us to terminate users of our network at our sole discretion," Prince said in an official statement. "The tipping point for us making this decision was that the team behind Daily Stormer made the claim that we were secretly supporters of their ideology. Like a lot of people, we've felt angry at these hateful people for a long time, but we have followed the law and remained content neutral as a network. We could not remain neutral after these claims of secret support by Cloudflare."
A version of The Daily Stormer is accessible on the darknet which can only be accessed through the Tor browser. However, the Tor address redirects readers to the Russian domain, which isn't available.
Keep reading... Show less