How far we've fallen.
08 August 2019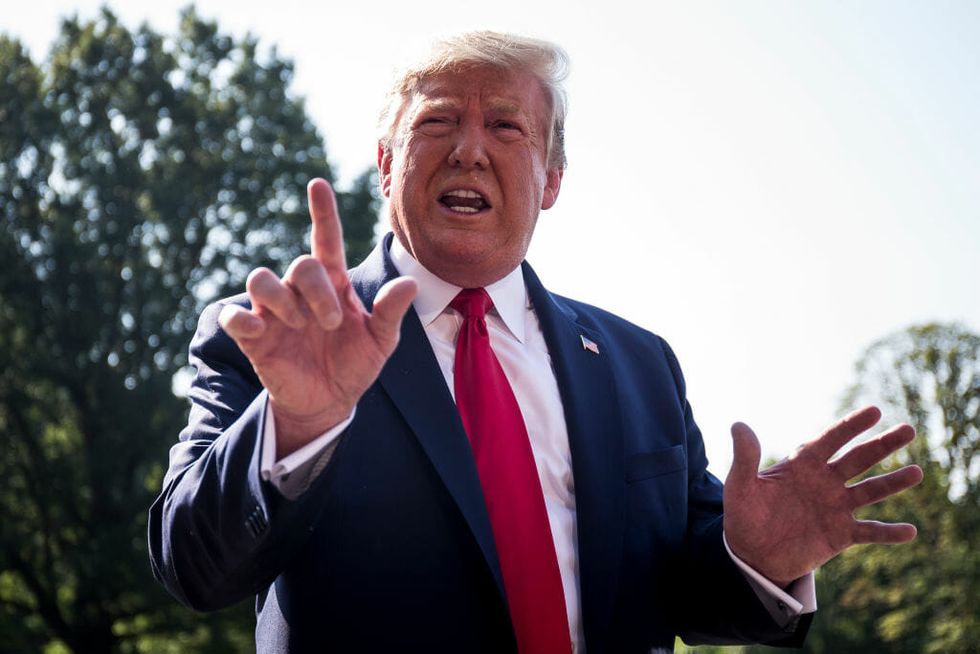 WASHINGTON, DC - AUGUST 07: President Donald Trump speaks to members of the press before departing from the White House en route to Dayton, Ohio and El Paso, Texas on August 7, 2019 in Washington, DC. Trump is will visit the two cities to meet with victims and law enforcement following a pair of deadly shooting attacks last weekend. (Photo by Zach Gibson/Getty Images)
The nation is still in mourning after two mass shootings in one weekend resulted in the deaths of 31 people in El Paso, Texas and Dayton, Ohio.
President Donald Trump visited victims, first responders, and law enforcement in the cities on Wednesday. According to the president's social media director, Dan Scavino, Trump was treated like a "rock star" on his visit to Dayton.
In between tweets of photos smiling with hospital workers, Trump lashed out at former Vice President Joe Biden, Senators Bernie Sanders (D-VT) and Elizabeth Warren (D-MA), Fox News host Shepard Smith, the "failing New York Times," "Fake news CNN," the "lamestream media," Ohio senator Sherrod Brown (D) and Mayor of Dayton Nan Whaley.
In other words, Trump saw no need to rise above his usual divisive rhetoric during a moment of national grief.
While this seems standard now, presidential historian David Priess reminded his Twitter followers of a time when it wasn't; a time when even presidents whose policies and viewpoints were flawed or downright harmful could still find ways to comfort the nation in some way.
THREAD: Today, I tried to recall other presidents' reactions to national tragedies. Because what I heard today sou… https://t.co/EyuZJ8mwg5

— David Priess (@David Priess) 1565230354.0
He recounted the reactions from the darkest moments in American history, from the bloodshed at Gettysburg...
Abraham Lincoln post-Gettysburg: "The world will little note, nor long remember what we say here, but it can never… https://t.co/SRZDvP9QwZ

— David Priess (@David Priess) 1565230357.0
...to the Challenger explosion.
Ronald Reagan after the loss of space shuttle Challenger and its crew: "We will never forget them, nor the last ti… https://t.co/6Nu51pyfR2

— David Priess (@David Priess) 1565230358.0
And onward.
Bill Clinton after the Oklahoma City bombing: "When there is talk of hatred, let us stand up and talk against it.… https://t.co/7I1kFO8pDj

— David Priess (@David Priess) 1565230359.0
George W. Bush after the 9/11 attacks: "Terrorist attacks can shake the foundations of our biggest buildings, but… https://t.co/ajwgPNfLK0

— David Priess (@David Priess) 1565230360.0
Barack Obama after the Newtown massacre: "I can only hope it helps for you to know that you're not alone in your g… https://t.co/G1rDXdSIcr

— David Priess (@David Priess) 1565230361.0
He concluded with this:
When the country suffers a tragedy and enters a period of national mourning, presidents don't always do the right t… https://t.co/T72BvstgQ3

— David Priess (@David Priess) 1565230361.0
Many Americans feel the divide has instead deepened in the wake of a deadly weekend. Much of it due to Trump's seeming self-absorption contrasted by the words of better men.
@DavidPriess @churchycannon This shows unequivocally that this is not a political party fight. It is a moral fight… https://t.co/yN2ExjzH8f

— FormerRepublican (@FormerRepublican) 1565281812.0
@DavidPriess @gtconway3d All donny does is say the relevant tragedy is "like you wouldn't believe," that he's "neve… https://t.co/kpfYsT7E77

— Ryan (@Ryan) 1565241112.0
@DavidPriess @Mimirocah1 Great Thread. And of course lets not forget "a day that will live in infamy". Our current… https://t.co/OL6uckP3Y7

— WJT (@WJT) 1565233533.0
@DavidPriess @EvanMcMullin https://t.co/rGTvoJoq2L

— #PresidentFart(*) 🇺🇸 🌊 🌊 🌊 (@#PresidentFart(*) 🇺🇸 🌊 🌊 🌊) 1565238417.0
@DavidPriess @MomsThoughts https://t.co/uFSeUxcGkw

— Patsy Crowley (@Patsy Crowley) 1565271985.0
They thanked Priess, however, for reminding them of better times.
@DavidPriess Thank-you for your thoughtful post. Decorum is...dead.

— Nancy (@Nancy) 1565280083.0
@DavidPriess Absolutely awesome thread, @DavidPriess ! Thank you 🙏

— Michael McDaniel (@Michael McDaniel) 1565233198.0
For his part, Trump spoke to emergency workers in El Paso about the crowd size of a rally he held there last year, dismissing the crowd size of former El Paso Congressman and current presidential candidate Beto O'Rourke's counter-rally.
This is viewer video of President @realDonaldTrump and @FLOTUS at @umcelpaso meeting with victims and medical staf… https://t.co/Ex3u6T1o4u

— CBS4Local (@CBS4Local) 1565235146.0
Though press wasn't allowed in the hospital where Trump visited victims, his team ended up making an elaborate campaign video featuring the visits.
Keep reading...Show less