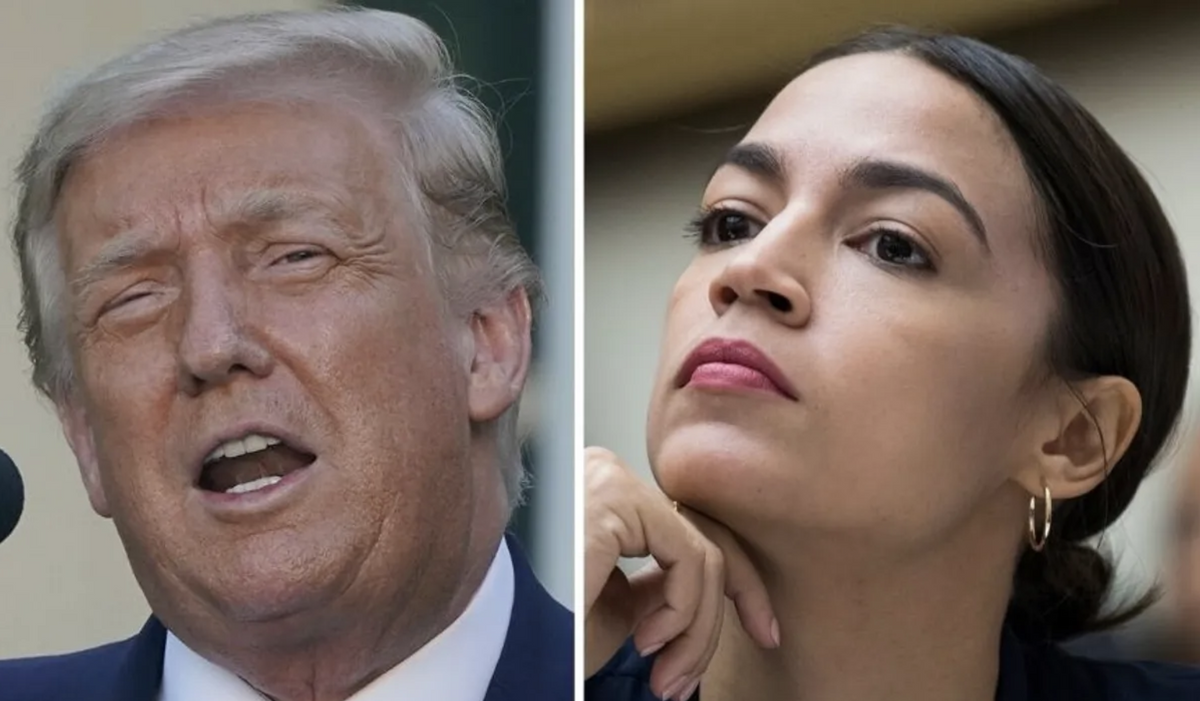 Drew Angerer/Getty Images // Tom Williams/CQ Roll Call
Since her upset victory in the 2018 Democratic primary for New York's 14th District, progressive Congresswoman Alexandria Ocasio-Cortez, colloquially known as "AOC," has been a favorite target of the right, with many Republicans chastising her for what they say is a lack of intelligence.
In reality, Ocasio-Cortez graduated cum laude from Boston University with degrees in economics and international relations. This was after winning a prize at the Intel International Science and Engineering Fair in high school, as well as other educational achievements.
She's demonstrated this grasp of science on Twitter before.

But that didn't seem to matter to President Donald Trump, who took aim at Ocasio-Cortez during a speech in Old Forge, Pennsylvania on Thursday.
Watch below.
Trump took aim at AOC's signature legislation—the Green New Deal—a set of policies which would overhaul current U.S. climate policy to stop the advancement of the climate crisis.
Trump said:

"AOC, that's another beauty. She's the designer of the Green New Deal. She knows nothing about the environment. She probably never studied. If I asked her, how many hours have you taken on the environment?"

It should be noted that not only has Trump never released his educational transcripts, but he's actively blocked his alma maters from releasing them. According to a tell-all memoir from his niece, Mary Trump, the President paid someone to take his SATs for him.
Famous for her Twitter clapbacks, AOC didn't hesitate to respond.
Ocasio-Cortez referenced a bizarre argument Trump made last year, in which he claimed that the sound from environmentally friendly wind turbines—which he calls "windmills"—caused cancer.
Trump said:

"If you have a windmill anywhere near your house, congratulations your house just went down 75 percent in value. And they say the noise causes cancer. you tell me that one, okay? [imitates wind turbine sounds]"
People commended AOC's response.
Others leapt to her defense.
Ocasio-Cortez recently won her primary with over 70% of the vote.