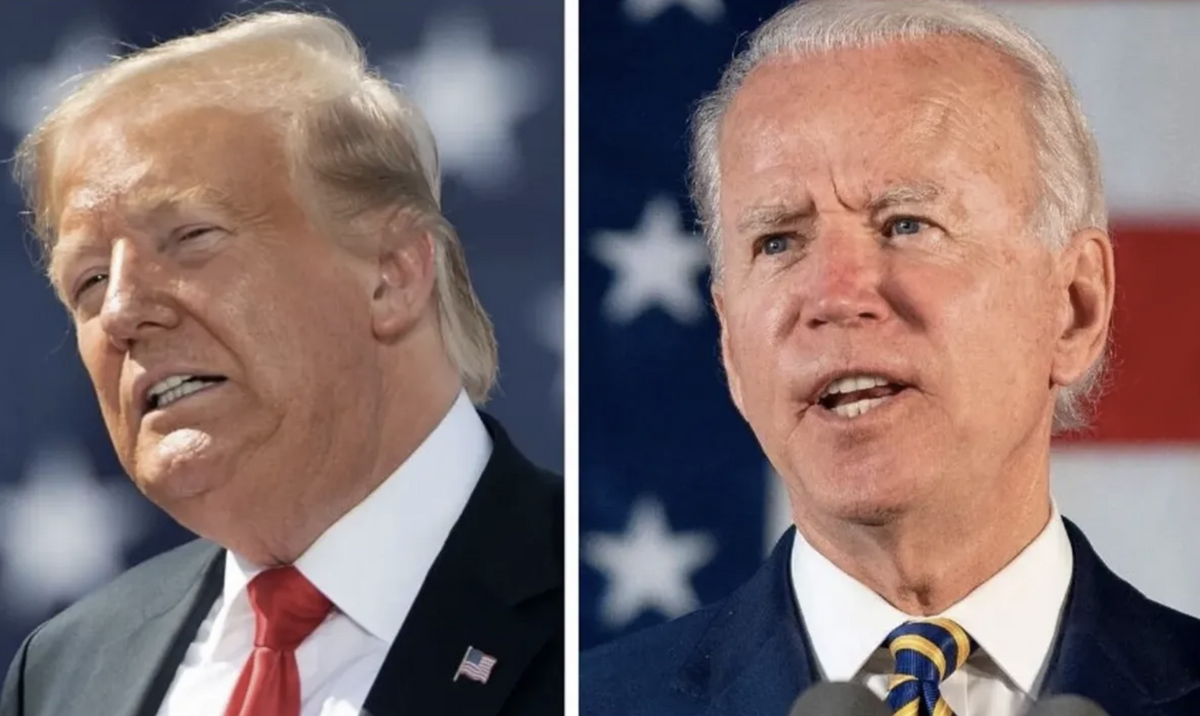 SAUL LOEB/AFP via Getty Images // JIM WATSON/AFP via Getty Images
On Thursday, President Donald Trump delivered an erratic speech on the tarmac at Cleveland Airport, targeting Democratic nominee Joe Biden.
It's not unusual for the President to sling insults at his opponent. The Trump campaign frequently paints Biden as diminished and "hiding in his basement."
But Trump's latest attacks took a strange turn once he began invoking Biden's religion.
Watch below.
The President warned that Biden would:

"Take away your guns, destroy your second amendment, no religion, no anything, hurt the Bible, hurt God. He's against God. He's against guns. He against energy, our kind of energy. I don't think he's gonna do too well in Ohio."
The moment soon began trending on Twitter, and it wasn't long before Biden responded.
The former Vice President said in a statement obtained by the Hill that Trump's words were "beneath the dignity of the office he holds" and "beneath the dignity the American people so rightly expect and deserve from their leaders."

He continued:

"However, like the words of so many other insecure bullies, President Trump's comments reveal more about him than they do about anyone else. They show us a man willing to stoop to any low for political gain, and someone whose actions are completely at odds with the values and teachings that he professes to believe in."
Biden, a practicing Catholic, went on to say that his faith helped him through moments of "tragedy and loss," particularly with the sudden deaths of his wife and daughter in a 1972 automobile accident and the loss of his son Beau to cancer in 2015.
He concluded:

"My faith teaches me to care for the least among us, while President Trump seems to only be concerned about his gilded friends. My faith teaches me to welcome the stranger, while President Trump tears families apart. As I've said so many times before, we're in the battle for the soul of our nation, and President Trump's decision today to profane God and to smear my faith in a political attack is a stark reminder of what the stakes of this fight truly are,"
People agreed that Trump's behavior was asinine.
They soon reminded Trump that his own record on religion was ripe with gaffes.
The day Trump made these claims, Biden was delivering remarks to the Progressive National Baptist Convention.