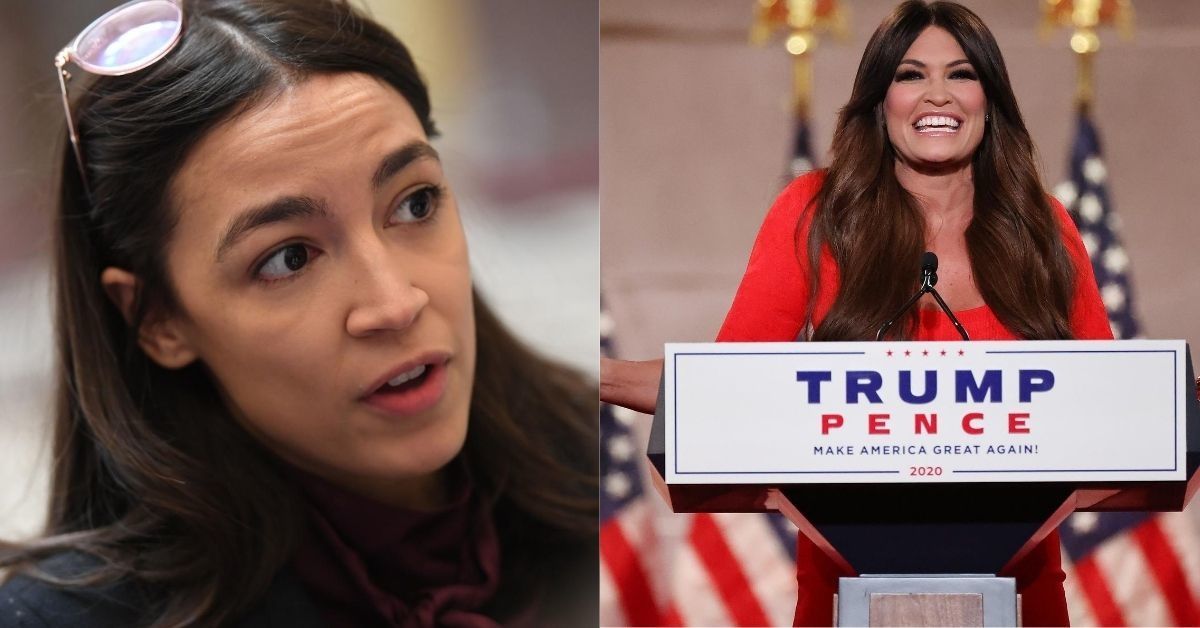 SAUL LOEB/AFP via Getty Images; Chip Somodevilla/Getty Images
Monday night's first installment of the Republican National Convention was full of bizarre moments, but one of them in particular caught New York Democratic Representative Alexandria Ocasio-Cortez's eye for being particularly ignorant.
In her speech, Donald Trump Jr.'s girlfriend Kimberly Guilfoyle, whose mother is Puerto Rican, waxed poetic about her identity as a "first-generation American." But Puerto Ricans are U.S. citizens, because Puerto Rico has been part of the United States for over 100 years.
And AOC wasn't about to let Guilfoyle's comment stand.
In her response, Ocasio-Cortez criticized Guilfoyle and the Trump campaign for what she saw as an effort to undermine other Latinxs as not "real Americans."

"The woman the GOP picked as their 'proud' Latina to tout 'immigrant experience' didn't seem to know that Puerto Rico is already part of the United States."
"It's quite on message, bc it reflects their belief that Latinos aren't real citizens, even when we are Native descendants."
Indeed, Guilfoyle's characterization of herself and of her parents was rife with immigrant imagery and wording, which she used as ammunition to castigation the supposedly "socialist" platform of Democratic presidential nominee Joe Biden.
"As a first-generation American, I know how dangerous their socialist agenda is. My mother, Mercedes, was a special education teacher from Aguadilla, Puerto Rico. My father, also an immigrant, came to this nation in pursuit of the American dream.
Now, I consider it my duty to fight to protect that dream."
While Guilfoyle's father is in fact an immigrant, having come to the United States from Ireland in the 1950s, her mother Mercedes was born a U.S. citizen. The Jones-Shafroth act, passed in 1917, granted citizenship to all Puerto Ricans born after April 25, 1898.

It wasn't only Ocasio-Cortez for whom Guilfoyle's speech raised an eyebrow.
And some were outright offended by Guilfoyle's comments.
While for others, the whole thing smacked of more status quo right-wing dishonesty and bigotry.
And, of course, there were some jokes.
In a statement submitted to Newsweek, Sergio Gor, chief of staff the finance arm of Trump campaign, of which Guilfoyle is vice chair, backed up Guilfoyle's comments.

"Along with millions of other immigrants, Kimberly's father immigrated to the United States. She is a proud daughter of an immigrant, and is the epitome of the American Dream."

Gor made no mention of Guilfoyle's mother or the claims Guilfoyle made about her in her comments.