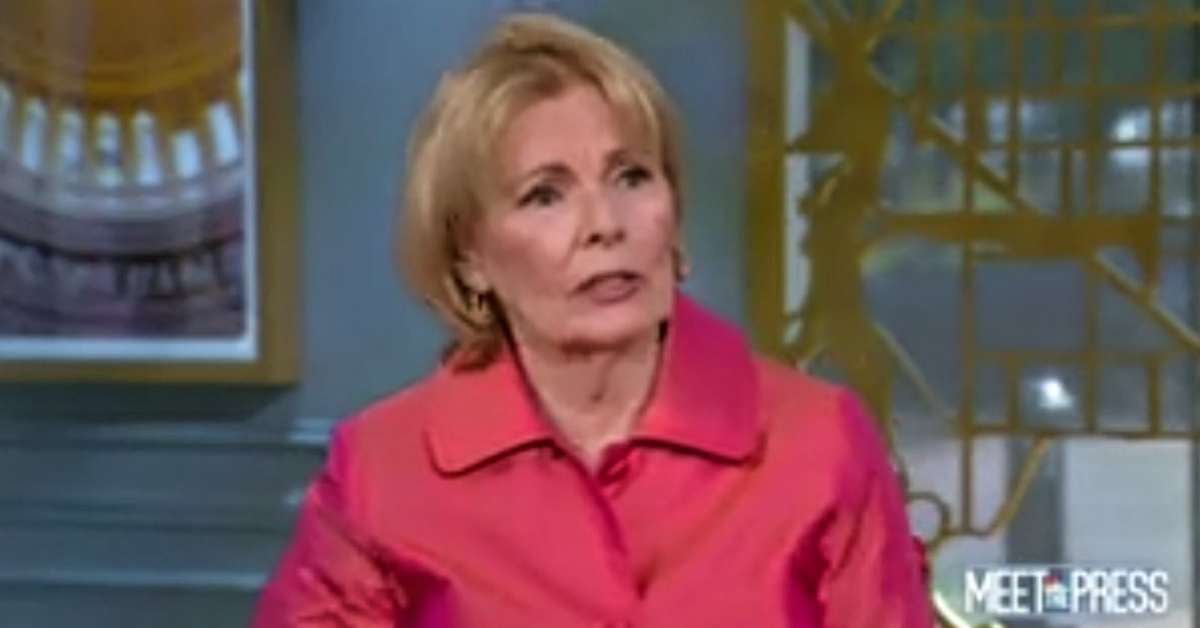 NBC News
On Sunday's Meet the Press on NBC, Wall Street Journal conservative columnist Peggy Noonan drew head shakes and outright laughter from her fellow panelists for suggesting the Republican party try to rebrand itelf as supportive of women in the aftermath of the GOP's successful efforts to overturn Roe v. Wade.
Noonan said:
"You know what the Republican party should do now?"
"It should use this victory—if you see it that way—to change itself, and become a party that helps women, change its reputation, become a party that helps women and children, become responsible and supportive."
You can watch the moment here:
Noonan was part of a panel discussion on the nationwide implications for reproductive rights after the Supreme Court's Friday ruling on Dobbs v. Jackson Women's Health Organization overturned Roe v. Wade.
Noonan acknowledged public polling showed most Americans supported federal protections for the reproductive freedom—allowing people to decide if they will carry a pregnancy to term as well as receive lifesaving healthcare after a miscarriage.
Andrea Mitchell could be seen shaking her head "no" while laughter and objections were heard from others.
Panelist Kimberly Atkins Stohr—a columnist for The Boston Globe—blamed high level members of the GOP for the coordinated attack on reproductive rights.

You can see responses to Noonan here:
Stohr interjected:

"Why are we here?"
"We're here because Donald Trump and Mitch McConnell got together and did a Litmus test for overturning Roe for Supreme Court nominees."
"Sandra Day O'Connor didn't have that Litmus test, David Souter didn't have it, Anthony Kennedy didn't have it."
"That is why we are here is because Republicans from the top set the tone."
With former Republican President Donald Trump getting his SCOTUS picks from Evangelical Christian organizations and former Senate Majority Leader Mitch McConnell blocking President Barack Obama's replacement for Justice Antonin Scalia for over a year and ramming through Trump's last pick before Democratic President Joe Biden took office, the SCOTUS was stacked with Bible before Constitution judges of dubious experience and pedigree.

Calls for an expansion of the SCOTUS—which was set at nine in 1869 to match the number of United States Circuit Courts at that time—increased after several key rulings supporting gun rights and Christianity.

There are now 13 Circuit Courts and 13 is the number many are calling for the SCOTUS to be expanded to.