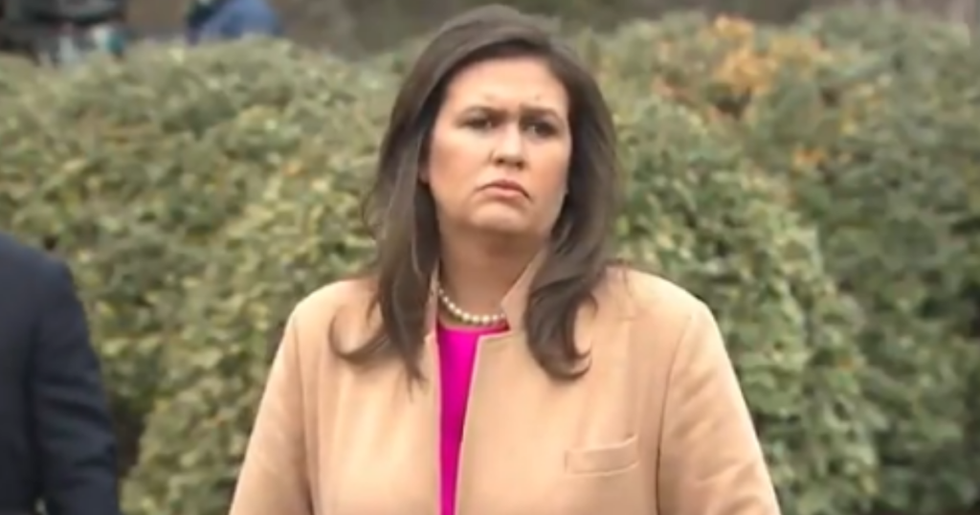 @girlsreallyrule/Twitter
White House Press Secretary Sarah Sanders was asked on Friday if President Donald Trump, who frequently derides the media as the "enemy of the people," plans on softening his tone following the arrest of a Coast Guard lieutenant accused of planning domestic terror attacks against Democrats and journalists.
The now-former Coast Guard officer and self-described white nationalist was arrested on February 15th on drug and gun charges after he was caught using a government server at work to access "extremist sites."
The man sought to "murder innocent civilians on a scale rarely seen in this country" and "conducted online searches and made thousands of visits for pro-Russian, neo-fascist, and neo-Nazi literature," a detention memo states. According to law enforcement, the suspect "compiled a list of prominent Democratic Congressional leaders, activists, political organizations, and MSNBC and CNN media personalities."
Sanders, pressed by a reporter on the likelihood of Trump backing off the media, deflected blame away from Trump and insisted the president could not possibly bear any responsibility for the radicalization of some of his supporters.
Watch below:
Sarah Sanders says Trump hasn't "at any point [done anything] but condemn violence, against journalists or anyone e… https://t.co/M3YFoJ8ePl

— Amee Vanderpool (@Amee Vanderpool) 1550853694.0
Sanders said:
"I certainly don't think that the president at any point has done anything but condemn violence against journalists or anyone else. In fact, every single time something like this happens, the president is typically one of the first people to condemn the violence and the media is the first people to blame the president."
"We should all join together in condemning the violence whether it's against the media, Democrats, Republicans, any person in this country," Sanders added. "It is unacceptable and that is why every time it comes up, we have been consistent and repeatedly said that we condemn violence in all forms."
Two days after the story broke and a week after the arrest, Trump finally called the lieutenant's actions "a shame", but stopped short of acknowledging the role his language may have played, describing his language as "very nice."
Sanders is not fooling anyone.
@girlsreallyrule Thank your for repeating what I scream at my TV most nights.

— Stephen Matteo (@Stephen Matteo) 1550858192.0
@girlsreallyrule I was happier when she wasn't doing press conferences.

— Christopher M.Dean (@Christopher M.Dean) 1550854122.0
@girlsreallyrule The lies continues

— DAR (@DAR) 1550853742.0
@girlsreallyrule ...scroll, scroll scroll through 45's timeline for a condemnation on the Coast Guard Officer plot… https://t.co/dQBa1dPjfl

— Kevin Kimbrough 🌎 (@Kevin Kimbrough 🌎) 1550856713.0
Sanders must think we are really stupid.
Too bad for Sanders, we have the receipts, like the time Trump appeared in a video pretending to body slam CNN.
@girlsreallyrule Trump posted this video of him slamming and pummeling CNN. Plus he calls the press "THE ENEMY OF T… https://t.co/LIDhVDgsKf

— UpstateProgressive (@UpstateProgressive) 1550855063.0
There is also Trump's chronic labeling of the free press, particularly the New York Times, as the "enemy of the people," which Trump most recently tweeted on Wednesday—right before the Coast Guard terrorist plot was revealed to the public.
The New York Times reporting is false. They are a true ENEMY OF THE PEOPLE!

— Donald J. Trump (@Donald J. Trump) 1550670553.0
Trump did it again Friday morning, still having said nothing about the threat neutralized by law enforcement.
Fake News is so bad for our Country! https://t.co/ZwA8E0URer

— Donald J. Trump (@Donald J. Trump) 1550847325.0
Contrary to what Sanders says, however, the consequences of Trump's assaults on the media are very, very real.
Trump's aggressive rhetoric toward the media was blamed by some for the mass shooting at the Capital Gazette in Annapolis, Maryland last summer, though no official connection was established.
In October, a Florida man infatuated with the president mailed pipe bombs to news organizations and Democrats, including Hillary Clinton, Trump's opponent in the 2016 general election.
Incredibly, Trump complained that the media was too focused on the bomber and not enough on his pre-midterm election efforts just seconds after he thanked law enforcement for saving lives.
"They were also competing with this story," said Trump, frustrated. "Now our law enforcement's done such a good job," he added, "maybe that can start to disappear rapidly because we don't like those stories."
And just last week, a BBC reporter was assaulted at a Trump rally in El Paso, Texas. The White House Correspondents Association pinned the responsibility of preventing these incidents squarely on Trump.
One of the more blistering rebukes of Trump's vitriol came from A.G. Sulzberger, publisher of the New York Times, who ripped Trump for his "enemy of the people" tweet on Wednesday.
"The phrase 'enemy of the people' is not just false, it's dangerous," Sulzberger wrote in a statement. "It has an ugly history of being wielded by dictators and tyrants who sought to control public information. And it is particularly reckless coming from someone whose office gives him broad powers to fight or imprison the nation's enemies."
Keep reading... Show less