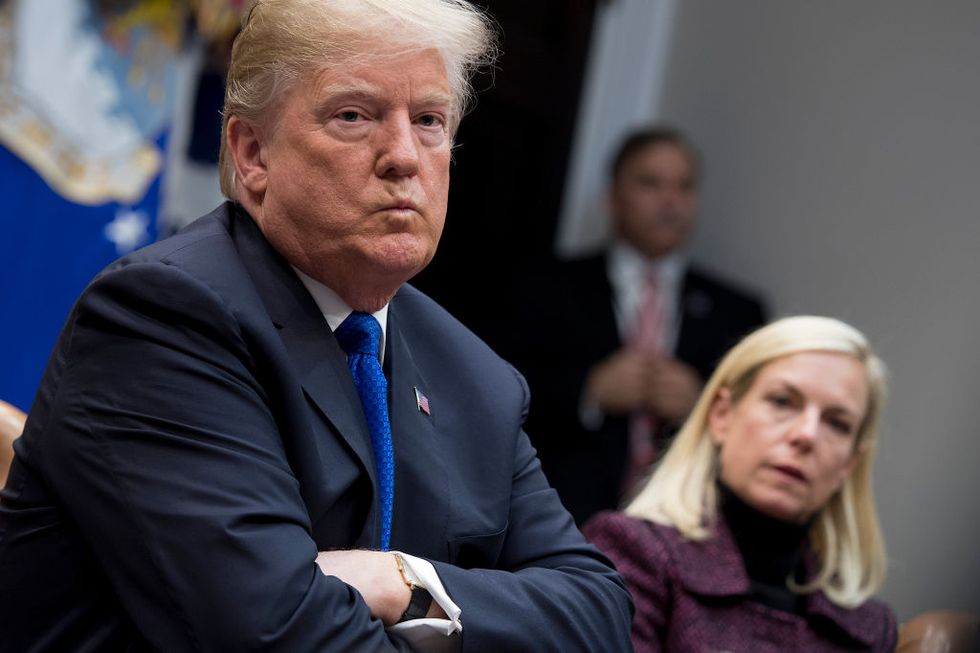 US President Donald Trump (L) listens with US Secretary of Homeland Security Kirstjen Nielsen during a meeting with Republican members of the Senate about immigration at the White House in Washington, DC, on January 4, 2018. / AFP PHOTO / JIM WATSON (Photo credit should read JIM WATSON/AFP/Getty Images)
An Indiana church is protesting President Donald Trump's immigrant family detention policy by placing a nativity scene inside a barbed wire enclosure.
Christ Church Cathedral has started the #EveryFamilyIsHolyCampaign, so you'll see Jesus, Mary and Joseph caged in o… https://t.co/PNCLywQuqm

— WTHR.com (@WTHR.com) 1530623515.0
Christ Church Cathedral in Indianapolis has launched an #EveryFamilyIsHoly campaign, which displays statues of the Virgin Mary, Joseph, and baby Jesus detained in an "ICE Detention" cage.
The church set up the scene on their lawn Monday night in protest of Trump's indefinite detention of families at the U.S.-Mexican border.
The church hopes to "bring awareness to the humanitarian atrocities from our nation's 'zero tolerance' immigration policies," it said in a statement.
@FoxNewsPhotos Absolutely! This is our #EveryFamilyisHoly campaign we rolled out overnight. If you need more info p… https://t.co/2SQrTZplCV

— CCC Indy (@CCC Indy) 1530630098.0
NEWS: Christ Church Cathedral Condems Zero-Tolerance Immigration Policy | 93.1 WIBC https://t.co/HNgk8GClvd https://t.co/Gi4EdG08hV

— 93 WIBC Indianapolis (@93 WIBC Indianapolis) 1530627657.0
Followers of the church on Twitter thought the display was a clever way of driving home the inhumanity of the Trump administration's treatment of asylum seekers, most of whom are coming to the United States to escape violence and to pursue a better life.
@WTHRcom Very interesting way to portray it....I like it!!

— Melanie Thompson (@Melanie Thompson) 1530623744.0
@WTHRcom @benshapiro eat your heart out

— Matt Kincaid (@Matt Kincaid) 1530630993.0
@93wibc Make no mistake, I am not for "open borders ". But compassionate refuge for women, children and families fl… https://t.co/f6u0ACgJiU

— Christine Baker (@Christine Baker) 1530628043.0
@93wibc Good for Christ Church Cathedral for this bold message!

— Mare So There (@Mare So There) 1530630467.0
Others pointed out the harsh reality of the "zero tolerance" policy of separating migrant children from their parents, which Attorney General Jeff Sessions established in May.
The president issued an executive order in June which intended to stop separating families, however to this day no plan is in place to reunite children with their parents. Instead, families are being detained indefinitely together. Last week, a federal judge ordered the administration to return separated children to their parents within 30 days.
@WTHRcom Except Jesus would be separated from His parents.😡

— Doug Wood (@Doug Wood) 1530632534.0
@faithepinho @CCCathedralIndy It looks at though the infant is _with_ the mother; so that is not actually a useful comparison to reality.

— Joe B. Transue (@Joe B. Transue) 1530641303.0
On Sunday, the church tweeted a prayer for "families separated at the border."
"We pray for those families separated at the border. May God protect them and watch over them." Our prayers today. #Episcopal #Immigration

— CCC Indy (@CCC Indy) 1530456305.0
It too was met with support.
@CCCathedralIndy A lot of us recognize that your message is God's message. Thank you for standing up for that which is good.

— Rowlandville (@Rowlandville) 1530636722.0
As was its tweet of the scene on Tuesday.
On our lawn tonight we placed The Holy Family...in #ICE detention. #Immigration https://t.co/eSkTv89SEf

— CCC Indy (@CCC Indy) 1530594811.0
@CCCathedralIndy @R3sistP3rsist Powerful!

— Sarah Flynn (@Sarah Flynn) 1530632622.0
Reverend Stephen Carlsen, who serves as dean and rector of the church, said that the story of the nativity is based upon loving your neighbors as yourselves.
"I know what the Bible said," Carlsen told the Indy Star. "We're supposed to love our neighbors as ourselves."
"[Some] forget that this is a homeless family with nowhere to go," Carlsen said. "The story of the Holy Family teaches that "the heart of God is with those who are most vulnerable, most at risk."
Carlsen continued:
Holy Scripture is clear about how we are to treat people trying to find safety for their families -- we are to show mercy and welcome them.
"When we say 'every family' we mean families on the border," the priest added. "We have been active as a church caring for those in need -- including people who are coming to our country, seeking a better, safer life for themselves and their kids."
"I know what the Bible said ... we're supposed to love our neighbors as ourselves." -Father Stephen Carlson of… https://t.co/3CKcvwrtaP

— Faith E. Pinho (@Faith E. Pinho) 1530617214.0
Carlsen also stated that the scene will remain on the church lawn for as long as they feel the message still needs to be sent.
How long is it needed? My greatest hope is that those in power, those who could end this today, will say 'We are not going to treat people coming into our country this way.'
Reverend Lee Curtis said that Jesus, Mary, and Joseph were refugee asylum seekers in ancient times. Curtis placed Bible verse Matthew 2:13-14, which commands the protection of refugees, alongside the display:
An angel of the Lord appeared to Joseph in a dream, saying, 'Arise, take the young Child and His mother, flee to Egypt, and stay there until I bring you word; for Herod will seek the young Child to destroy Him. When he arose, he took the young Child and His mother by night and departed for Egypt.
"This family is every family, and every family is holy," Curtis said.
Christ Church Cathedral is not the only religious voice condemning Trump's family separation and detention.
Last month, Bishop Edward Weisenburger of Tucson, Arizona said Christians who support or enable the policy should face
religious consequences
.
Speaking to the U.S. Conference of Catholic Bishops on Wednesday, Weisenburger said that canonical penalties should be imposed upon people who "who are involved in this."
"Canonical penalties are there in place to heal," he said, "and, therefore, for the salvation of these people's souls, maybe it's time for us to look at canonical penalties."
Session's own church suggested a few weeks ago that the attorney general himself should face
religious punishment
 for his part in the mistreatment of asylum seekers.
More than 600 worshippers and clergy members have accused the attorney general of child abuse, racism, immorality, and "dissemination of doctrines contrary to the established standards of doctrines" of the United Methodist Church.
Keep reading...Show less