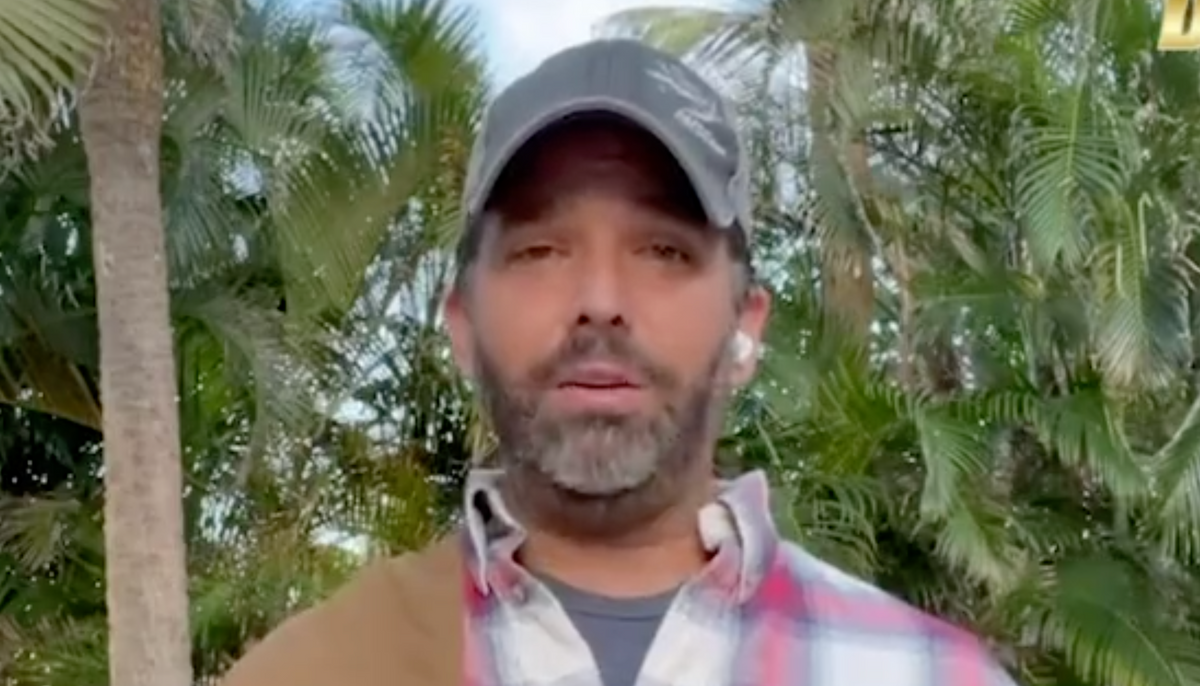 Twitter has been a quieter place since the social media outlet banned former President Donald Trump for using the platform to broadcast dangerous lies to his millions of followers.
While the 280 characters allotted to Trump's off-the-cuff tweets were usually spent berating his enemies and describing his accomplishments in wild superlatives, Trump also had a habit of using the platform to fire White House officials who'd disappointed him.
Such was the case for former Secretary of State Rex Tillerson, White House counsel Don McGahn, election cybersecurity official Christopher Krebs, and scores of other White House officials who learned of their departure online.
So it came as a surprise when the President's eldest son, Donald Trump Jr., lamented the so-called firing of the Washington Football Team's cheerleaders.
In reality, the Washington Football Team is overhauling the all-female cheer squad and replacing it with a co-ed dance crew for which the current cheerleaders are encouraged to audition.
That caveat didn't stop Junior from railing against the decision on Rumble.
Trump Jr. said:

"What we found out this week was that the [Washington Football Team] just got rid of their cheerleaders. Apparently, they didn't even have the decency to tell them face to face. Their cheerleading squad was disbanded, but apparently they read about it on Twitter!"
Twitter was ruthless in reminding Trump Jr. of his father's habits.
Stupidity of Jr 🤭😅 Say that firing somebody on Twitter is cowardly⁉️ 😂🤣 You won't believe this! https://t.co/NcBfiJfFDG

— Ben Mack (@Ben Mack) 1615127648.0
Says the guy who's moron Daddy fired people over twitter. This idiot is his own comedy show. Oh...he must have a… https://t.co/BN9HOLpuBv

— Kathy Cacciavillani (@Kathy Cacciavillani) 1615113053.0
You effing imbecile! The idiotic orange sperm donor you have for daddy did exactly the same... firing people by twe… https://t.co/hiHTCFCoww

— (((Gayskeptic))) (@(((Gayskeptic)))) 1615141558.0
U mean like when ur daddy fired people on Twitter or the news ? Maybe u should sit down and shut up Fredo, nobody c… https://t.co/xDfrvubsG4

— mimi (@mimi) 1615078809.0
As opposed to all the people your father fired over Twitter. What is your point? Is this all you have to worry abou… https://t.co/iy0lIagNDD

— Steven Martin (@Steven Martin) 1615069523.0
Trump Jr. was also livid that the Washington Football Team was no longer using a racial slur as its team name.
Ranting about the Washington football team changing their name nearly a year later, find something more recent to p… https://t.co/1LquWj3YUQ

— JL (@JL) 1615073764.0
Woke Stupidity definition - any time @DonaldJTrumpJr is awake he is stupidAF. https://t.co/45rAKVpfmi

— Twice Impeached Bigly World Champion Shitter (@Twice Impeached Bigly World Champion Shitter) 1615129897.0
Why do you care about it? https://t.co/1sYL4BMJFA

— Luis Landa (@Luis Landa) 1615088064.0
why would an NFL team be competing in the Olympics https://t.co/SpEBPwskPC

— lawful neutral milk hotel (@lawful neutral milk hotel) 1615071750.0
The Washington Football Team isn't expected to issue him a response.