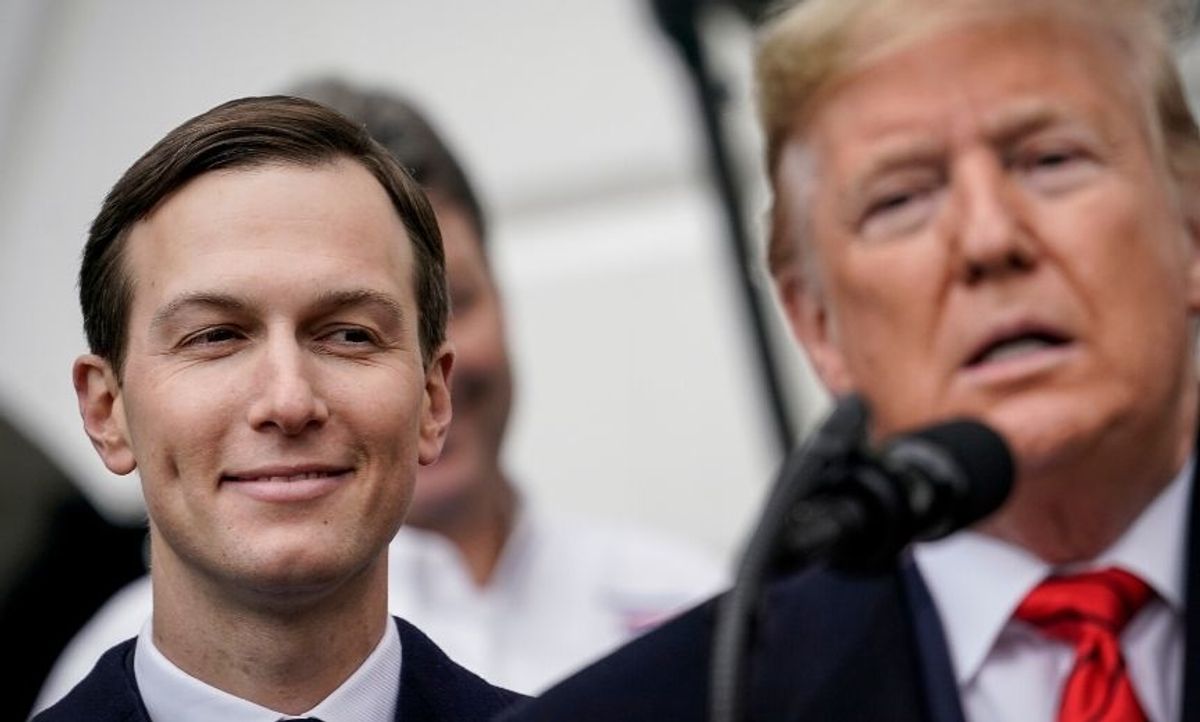 Drew Angerer/Getty Images
President Donald Trump has repeatedly turned to his senior advisor and son-in-law Jared Kushner for some of his most influential policies.
He's put Kushner in charge of Middle East peace policy, criminal justice reform, opioid crisis management, and more of the United States' most pressing issues.
Kushner—along with white supremacist Stephen Miller—wrote Trump's most recent Oval Office address regarding the current pandemic facing the United States. The speech was widely panned, with the White House having to issue numerous clarifications amid statements that made industries like air travel scramble.
With Kushner partly responsible for such a botched speech, a four year old ProPublica article regarding the circumstances behind Kushner's admittance to Harvard is making the rounds once again after being shared by none other than lawyer and Trump critic, George Conway.
Check it out.
Had never seen this before. It's quite something. https://t.co/QmUQUnsSXs https://t.co/djR8LYtedo

— George Conway (@George Conway) 1584111130.0
Ouch. https://t.co/lGsNhC4MlT

— George Conway (@George Conway) 1584111236.0
The article details research about Kushner uncovered by its author, Daniel Golden, for his book The Price of Admission, which investigates the underhanded tactics used by the wealthy to ensure their kids are admitted to the country's most prestigious institutions.
Evidence indicates that Kushner was one of those kids.
Kushner's father Charles—a real estate magnate who spent 14 months in federal prison for witness tampering, illegal campaign contributions, and tax evasion in 2004—pledged $2.5 million to Harvard in 1998, just before his son was accepted into Harvard.
Golden spoke to administrator's at Jared's high school, who were all stunned that he'd been accepted.
One former faculty member said:
"There was no way anybody in the administrative office of the school thought he would on the merits get into Harvard. His GPA did not warrant it, his SAT scores did not warrant it. We thought for sure, there was no way this was going to happen. Then, lo and behold, Jared was accepted. It was a little bit disappointing because there were at the time other kids we thought should really get in on the merits, and they did not."
Jared's admission to Harvard had an undeniable effect on his future and—with Kushner at the forefront of the United States' most urgent conflicts—it has an effect on our futures now.
Sadly, people weren't surprised.
So, Jared Kushner's father DID BUY Jared's admission into Harvard... 😑 https://t.co/rw3RVukToC

— Aly (@Aly) 1584114024.0
Looks like Jared's daddy bought him into Harvard! I guess we are not surprised! https://t.co/WM0VtgxgJa

— Ron Tucker (@Ron Tucker) 1584113527.0
It takes a great deal of education to become a slumlord. https://t.co/AudfuD73Wi

— Cindy Loohoo (@Cindy Loohoo) 1584112868.0
Quite something indeed but why am I not shocked? https://t.co/ztuyYklXLE

— Diane Stites (@Diane Stites) 1584111340.0
Many don't feel comfortable with him at the helm.
No one elected JARED KUSHNER anything. No one wants JARED KUSHNER to work on anything. And, rather importantly, N… https://t.co/LSHdfIQYFp

— Don Winslow (@Don Winslow) 1584067679.0
So this dead-on-arrival speech from Trump does underscore that virtually every major international issue the US fac… https://t.co/Dt5gYpbTya

— David Rothkopf (@David Rothkopf) 1583976105.0
Has there ever been a higher ratio of self-regard to ability than Jared Kushner ? https://t.co/SbPbACDGq9

— David Frum (@David Frum) 1584060901.0
Yikes.
For the full story, you can buy Golden's book, The Price of Admission, available here.
Keep reading...Show less