They said what we're all thinking.
08 July 2019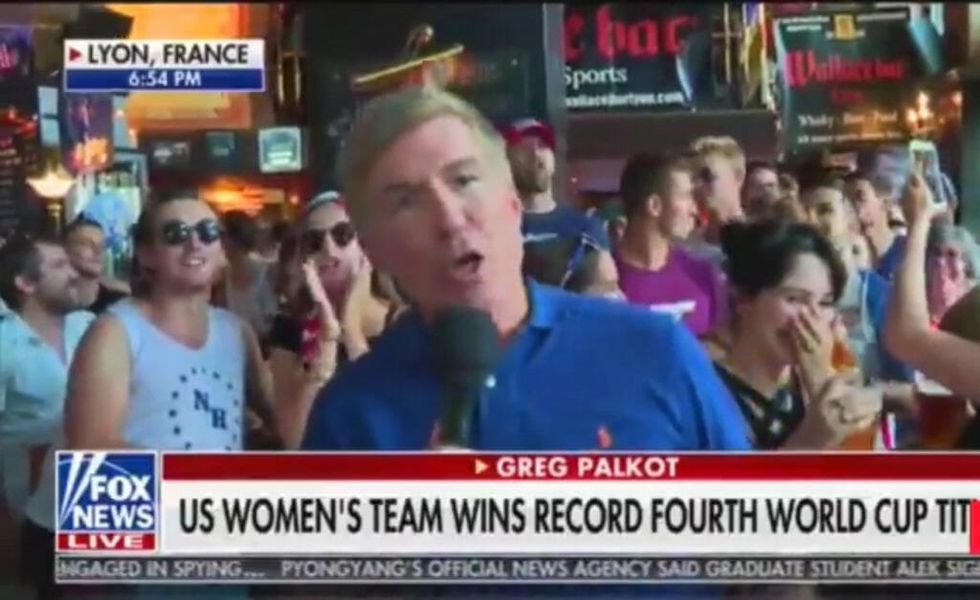 A lot can go wrong during a live broadcast. Fox News was reminded of this when they cut to a reporter inside a sports bar in Lyon, France after the United States national women's team won a record fourth World Cup.
The reporter Greg Palkot barely gets a chance to say where he is when the crowd behind him begins a chant. But instead of "USA" or another form of traditional support for the winning team, the crowd chose something quite different.
They shouted:
"F**k Trump!"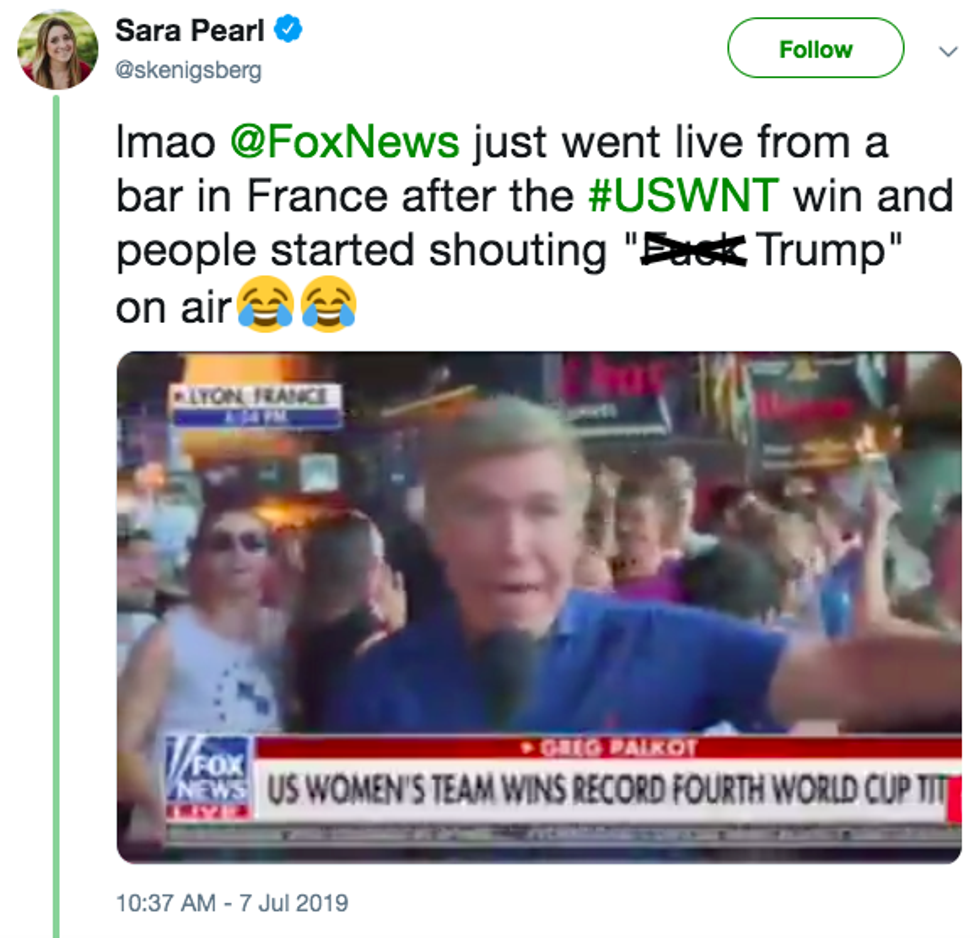 @skenigsberg/Twitter
There is little love lost between the new World Cup champions—who repeated their victory from the last global tournament—and the President. President Donald Trump began an attack via Twitter on national team co-captain Megan Rapinoe after old video of her saying she would not visit the White House surfaced.
The President has a habit of not inviting women's championship teams anyway, so there was no invitation to refuse when Rapinoe made her comments. But many who believe in equality for women, minorities and LGBTQ people are reluctant to visit the Trump White House.
With the contentious relationship between the White House and the women's national team, it is unclear if the crowd chant was in support of the World Cup champs or strictly a commentary on President Trump intended as a message to Fox News viewers.
After MoveOn.org senior video producer Sara Pearl shared the footage, it quickly climbed to almost 6 million views. And a hashtag was born:
#F**kTrump

@skenisberg/Twitter
The United States President found few allies in the comments on the video.
People pointed out the reporter's reaction once he realized exactly what the crowd was saying.
People seized the opportunity to poke fun at a recent Trump foible regarding the advent of air travel. During his July 4th address, the President claimed Revolutionary War forces took control of airports.
Some made sure to tag the official presidential government Twitter account.
One man stated the video gave him and a houseplant life.
And another suggested Fox News crews should receive the same welcome wherever they film live remotes. It turned out some people had.
While it is unclear if the crowd was US citizens visiting France for the World Cup or a more international crowd, Sara Pearl had her own interpretation for the meaning of the chant.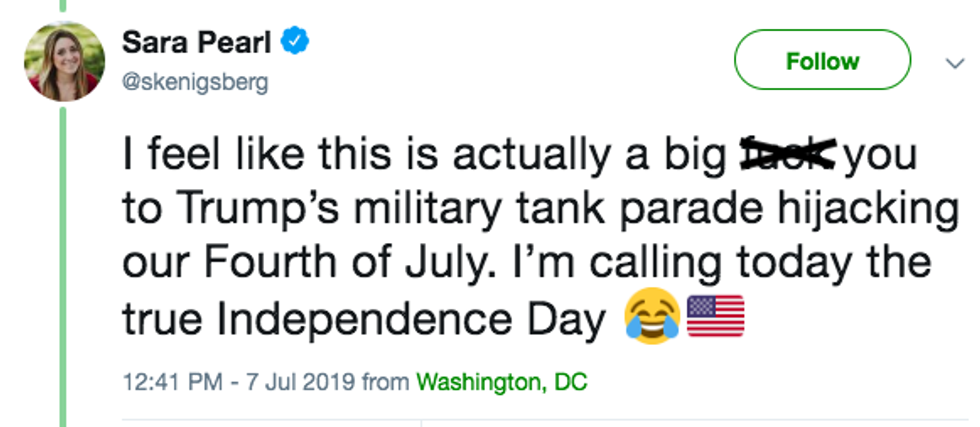 @skenigsberg/Twitter
A number of products are available to express the same sentiment, like this shirt, available here.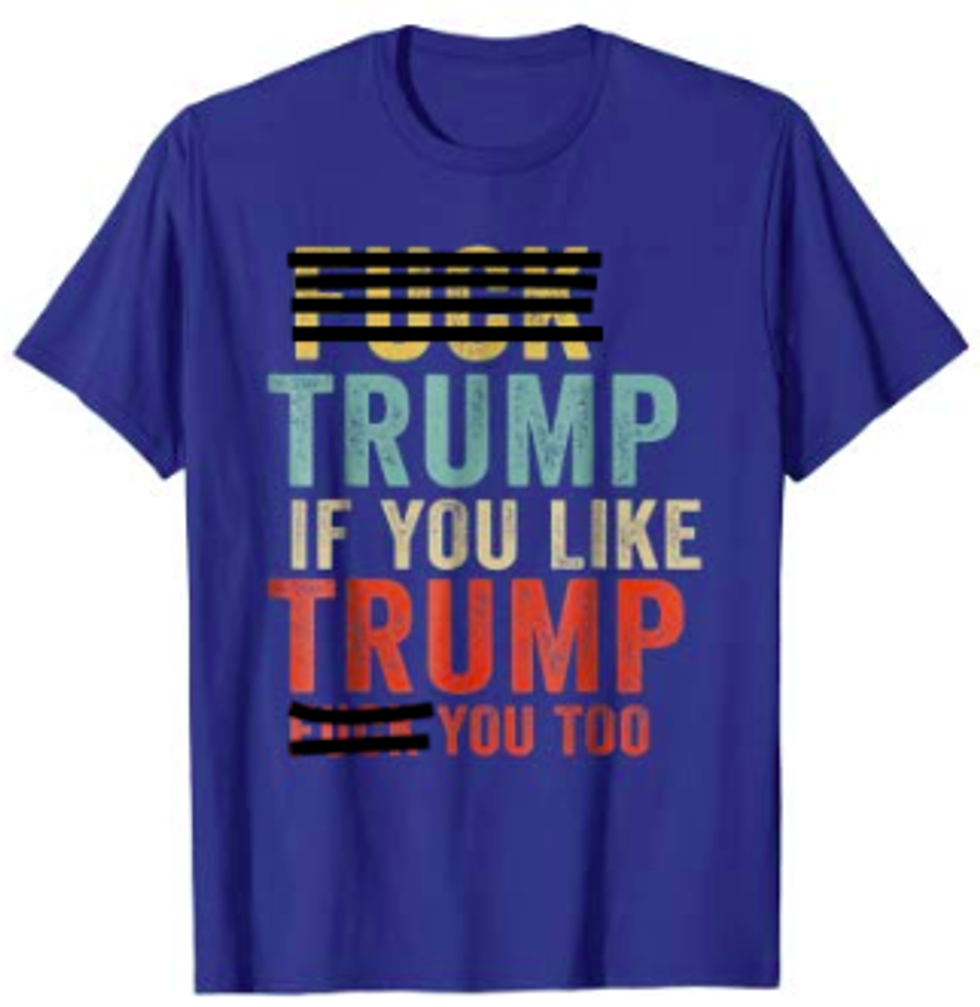 *actual shirt not censored/Amazon
Keep reading...Show less