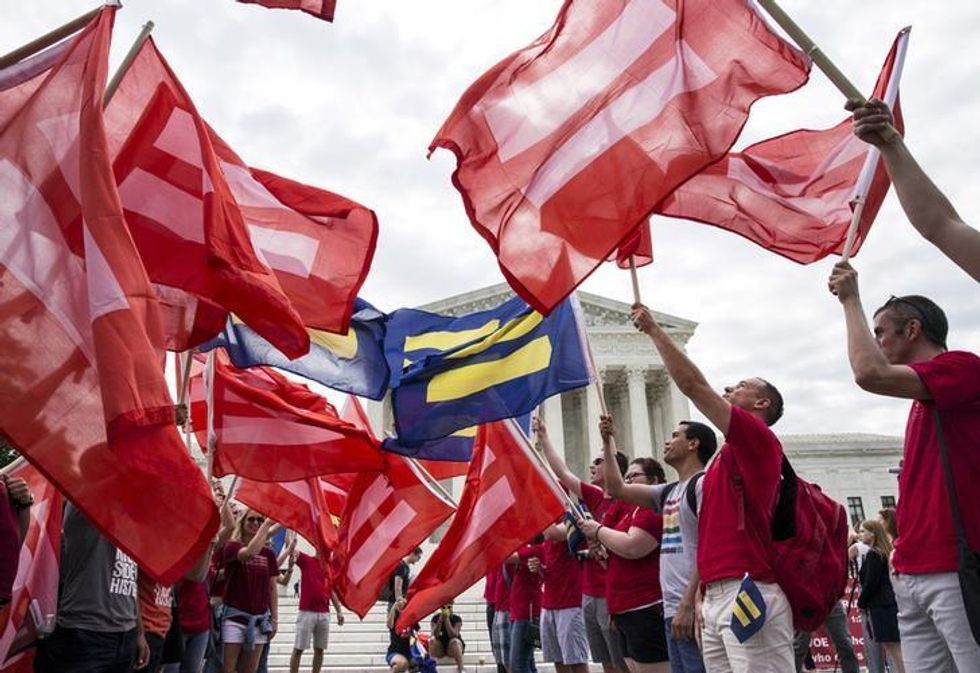 Supporters of gay marriage rally in front of the Supreme Court in Washington June 25, 2015. REUTERS/Joshua Roberts
Yesterday, the Supreme Court ruled that states must list married same-sex couples on their children's birth certificate. The per curiam decision (which means it was the decision of the court, acting as a unit) reaffirmed the Court's 2015 decision in Obergefell v. Hodges, which recognized a constitutional right to same-sex marriage. LGBT rights advocates hailed the ruling as a confirmation that Obergefell protects all rights relating to marriage, not simply the recognition of marriage itself.
The case concerns an Arkansas law about birth certificates which treats married opposite-sex couples differently from same-sex ones. The state permits the husband of a married woman to be automatically listed as the father even if he is not the genetic parent. Same-sex spouses are not extended the same courtesy.
Two married lesbian couples brought the case, Paran v. Smith, before the Supreme Court. The women had jointly planned their child's conception via an anonymous sperm donor. State officials listed the biological mother on the birth certificates and refused to list their partners. The officials said they were not entitled to a husband's presumption of paternity. The Arkansas Supreme Court said there was a biological imperative to allow only the biological parent to be listed on the birth certificates of children of same-sex couples. Critics condemned the ruling, noting that the state imposes no such condition on children of opposite-sex couples who achieved pregnancy without contributions from both parents.
Observers wondered where newly appointed conservative Justice Neil Gorsuch would side, and were dismayed. Gorsuch was one of three justices––a group which includes Justices Joseph Alito and Clarence Thomas––who dissented. Gorsuch wrote the dissent, arguing that nothing in the Obergefell ruling "indicates that a birth registration regime based on biology" runs afoul of the Due Process and Equal Protection clauses of the 14th Amendment:
What, then, is at work here? If there isn't a problem with a biology based birth registration regime, perhaps the concern lies in this particular regime's exceptions. For it turns out that Arkansas's general rule of registration based on biology does admit of certain more specific exceptions.

Most importantly for our purposes, the State acknowledges that §9–10–201 of the Arkansas Code controls how birth certificates are completed in cases of artificial insemination like the one before us. The State acknowledges, too, that this provision, written some time ago, indicates that the mother's husband generally shall be treated as the father—and in this way seemingly anticipates only opposite-sex marital unions.

But if the artificial insemination statute is the concern, it's still hard to see how summary reversal should follow ....
Gorsuch. (Credit: Source.)
Joshua Matz, a lawyer and former clerk to Justice Anthony Kennedy, indicated that Gorsuch is already delivering as the stalwart conservative President Donald Trump promised his supporters last year. "Whereas new justices usually take a beat before they start opining on every issue the court does (and doesn't) address," he said, "Justice Gorsuch has asserted his exceptionally conservative views early and often across a dizzying range of hot-button issues."
Gorsuch's record on the court "is hardly surprising to us," says Nan Aron, President of the Alliance for Justice. "He has sided with the most ultraconservative justices on the court." Leah Litman, a professor at the University of California, Irvine, School of Law, believes Gorsuch will continue to vote frequently with Thomas, serving as the Supreme Court's conservative anchor. Gorsuch "is likely to resolve his cases on very formalistic legal reasoning and to articulate his positions very forcefully," Litman said. Given Gorsuch's record, writes Slate's Mark Joseph Stern, his dissent "should be deeply alarming to LGBTQ advocates; it indicates an eagerness to read Obergefell with implausible narrowness, and a hostility to the extension of civil rights to same-sex couples."
 Writing the majority opinion, Chief Justice John Roberts reversed the state of Arkansas's judgment because its "differential treatment infringes Obergefell's commitment to provide same-sex couples 'the constellation of benefits that the States have linked to marriage.'"
He continues:
As already explained, when a married woman in Arkansas conceives a child by means of artificial insemination, the State will—indeed, must—list the name of her male spouse on the child's birth certificate. And yet state law, as interpreted by the [Arkansas Supreme] court below, allows Arkansas officials in those very same circumstances to omit a married woman's female spouse from her child's birth certificate. As a result, same-sex parents in Arkansas lack the same right as opposite-sex parents to be listed on a child's birth certificate, a document often used for important transactions like making medical decisions for a child or enrolling a child in school. Obergfell proscribes such disparate treatment.
Keep reading...Show less