center for disease control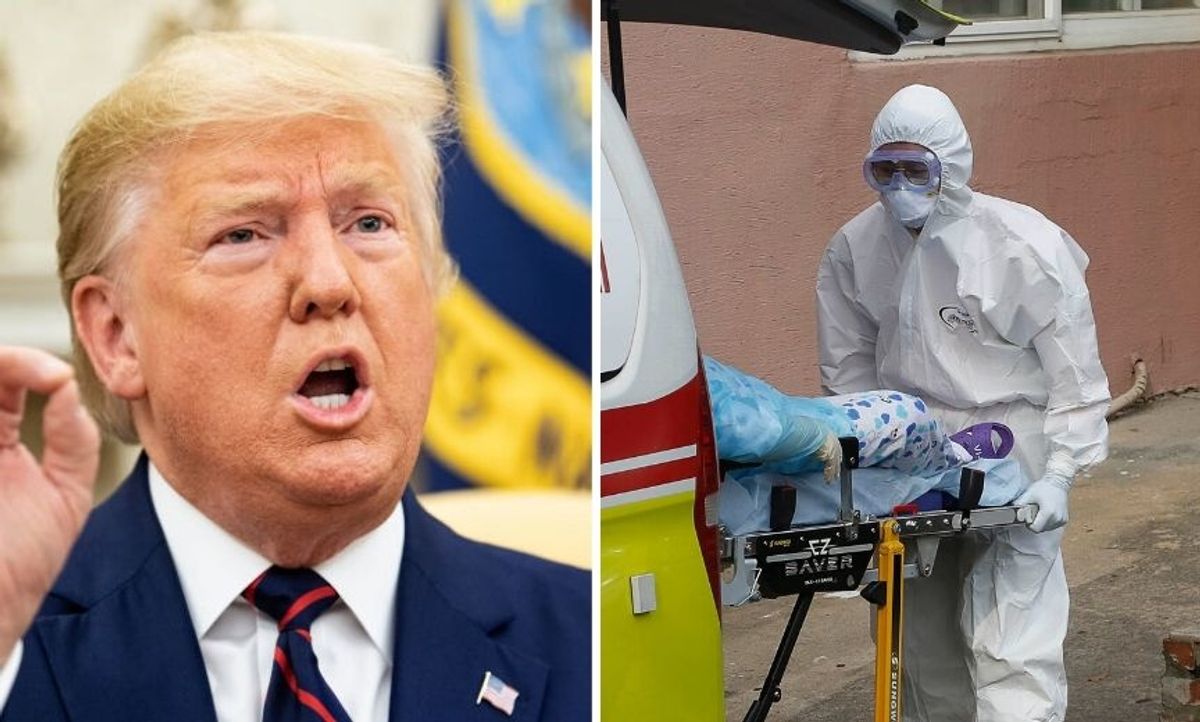 BRENDAN SMIALOWSKI/AFP via Getty Images // Seung-il Ryu/NurPhoto via Getty Images
As the coronavirus pandemic spreads through Asia, the Middle East, and Europe, concerns are growing that President Donald Trump's administration isn't doing enough to prepare for the virus coming to the United States.
Trump's Health and Human Services department was criticized this week for only requesting $2.5 billion in emergency aid—a sum that lawmakers feared wouldn't cover the supplies and services needed to contain the virus.
For his part, Trump blamed Democrats and the media.
The President claimed in a tweet today that they're deliberately sensationalizing the virus to hurt the stock market and cripple Trump's economic record.
Low Ratings Fake News MSDNC (Comcast) & @CNN are doing everything possible to make the Caronavirus look as bad as p… https://t.co/bVSoM0VMFZ

— Donald J. Trump (@Donald J. Trump) 1582722201.0
But resurfaced Trump tweets about Ebola—the fever which saw a massive outbreak in West Africa from 2013 to 2016—are making his claims about coronavirus seem somewhat hollow.
In one particularly on-brand move, a tweet from Trump in 2014 called for the suspension of immigration in the face of the Ebola outbreak.
A single Ebola carrier infects 2 others at a minimum. STOP THE FLIGHTS! NO VISAS FROM EBOLA STRICKEN COUNTRIES!

— Donald J. Trump (@Donald J. Trump) 1415655072.0
Obama will quarantine all soldiers returning from Africa for 21 days. But he still allows all who contract Ebola into country? Hypocrite.

— Donald J. Trump (@Donald J. Trump) 1414612536.0
President Obama strongly considering a plan to bring non-U.S. citizens with Ebola to the United States for treatment. Now I know he's nuts!

— Donald J. Trump (@Donald J. Trump) 1414540627.0
With all that is happening with Ebola, including the doctor who so easily came back to New York, Obama still refuses to stop the flights!

— Donald J. Trump (@Donald J. Trump) 1414322432.0
Reported cases of coronavirus have nearly tripled that of the 2013 Ebola outbreak. In just under two months, its death toll has already reached a fourth of the Ebola outbreak's three year death toll.
People began calling out Trump's hypocrisy.
trump 2014: halt air travel bc ebola is dangerous trump 2020: do not halt air travel bc #coronavirus is a non-iss… https://t.co/E3n0cB7kVE

— Alastair Williamson (@Alastair Williamson) 1580404356.0
@realDonaldTrump Hysterical then and total inaction now. https://t.co/024P1JfkB0

— jo kelly (@jo kelly) 1582732641.0
So he writes this about Ebola in 2014, but downplays coronavirus in 2020 which has a contagion rate higher than Ebo… https://t.co/lZaJqMdoMI

— Erika Larsson-Hall (@Erika Larsson-Hall) 1582731296.0
Hmmmmm. 2014 Trump seems to take this stuff a little more seriously. https://t.co/EM4X5NEGMd

— Scot (@Scot) 1582726686.0
People have a good idea of why his reaction is so different this time around.
It seems like President Trump and Larry Kudlow are more concerned about the stock market than the health of America… https://t.co/GjKTJJyGcm

— Chuck Schumer (@Chuck Schumer) 1582687771.0
Some perspective on Trump's $2.5 billion #coronavirus request: -His budget cuts $3 billion from global health prog… https://t.co/2tfwStRi96

— Chris Lu (@Chris Lu) 1582592710.0
Trump is not furious because of the thousands of lives the coronavirus has taken or the # of American lives it is g… https://t.co/wABIhxWQZk

— Andrew Wortman (@Andrew Wortman) 1582676280.0
for Trump to care about this crisis, the stock market needed to tank and his political fortunes needed to be threat… https://t.co/fStTN84wer

— Sarah Reese Jones (@Sarah Reese Jones) 1582737338.0
Trump will hold a news conference with officials from the Center for Disease Control at 6 pm.
For a deeper look into Trump's White House, A Very Stable Genius is available here.
Keep reading...Show less