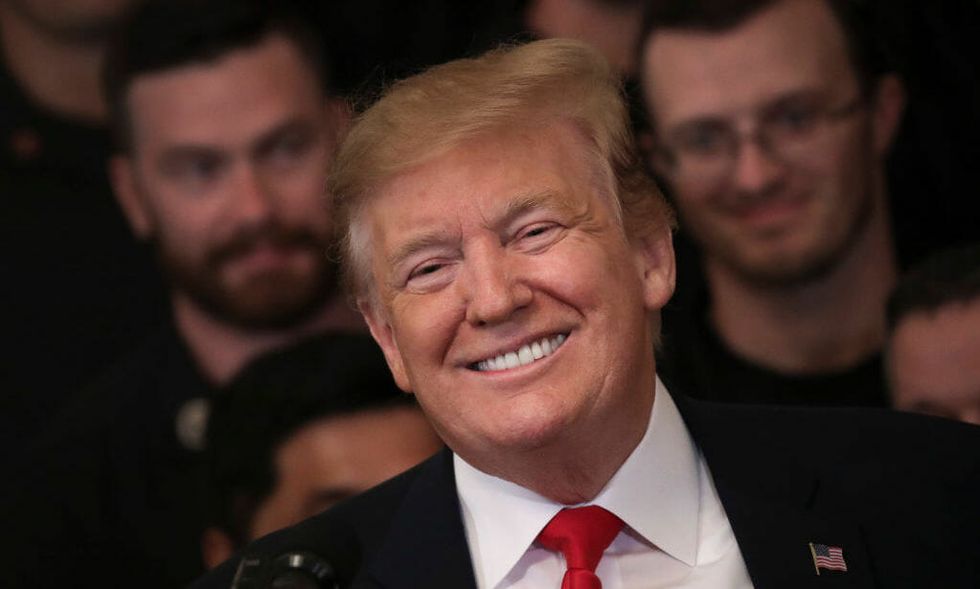 President Donald Trump smiles during an event in the East Room of the White House, April 18, 2019 in Washington, DC. (Photo by Drew Angerer/Getty Images)
The Swedish Transport Agency denied a request for a "TRUMP" vanity license plate in a nod to President Donald Trump, citing the agency's rules against plates featuring political commentary.
According to Swedish newspaper The Aftonbladet, the man who applied for the plate, Marcus Saaf, said he "was drunk and thought it was fun to apply," noting that his car is American made.
The agency deems political license plates "potentially offensive" in a rule that forbids
"Combinations of letters and/or numbers which can be perceived as offensive. We do not approve combinations that can refer to drugs, sex, profanity, religion, diseases, crime or politics."
While the rejection was a standard application of rules against politics, rather than a critique of Trump's character, many resisters couldn't help but cackle at the inadvertent shade.
@thehill Everything about this guy is offensive!

— Lois Lane (@Lois Lane) 1568063038.0
@thehill 😃😃😃. "TRUMP." An offensive phrase.

— Grandma Speaks Up (@Grandma Speaks Up) 1568063399.0
@thehill Sweden gets it.

— Auntie Oh No (@Auntie Oh No) 1568063194.0
@thehill https://t.co/lMo92ox0kf

— Bernice (@Bernice) 1568063683.0
@thehill #Kudos to Sweden!

— Starr Gray 🇺🇸🇵🇸 (@Starr Gray 🇺🇸🇵🇸) 1568063755.0
@thehill @GreggHoush Haha! His name is officially a vulgarity! https://t.co/fYvKBqGbPJ

— Scooter (@Scooter) 1568055241.0
@thehill Best thing I've read today.

— The Grand PooBah (@The Grand PooBah) 1568055097.0
A (presumably sober) Saaf later said that he understood the decision and was content to keep his original license plate number.
Trump recently called for Sweden to release rapper A$AP Rocky after he was detained in the country for assault charges.
Very disappointed in Prime Minister Stefan Löfven for being unable to act. Sweden has let our African American Comm… https://t.co/f0hfApJ8tz

— Donald J. Trump (@Donald J. Trump) 1564089544.0
For its part, the United States has  rejected a number of both pro- and anti-Trump related plates, including "TRE45ON" and "DUMP45," citing a similar rule.
------
Listen to the first three episodes of George Takei's podcast, 'Oh Myyy Pod!', where we explore the racially charged videos that have taken the internet by storm.
Be sure to subscribe here and never miss an episode.
Keep reading...Show less