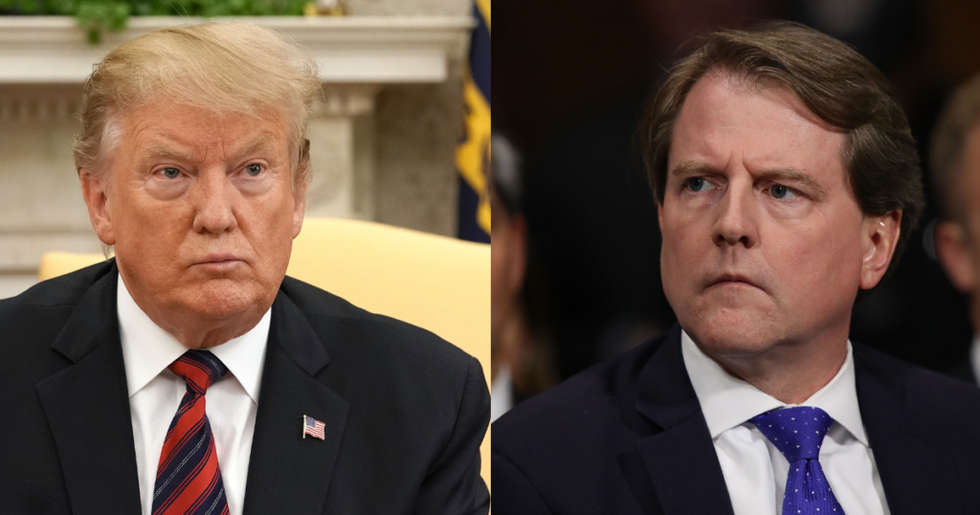 Chip Somodevilla/Getty Images, Win McNamee/Getty Images
"Watch out for people that take so-called 'notes,' when the notes never existed until needed," President Donald Trump tweeted the day after Special Counsel Robert Mueller's Russia investigation report was released to the public.
Statements are made about me by certain people in the Crazy Mueller Report, in itself written by 18 Angry Democrat… https://t.co/8SSXuBchfu

— Donald J. Trump (@Donald J. Trump) 1555674789.0
Much to Trump's dismay, the notes of Annie Donaldson, chief of staff to former White House Counsel Don McGahn, were quoted 65 times in Mueller's report. In fact, they served as much of the foundation for Mueller's inquiry into whether Trump obstructed justice.
Mueller described Donaldson's notes as "a running account of the president's actions, albeit in sentence fragments and concise descriptions."
"It is impossible to imagine that these extensive notes were taken for any reason other than to document questionable presidential conduct," Carol Lennig of The Washington Post wrote on Friday.
Here are the highlights.
"Just in the middle of another Russia Fiasco," Donaldson wrote in March 2017, quoting McGahn.
One particular instance of written records that are damning to Trump chronicled by Donaldson involved Trump's firing of FBI Director James Comey and the ensuing chaos within the West Wing.
"POTUS in panic/chaos," Donaldson wrote. "Need binders to put in front of POTUS. All things related to Russia."
Trump's anger at Comey was palpable in the weeks leading up to his firing.
The president was "beside himself ... getting hotter and hotter, get rid?" Donaldson recorded. Trump apparently felt that Comey "made [him] look like a fool."
McGahn allegedly wanted an FBI letter citing the Russia investation to "[n]ot [see the] light of day...[n]o other rationales," despite the president's insistance that Comey told him he was not under investigation, because Trump using the Russia probe as an excuse to fire Comey could amount to obstruction of justice.
As predicted, Trump fired Comey for "this Russia thing" in May 2017, Donaldson wrote. "Is this the beginning of the end?"
According to Donaldson, McGahn pushed Trump on "Resign vs. Removal. - POTUS /removal" of Comey.
By the end of May, Trump's efforts to sully Mueller and sway public opinion was treading too close to obstruction for McGahn, Donaldson noted.
Trump "look like still trying to meddle in [the] investigation" ... "knocking out Mueller" … "[a]nother fact used to claim obst[ruction] of just[ice]," she wrote, adding that Trump's "biggest exposure" could come from "other contacts....calls... ask re: Flynn," his first national security advisor.
Trump also tried to have Mueller fired, and twice called McGahn to follow up.
"Have you done it?" Trump reportedly asked McGahn.
Donaldson's notes are reminding people of the Nixon tapes.
@washingtonpost Soooo many similarities.

— NolaDebina☕⚜️ (@NolaDebina☕⚜️) 1556905798.0
@PhilipRucker @CarolLeonnig Yet Nixon left and we still have this, um person!

— Dianne (@Dianne) 1556898570.0
@kylegriffin1 Let's see them!!

— Nanespi (@Nanespi) 1556910657.0
@CarolLeonnig Excellent article, @CarolLeonnig ! Thoroughly enjoyed the extra details you sprinkled throughout. Se… https://t.co/3Vvsb4ZM7u

— Beth⭐️ (@Beth⭐️) 1556886425.0
@CarolLeonnig Please let this be the nail in this nightmare of a presidency. @CarolLeonnig, you have completed the… https://t.co/tbZ9IRwUZo

— Armando Yañez (@Armando Yañez) 1556899274.0
But the effort to review all of Donaldson's documentation has been blocked by Attorney General William Barr, who admitted on Wednesday that not only has he not reviewed Mueller's evidence, he has no intention of sharing it with Congress.
The public is furious.
@girlsreallyrule Please, please, please do right by this country, appear before Congress, tell the #truth and… https://t.co/p6b1Ohwtfh

— Susan Larson (@Susan Larson) 1556887923.0
@girlsreallyrule They need to release the unredacted report, as well as the underlying evidence. I want to read t… https://t.co/YXuDMRiVJb

— theBenfluencer_M🍑🍬 (@theBenfluencer_M🍑🍬) 1556900755.0
@CarolLeonnig These people are unbelievable! They continued to work for this corrupt and mentally disturbed Preside… https://t.co/W6niZlriGR

— nancy sorrells (@nancy sorrells) 1556892444.0
"What about these notes? Why do you take notes?" Trump reportledly asked McGahn. "Lawyers don't take notes. I never had a lawyer who took notes."
Keep reading...Show less