The people have spoken.
02 January 2019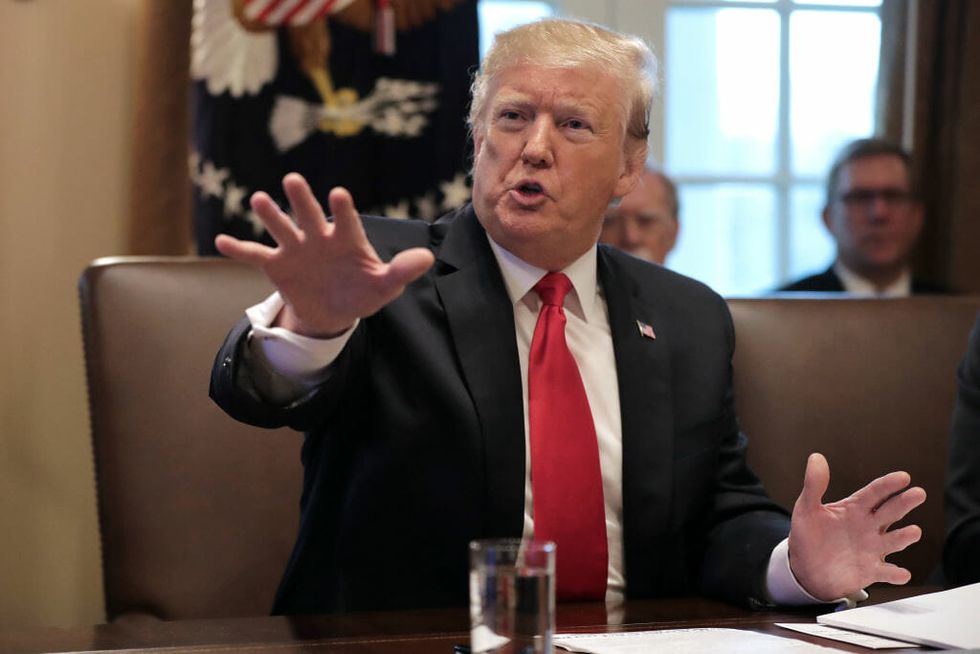 WASHINGTON, DC - JANUARY 02: U.S. President Donald Trump talks to journalists during a meeting of his Cabinet in the Cabinet Room at the White House January 02, 2019 in Washington, DC. A partial federal government shutdown entered its 12th day as Trump and House Democrats are at an impasse over funding for border security, including the president's demand for $5 billion for a wall along the U.S.-Mexico border. (Photo by Chip Somodevilla/Getty Images)
President Donald Trump kicked off his first cabinet meeting of the new year, where he and his officials discussed the current government shutdown, immigration, and other subjects, but it was a startling centerpiece that ended up stealing the show.
Displayed on the table in front of the President was a poster of himself with text reading "Sanctions are Coming"—an allusion to HBO's hit fantasy series Game of Thrones.
Not sure what's crazier: That Trump is using a stupid Game of Thrones reference to threaten sanctions, or that he's… https://t.co/d6Fpln5NTN

— Josh K. Elliott (@Josh K. Elliott) 1546450658.0
It's unclear whether or not the President brought the poster to the meeting himself. Trump, however, tweeted the same image two months ago.
https://t.co/nk2vKvHuaL

— Donald J. Trump (@Donald J. Trump) 1541174504.0
In response to that original tweet, HBO asked "How do you say trademark misuse in Dothraki?," citing the fictional language spoken by many Game of Thrones characters.
How do you say trademark misuse in Dothraki?

— HBO (@HBO) 1541183079.0
Now, with the brandishing of the image in a highly publicized cabinet meeting, many are hoping HBO backs up its original tweet with legal action to add to the pile of investigations and lawsuits plaguing Trump and his affiliates.
@MSNBC HBO needs to come for blood.

— Jon Stormborn (@Jon Stormborn) 1546450092.0
Our president is a bad joke and @HBO should sue. https://t.co/83kuztTCZh

— 🦂Charles Pulliam-Moore🦂 (@🦂Charles Pulliam-Moore🦂) 1546450360.0
Dear HBO please sue @RealDonaldTrump for his Game of Thrones knockoff #CabinetMeeting

— Jimmy Streich (@Jimmy Streich) 1546460573.0
That was just the beginning.
Though it's long been his trademark, many were still flummoxed at the President's unapologetic gaudiness at a meeting of such critical import. His eagerness to show off led many to believe he treats the presidency like the reality television shows he used to host.
@MSNBC he really believes this is a reality show...thanks Mark Burnett

— cathy strauss (@cathy strauss) 1546450105.0
@MSNBC Everything is a god damn show with him. He doesn't care about leading or inspiring.

— Calamity Jay (@Calamity Jay) 1546449871.0
@MSNBC Theater. That's all this man knows. We are going to pay for his incompetence for decades!

— SrGold (@SrGold) 1546451357.0
It wasn't long before people began putting their own spin on the poster.
@justinsink @yashar Sweet, I prefer the back https://t.co/dOAGObrVzQ

— Kyle Ord (@Kyle Ord) 1546449630.0
@MSNBC I like this one better. https://t.co/rXa1mwYOXG

— RESIST✊✌🖖 (@RESIST✊✌🖖) 1546450775.0
The circus at the White House continues.
Keep reading... Show less