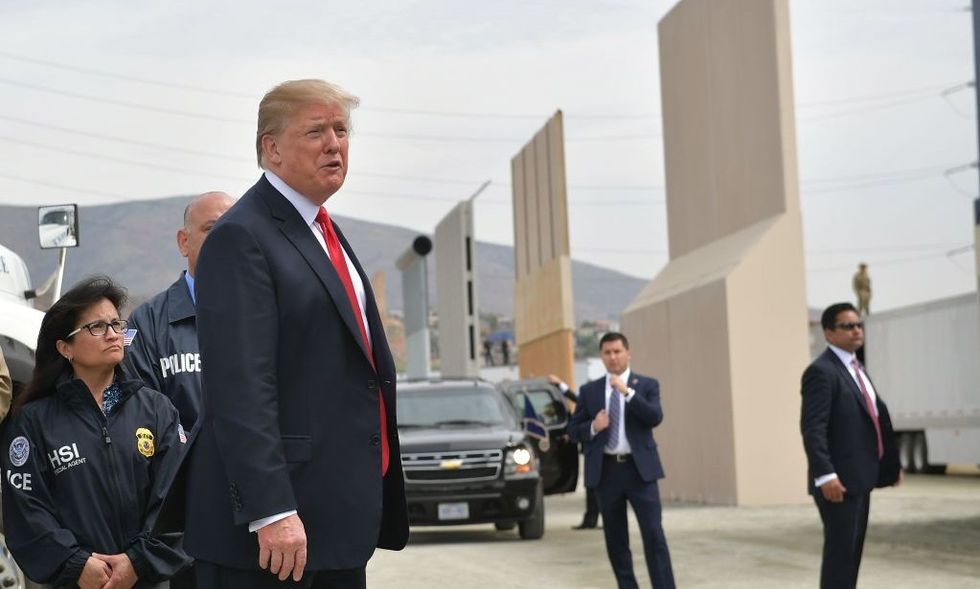 US President Donald Trump inspects border wall prototypes at Otay Mesa near San Diego, California on March 13, 2018. (Photo by MANDEL NGAN/AFP/Getty Images)
The Washington Post is reporting that President Donald Trump, in a scramble to make progress on his wall at the southern border ahead of the 2020 election, is telling officials he'll pardon them if they have to break the law to speed up the construction.
The report, by Nick Miroff and Josh Dawsey, states:
"President Trump is so eager to complete hundreds of miles of border fence ahead of the 2020 presidential election that he has directed aides to fast-track billions of dollars' worth of construction contracts, aggressively seize private land and disregard environmental rules, according to current and former officials involved with the project.

He also has told worried subordinates that he will pardon them of any potential wrongdoing should they have to break laws to get the barriers built quickly, those officials said."
Trump and his administration insist that miles of new wall has been built, but in reality, it's not actually new. All of the "new wall" has been erected where physical barriers were already in place. No previously unobstructed land has seen an inch of wall.
So far in Trump's presidency, more than 60 miles of existing barriers and fences have been replaced with new wall.… https://t.co/fTCtNY4GeH

— Axios (@Axios) 1566776280.0
Despite that fact, Trump still made the claim that the wall is "going up rapidly" in a tweet classifying the Washington Post report as "fake news."
Another totally Fake story in the Amazon Washington Post (lobbyist) which states that if my Aides broke the law to… https://t.co/mHnCxS2Rnn

— Donald J. Trump (@Donald J. Trump) 1567019199.0
But a White House official didn't deny to the Post that Trump made these remarks, instead assuring he was "only joking."
Trump's team didn't deny the Post report: "Asked for comment, a White House official, who spoke on the condition of… https://t.co/PNggEkzWax

— Daniel Dale (@Daniel Dale) 1567019552.0
According to the report, one substantial legal obstacle is securing the land that the wall would run through. Trump—according to officials—responded to these concerns with, "Take the land."
The efforts documented in the Post report are concerning lawmakers and private citizens alike.
Donald Trump is dangling pardons for subordinates who would break the law to build his vanity project on the southe… https://t.co/Tg1WFFEYGP

— Kamala Harris (@Kamala Harris) 1567012021.0
Trump allegedly encouraged federal officials to break the law by promising pardons. But there are limits to the pa… https://t.co/WhUqQFovxJ

— Adam Schiff (@Adam Schiff) 1567012260.0
We can't become numb to these stories: Trump has promised to pardon government workers who break the law to build a… https://t.co/5oWUXNsH0V

— Beto O'Rourke (@Beto O'Rourke) 1567014226.0
How the rule of law dies: the President "has told worried subordinates that he will pardon them of any potential wr… https://t.co/0NFxOuDlTU

— Brendan Nyhan (@Brendan Nyhan) 1566957134.0
So, Trump's not going to shoot someone on 5th Ave., but he'll promise a pardon to the person he orders to do it for him.

— Deborah Roseman (@Deborah Roseman) 1566961890.0
Trump has dangled pardon powers to subordinates in an effort to follow through on his campaign's immigration platform before. He told Acting Homeland Security Secretary Kevin McAleenan in April that he'd pardon him if he faced legal backlash for closing the Southern Border on Trump's orders, according to the New York Times.
Keep reading...Show less