A little known but highly dangerous tick-borne illness is poised to spread across the country
17 May 2017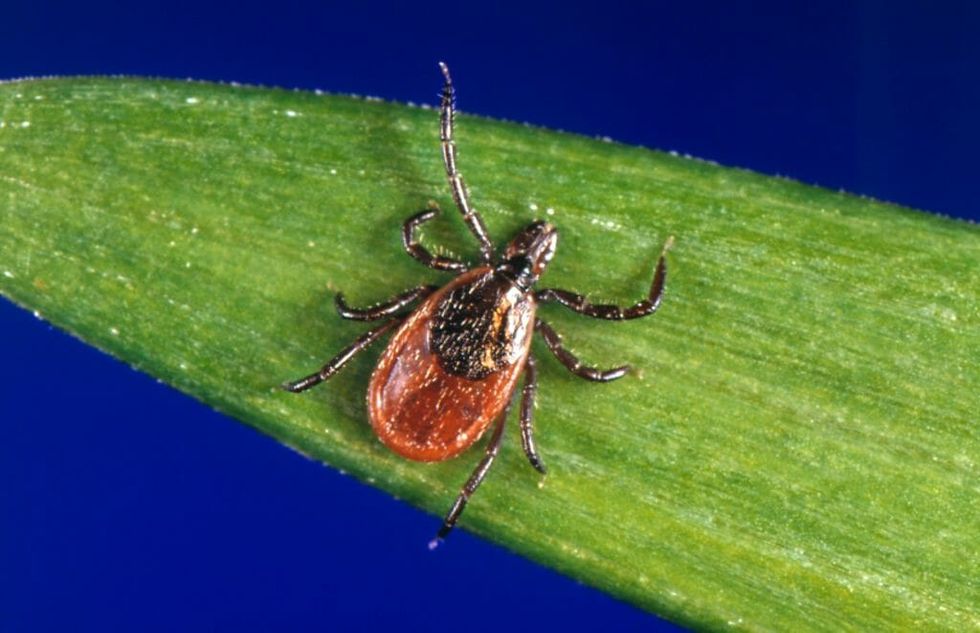 Credit: https://www.cdc.gov/powassan/
[DIGEST: NBC, CDC, Time, Bangor Daily News]
In recent decades, the summer months have become a time to take precautions against contracting Lyme disease, a tick-borne illness that causes symptoms ranging from a flu-like illness to chronic pain and neurological impairments. However, Lyme is just one of many diseases humans can contract from a tick bite — and it's not the worst one. Powassan disease is also spread by ticks. It's on the rise, and it can be deadly.
The Powassan virus can cause fever, headache, vomiting, weakness, seizures, and swelling of the brain, and at least 10 percent of the people who contract this fast-moving tick-borne pathogen die. Half will be left with permanent neurological problems. While a tick infected with Lyme disease must be attached for more than 24 hours in order to transit the disease, a tick needs only 15 minutes to infect a person with Powassan.
How big of a threat is Powassan? The disease is still rare. While 30,000 new cases of Lyme disease are reported to the Center for Disease Control (CDC) each year, the CDC has recorded only 75 cases of POW in the past 10 years. However, that could change quickly.
In Wisconsin, which has one of the highest number of cases in the U.S., Powhassan has been found in every county. There was one reported case of the illness in Wisconsin in 2015.  Numbers from the Wisconsin Health Department show there were four cases in 2016. On the East Coast, researchers discovered larger than expected numbers of ticks infected with Powassan in Maine during a recent statewide survey.
"We were kind of surprised that we found as much as we did," said Chuck Lubelczyk, a vector ecologist at the Maine Medical Center Research Institute's "tick lab," which tested 206 groups of ticks from locations across the state.
The disease is named after Powassan, Ontario, where it was first identified in 1958. However, it has been found throughout the northeast and great lakes region, and it appears
to be spreading. In Connecticut, a baby became ill with Powassan in late 2016, the first human case to be identified in the state.
While the disease is still rare, its potential to kill has doctors on alert. There is no vaccine for Powassan, and standard treatments don't guarantee a cure. Because it causes inflammation and infection of the brain, its effects can be varied and long-lasting. Standard treatment includes intravenous fluids, though antiviral medications, systemic corticosteroids, and other drugs have been used in some cases.
"There are some experimental therapies we try when somebody comes in and they get here early enough and we get the therapy started early enough, but we have no idea if any of that works," said Dr. Jennifer Lyons, chief of the Division of Neurological Infections and Inflammatory Diseases at Brigham and Women's Hospital in Boston and an assistant professor of neurology at Harvard Medical School.
"About 15% of patients who are infected and have symptoms are not going survive. Of the survivors, at least 50% will have long-term neurological damage that is not going to resolve."
Powassan is carried by three different types of ticks, and can infect people of all ages. It also affects other mammals. Deer are a primary vector for tick-borne diseases, and researchers have noticed an increase in the number of animals infected with Powassan in recent years, a sign that the disease is increasing in the tick population — which is also increasing, due to increasingly warm winters.
The Connecticut Agricultural Experiment Station typically sees one or two ticks per month during winter. This year, however, nearly 1,000 ticks arrived by April 1, says Goudarz Molaei, a research scientist at the station. 38% of these ticks tested positive for Lyme disease.
"In one day, 50% of ticks were infected," he said. "To make the matter more complicated, we are seeing greater number of ticks infected with other tick-associated pathogens, including babesiosis and anaplasmosis. With ticks, it is no longer just Lyme disease."
The only way to avoid contracting a tick-borne illness such as Lyme or Powassan is to avoid getting bitten by a tick. Experts recommend using an insect repellent that contains DEET, wearing long pants, and conducting full-body searches for ticks when coming in from the outdoors.
Keep reading...Show less