Reactions to Trump's speech were swift and harsh.
25 July 2017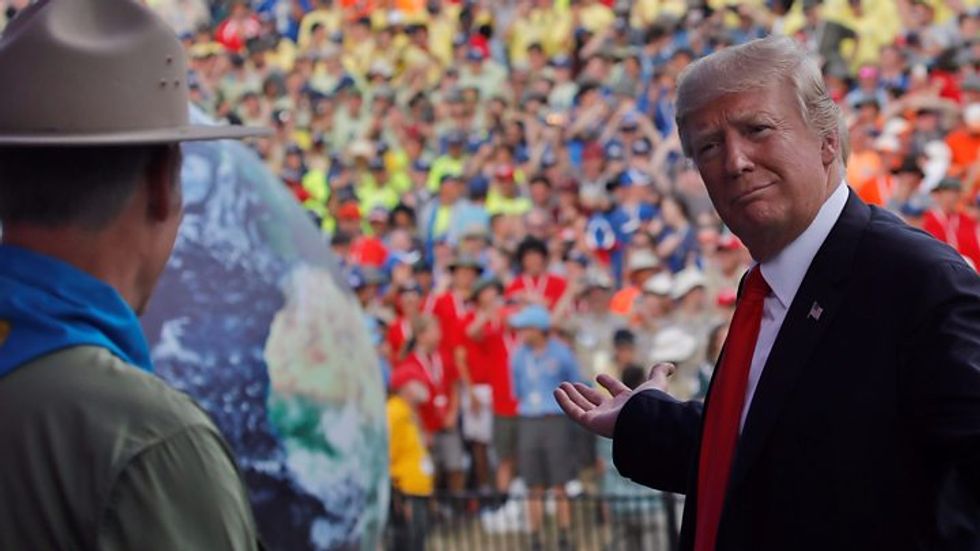 President Donald Trump bragged about the "record" crowd size––hearkening back to comments he made about his inauguration––slammed former President Barack Obama, railed against the "fake media," and denigrated Hillary Clinton's presidential campaign in a 35-minute speech at the Boy Scouts of America's National Jamboree in West Virginia. The president even threatened to fire Dr. Thomas E. Price, his Health and Human Services Secretary, if he couldn't convince members of Congress to vote for the Republican health care measure. There were roughly 40,000 Boy Scouts between the ages of 12 and 18 in attendance.
Some key moments:
On Washington: ""You know, I go to Washington and I see all these politicians, and I see the swamp. And it's not a good place. In fact, today, I said we ought to change it from the word swamp to the word cesspool, or perhaps, to the word sewer. But it's not good. Not good."
On the matter of loyalty: As the Scout Law says: 'A Scout is trustworthy, loyal' — we could use some more loyalty, I will tell you that."
On his friend, developer William Levitt and the "interesting activities" which took place on Levitt's yacht: "[Levitt] he sold his company for a tremendous amount of money. At the time especially — this was a long time ago — [he] sold his company for a tremendous amount of money. And he went out and bought a big yacht, and he had a very interesting life. I won't go on any more than that because you're Boy Scouts, so I'm not going to tell you what he did."
On winning the presidential election: "Do you remember that famous night on television, November 8, where they said — these dishonest people — where they said there is no path to victory for Donald Trump? They forgot about the forgotten people. By the way, they're not forgetting about the forgotten people anymore. They're going crazy trying to figure it out. But I told them, far too late. It's far too late. But do you remember that incredible night with the maps and the Republicans are red and the Democrats are blue, and that map was so red, it was unbelievable, and they didn't know what to say?"
On Hillary Clinton: "[Clinton] was told she was going to win Michigan, and I said, well, wait a minute, the car industry is moving to Mexico. Why is she going to move — she's there. Why are they allowing it to move? And by the way, do you see those car industry — do you see what's happening, how they're coming back to Michigan? They're coming back to Ohio. They're starting to peel back in."
On saying "Merry Christmas": "In the Scout Oath, you pledge on your honor to do your best and to do your duty to God and your country. [Applause.] And by the way, under the Trump administration, you'll be saying 'Merry Christmas' again when you go shopping. Believe me. Merry Christmas. [Applause.] They've been downplaying that little, beautiful phrase. You're going to be saying 'Merry Christmas' again, folks." [Applause.]
Reactions to the president's speech were swift and harsh, and angry parents criticized the Boy Scouts of America for giving a campaign-style speech despite promising he wouldn't speak about politics. Many vented their frustrations on social media.
@williamlegate @boyscouts My son is saying the same. We were involved with boy scouts for years. I would never wan… https://t.co/sa5QyjWp9K

— Kate (@Kate) 1500940868.0
Right & left in agreement that Trump hijacked Boy Scouts for political rally. As a former Senior Patrol Leader, n… https://t.co/R98WQ5zqh9

— Nathan Newman 🧭 (@Nathan Newman 🧭) 1500941968.0
You have made me ill, @boyscouts! Do I now have to worry my son will be indoctrinated into a Trump youth org when he attends a BSA event??!

— Leila Rice (@Leila Rice) 1500941970.0
@jolanda_phair @boyscouts I understand inviting the sitting president. They can't control his speech but letting h… https://t.co/DUL4ZWzOhm

— Ann 🇺🇸 🌎🤞 (@Ann 🇺🇸 🌎🤞) 1500940994.0
The Boy Scouts of America responded to the controversy in an emailed statement to media outlets:
The Boy Scouts of America is wholly non-partisan and does not promote any one position, product, service, political candidate or philosophy. The invitation for the sitting U.S. President to visit the National Jamboree is a long-standing tradition and is in no way an endorsement of any political party or specific policies. The sitting U.S. President serves as the BSA's honorary president. It is our long-standing custom to invite the U.S. President to the National Jamboree.
The organization did not respond to requests for comment on the president's specific remarks. Many noted that former President Obama, whom Trump criticized for never attending the annual jamboree, did record a video message to the National Jamboree in 2010, to mark its 100th anniversary. Obama was a member of the Indone­sian Scout Asso­ci­a­tion as a child, reaching the equiv­a­lent of a Cub Scout, according to reports.
Keep reading...Show less