Have fun with that.
04 June 2019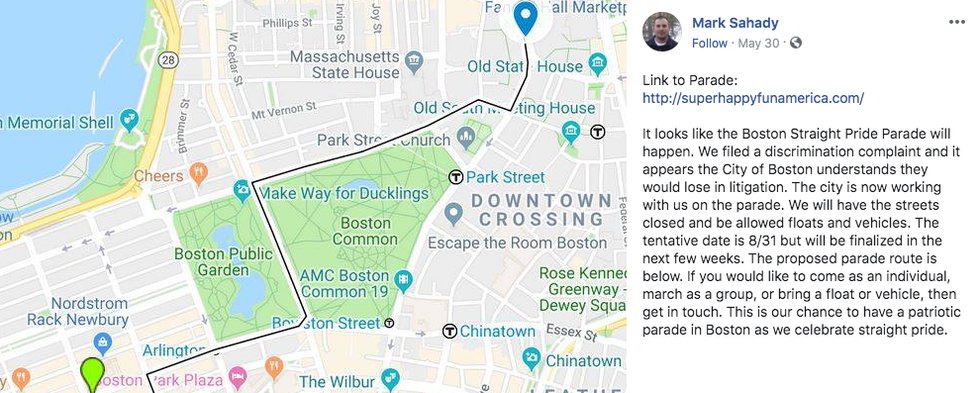 Mark Sahady/Facebook
LGBTQ Pride Month—which celebrates the progress of the LGBTQ rights movement after the Stonewall Riots—is four days underway.
That's about how long it took for cisgender heterosexuals to claim that straight people were being ignored.
One organizer, Mark Sahady, felt so ousted that he registered for permits with the city of Boston, Massachusetts to throw his own "straight pride" parade. Judging from a recent Facebook post of his, it appears he may have succeeded.
https://www.facebook.com/photo.php?fbid=10218080595461811&set=a.10203443387340756&type=3&theater
Boston's Democratic Mayor Marty Walsh, however, says the group hasn't quite kept on the straight and narrow in regards to permits. Walsh said in a statement:
"The group planning to host Boston's 'Straight Pride' parade has been in contact with the City of Boston, but has not yet received the necessary permits to host a parade. As with all groups seeking to host events in the City of Boston, groups must go through the City of Boston permit process to host events in the City of Boston."
For centuries, LGBTQ people feared (and continue to fear) for their jobs, their freedom, and their very lives but forged recognition through unflinching activism—activism that the community celebrates with pride parades around the world.
Given that cisgender straight people don't have a similar history of violence and hatred toward them due to their sexual orientation or gender identity, people began calling foul.
It didn't stop others from imagining what a straight pride parade would look like.
Way to go, everybody.
Keep reading...Show less