Double standards are real.
12 September 2018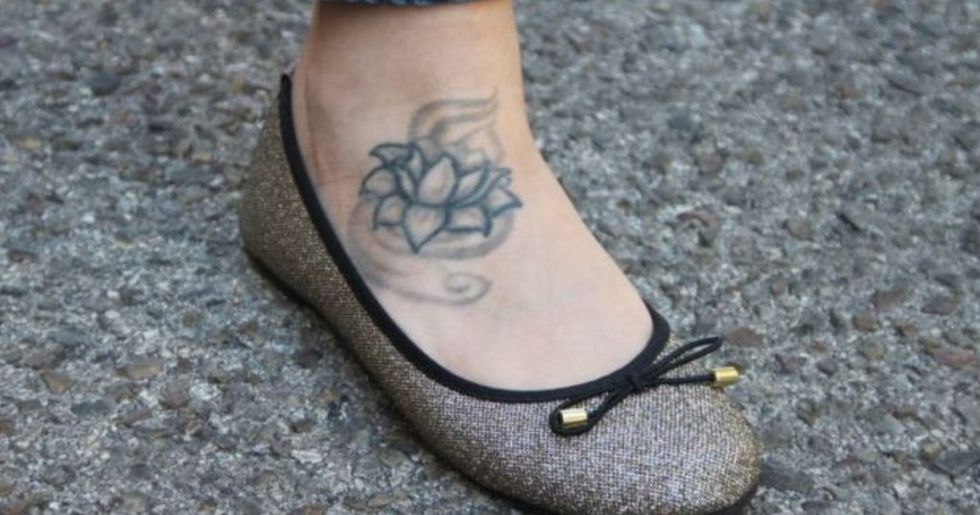 The tattoo in question. (Credit: Estela Martin.)
Estela Martín was testing her swimming skills during an entrance exam for the Spanish army when a male examiner noticed a black lotus flower tattooed on the upper part of her right foot. She was told she could not complete the exam because the tattoo was visible, and that it would be particularly obvious were she to wear a skirt.
The Spanish army's rules no longer required women to don skirts, however, and Ms. Martín was fully aware of this change in policy, which was re-solidified after her expulsion. The tattoo was not visible when Ms. Martín wore trousers — her typical choice of wardrobe during her service — and she argued she was within regulations, but the examiner refused to budge in his steadfastness against her tattoo, insisting she could one day receive orders to wear a skirt.
Ms. Martín had gotten the lotus tattoo at age 18, to her parents' displeasure — though her father currently backs her decision not to remove the body art, on principle — but despite their strong oppositional feelings, she appreciated the flower's positive connotation.
"I've always liked the idea that the lotus represents, which is that you have to fight for what you want," she explained to BBC.
A decade later, that tattoo has caused her some distress in preserving her ambitions to serve in the Spanish military.
"I felt terrible, at first I couldn't believe it," Ms. Martín said. "The reasons he was giving me seemed so absurd. I left utterly distraught, I was crying."
Apparently, there were also several men, taking the same exam as she, who had body art — including a man with a tattoo on his heel — but the men were all left to complete their exams without interruption. A second woman was removed from the exam for having a tattoo that was partly erased with laser treatment.
"There were two things that bothered me: Firstly, there was the personal issue — it was two years of my life all for nothing, so much work and sacrifice. And then, above all, why should men be able to have the same tattoo and it's no problem for them?" Ms. Martín further explained.
Prior to her removal from the exam, Ms. Martín had aspired to work as a military psychologist. After leaving her previous position at a Madrid hospital, she studied for two years for the requisite civil service exam, since the selection process is competitive and the exam rigorous.
Until 2016, women in the Spanish army were made to wear skirts for particular occasions, but this rule has since changed. Women may request to wear a skirt, but a uniform in which the bare skin of the feet is visible is no longer obligatory uniform standard, no matter the circumstances.
Views on body art and piercings are potentially changing among Spain's military and security forces. For one, La Legión members sport tattoos openly. As well, the Interior Minister, Fernando Grande-Marlaska, froze the introduction of new rules for the physical appearance of civil guards, which would have included heightened enforcement toward tattoos, especially for women.
Ms. Martín has since appealed to the Spanish Ministry of Defense for permission to take and complete her exam. She is optimistic, given that the ministry is currently headed by Margarita Robles, a woman. Robles is one of 11 women serving as ministers in Spain's new socialist government.
Ms. Martín is short on time, though, as she is 30 years old, which is the maximum age for candidates in her desired position.
Despite the Spanish army's prohibitive policy towards tattoos and piercings, Ms. Martín is facing her challenge during a period of gender equality awareness, both in Spain and globally. On March 8, 2018, International Women's Day, thousands of women across Spain went on strike in an effort to demand equality. The following month, a huge feminist backlash occurred after a court ruled to absolve five men of the rape of a young woman in Pamplona in 2016.
Ms. Martín said decidedly, "If this had happened a few years ago, I would have expected nobody to believe me or listen to me, but right now we're seeing progress and change in this area and that's why it has hurt so much and that's why it's given me strength."
Keep reading...Show less