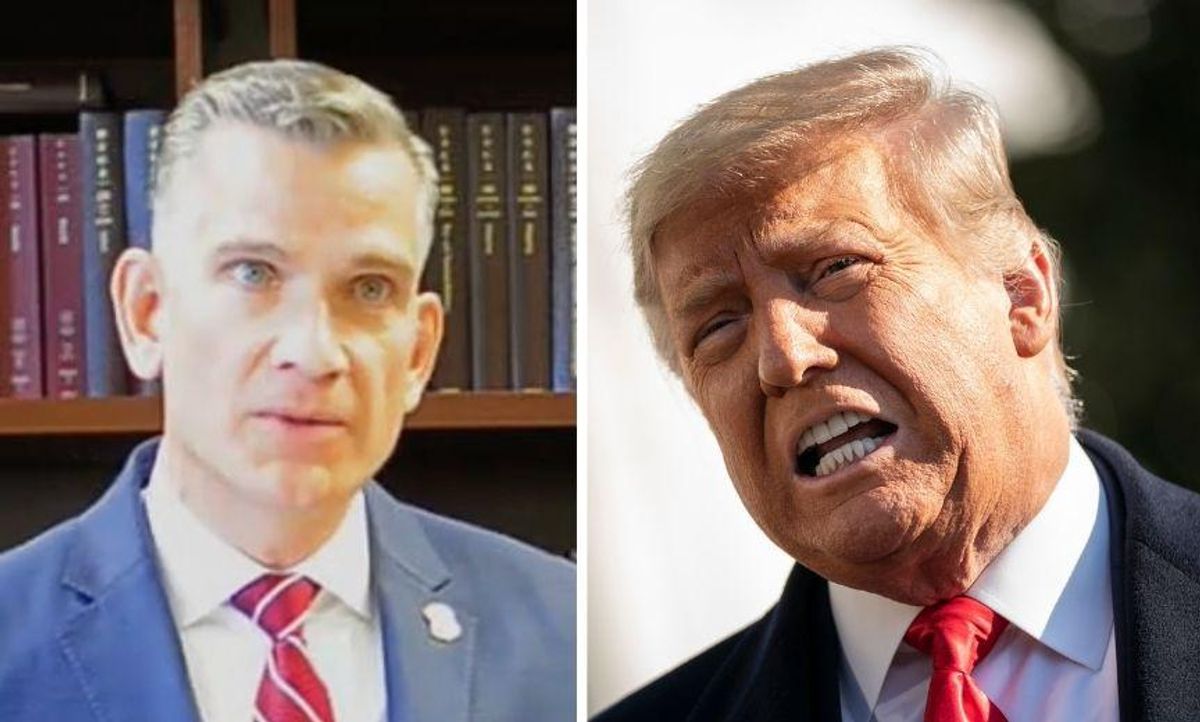 AugustaChronicleTV/YouTube /// Drew Angerer/Getty Images
The state of Georgia went blue in the presidential election this year for the first time since 1992 and instantly became a target of outgoing President Donald Trump's lies that widespread election fraud coordinated by Democrats delivered a false victory to President-elect Joe Biden.
As with other swing states he lost, Trump berated local officials in Georgia for certifying an election he falsely claimed was fraudulent, despite Georgia counting the votes no fewer than three times and despite multiple audits of the ballots.
Last week, Atlanta's top federal prosecutor—Byung J. Pak—announced his sudden resignation, with later reports revealing that he was pushed out by the Trump administration, which has pursued dozens of frivolous lawsuits in an effort to overturn the election results. Wall Street Journal reported that the Trump administration didn't think Pak was doing enough to undo Georgia's election results through litigation.
Bypassing the next prosecutor typically in succession to take over after Pak's departure, Trump appointed Georgia Southern District Attorney Bobby Christine as the Acting U.S. Attorney for Atlanta.
But if Trump was hoping for Christine to "find" election fraud where Pak couldn't, he's in for even more disappointment.
According to Chris Joyner of the Atlanta Journal-Constitution, Christine told staffers on a conference call:
"I can tell you I closed the two most — I don't know, I guess you'd call them high profile or the two most pressing election issues this office has. I said I believe, as many of the people around the table believed, there's just nothing to them. Quite frankly, just watching television you would assume that you got election cases stacked from the floor to the ceiling. I am so happy to find out that's not the case, but I didn't know coming in."
With Trump acknowledging that he won't be President in eight days and with the suspension of his Twitter account for inciting violence, Christine likely won't be subjected to the same public ire as other Georgia officials, such as Republican Governor Brian Kemp, who faced death threats after Trump publicly berated him.
Christine's comments were yet another nail in the coffin of Trump's election lies.
Trump's false claims that the election was stolen have significantly decreased since his rhetoric inspired a deadly insurrection at the Capitol last week—but the damage has already been done to the Republican party and the entire nation.
As of now, Trump's final day in office will be January 20th.