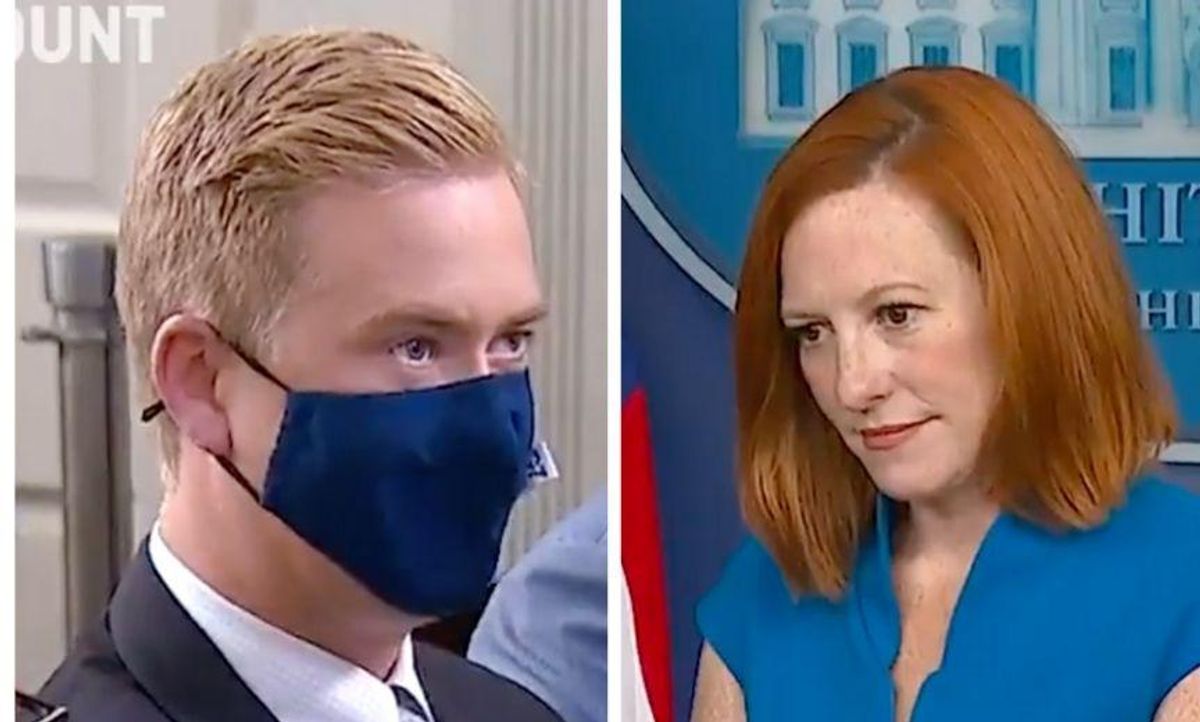 @therecount/Twitter
White House press secretary Jen Psaki has repeatedly poked holes in Fox News White House correspondent Peter Doocy's misleading questions since the beginning of her tenure.
Wednesday was no different, after Doocy once again tried to paint President Joe Biden as hypocritical for his past comments on the virus that's killed over 600 thousand Americans.
Doocy falsely suggested that Biden created vaccine hesitancy among Democrats on the 2020 campaign trail for warning not to trust then-President Donald Trump's words alone regarding the safety of the vaccines, which weren't yet available.
Watch below.
When Doocy asked if Biden had contributed to vaccine hesitancy with these comments, Psaki responded:

"Not that we've seen in the data. I would note that at the time just for context the former President was suggesting people inject versions of poison into their their veins."
Doocy then falsely stated Biden said a vaccine must be "fully authorized" by the Federal Drug Administration. In reality, Biden said the drugs must be approved in a transparent process, as the current vaccines were before being authorized for emergency use.
Biden's exact words on trusting the vaccine were:

"Trust the scientists. It's one thing for Donald Trump to say the vaccine is safe. OK. Then give it to the board of scientists. Have total transparency so independent operators and scientists and companies go out and take a look at it. What did you base that decision on? What did you do?"
Sadly, Psaki was right that around this time, Trump mused in a White House press briefing that a cure for the virus may be found by injecting disinfectants into people, noting that disinfectants were effective at killing the virus on surface areas.
Then-President Trump said:
"I see the disinfectant knocks it out in a minute, one minute. Is there a way we can do something like that? By injection, inside or almost a cleaning? Cause you see it gets in the lungs and it does a tremendous number on the lungs, so it'd be interesting to check that. You're gonna have to use medical doctors, right? But it sounds interesting to me."
People were glad to see Psaki offer this reminder for perspective.
They couldn't help but mock Doocy for his continued humiliation.
Next time, Peter.