The MyPillow CEO is once again claiming the election was stolen from the likes of Kari Lake and Blake Masters.
17 November 2022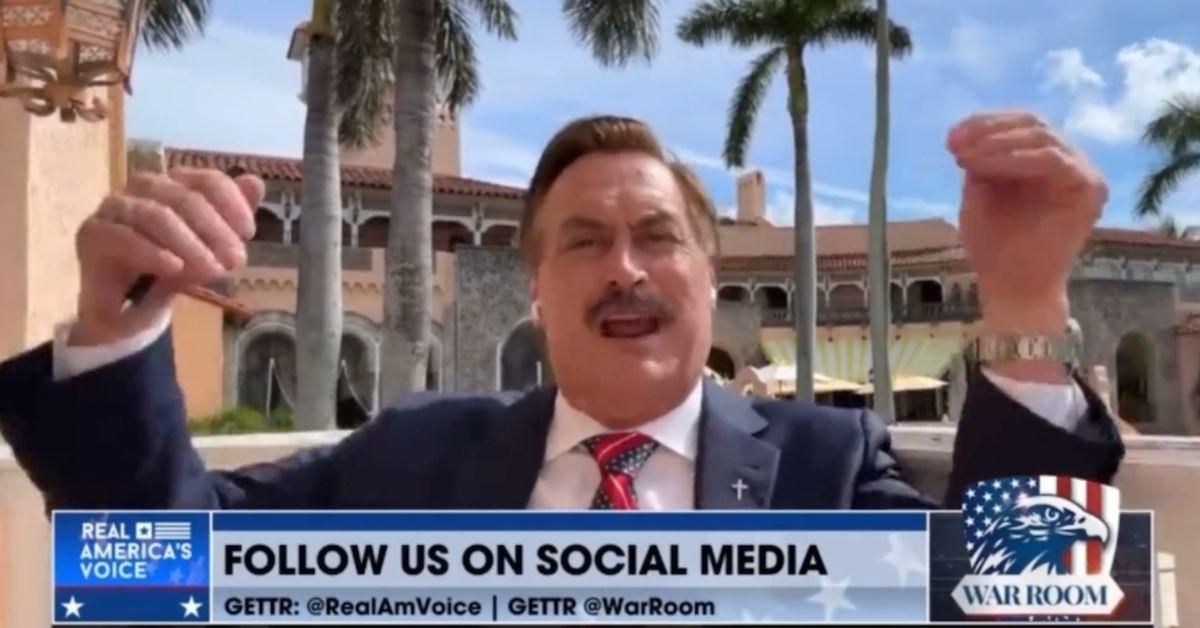 Real America's Voice
The good news?
Trump-obsessed far-right conspiracy theorist and MyPillow CEO Mike Lindell finally moved on from his nonsensical claims about 2020 election fraud.
The bad news?
It's because he's now making similarly absurd claims about election fraud in the 2022 midterms.
Just when we thought we were finally free...

Lindell claims to have proof every MAGA candidate in Arizona's midterm election actually won, including Republican gubernatorial candidate Kari Lake and Senate candidate Blake Masters who both lost handily to their Democratic opponents.
Lindell first claimed in an incoherent rant on his own podcast and YouTube show The Lindell Report that Lake and Masters, along with defeated MAGA Arizona Republican Secretary of State candidate Mark Finchem only lost due to "computer manipulation."
You can see his claims here:
Yelling loudly and seemingly so agitated he could barely compose sentences, Lindell ranted wins by Arizona Democratic Governor, Senate and Secretary of State candidates Katie Hobbs, Mark Kelly and Adrian Fontes respectively, were "impossible."
He explained it—or attempted to, anyway—thusly:
"Never happened in history before! That's called 'deviations from norm.' This is computers!"
"Is everyone gonna sit there and go, 'Oh Mike Lindell, Mike Lindell, you know, um, you're done. You lose! Sorry! I win. Here wait, who do we want to win here?'"
He then mimed entering figures into a computer.
Compelling as that may have been, it of course proved absolutely nothing.
But later, during a report from former Republican President Donald Trump's Mar-a-Lago residence for far-right propaganda network Real America's Voice, Lindell seemed to have changed his story.
In that interview, he claimed to have eyewitness and video proof he had "caught" Democrats stealing the Arizona elections, rather than evidence of computer manipulation.

Lindell told white nationalist Steve Bannon:
"They're absolutely caught..."
"There's tens and tens of thousands of citizens that are looking for a place to reach out. They're gonna do sworn affidavits of what happened."
"I don't think there's a judge in this country that can't say we need a new election down there in Arizona."

Lindell then asserted all the elections in Arizona were "stoled" before claiming to have proof from his own voter fraud organization the Edison Report as well as citizens' claims of having witnessed fraud on video--none of which, of course, is proof of anything.
"It doesn't matter what anyone says. We were watching it from the Edison report, we were watching it cyberly [sic], and we were watching just blatantly the citizens were all watching."

Exactly as he did in 2020, Lindell did not actually produce any of his supposed proof, not that his followers are likely to notice.
In comments to reporters at Mar-a-Lago, Lindell returned to his old 2020 chestnuts about fraudulent voting machines, telling the press he's glad there was no "red wave" because if there had been, nobody would believe him.
Lindell has been sued for defamation for more than $1 billion by voting machine and software maker Dominion Voting Systems for making similar claims about 2020.
On Twitter, Lindell's absurd claims drew no shortage of mockery and anger.

Lindell's defamation case with Dominion Voting Systems proceeded to the Supreme Court in October. We will of course be keeping an eye on that case, you know, cyberly.