Zachary Heath Stamper raised more than $50,000 online to plaster Tennessee Gov. Lee's yearbook photo wearing a dress on billboards throughout the state.
11 March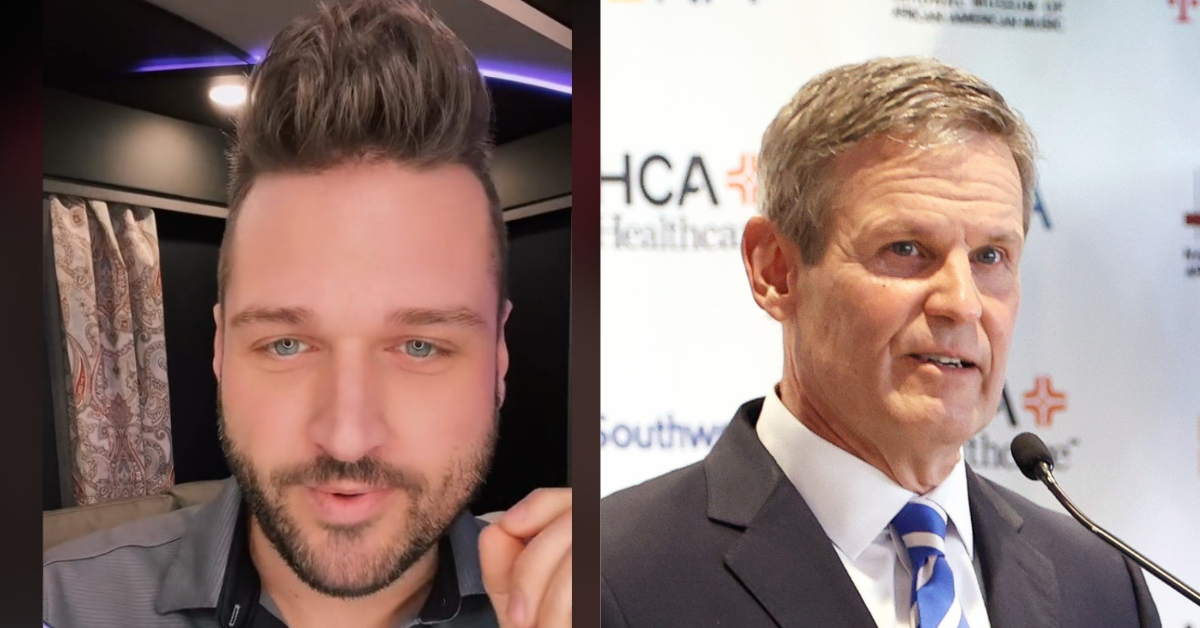 @zacharyheath21/TikTok; Jason Kempin/Getty Images
Tennessee Governor Bill Lee recently signed into law a bill that criminalizes drag shows in places where minors might be present.
A great many of his constituents are unhappy with this decision, and one of them took it upon himself to make that known to everyone—especially Governor Lee.
During the lead-up to Lee signing the bill, a photo from his high school yearbook resurfaced of him wearing a dress and jewelry.
Zachary Heath Stamper—a custom kitchen designer and home remodeler from Bristol, Tennesse—decided to crowdfund some ad space billboards in Tennessee to show the governor that Tennesseans aren't happy with his hypocrisy.
The first billboard will be on Broadway in downtown Nashville to display the photo for all to see.
Stamper used TikTok and GoFundMe to raise the funds necessary to purchase the ad space on the billboard, raising over $77,000 via the crowdfunding platform as of time of writing.
When Governor Lee was asked by the Tennessee Holler if he remembered dressing in drag in high school and if it's "only illegal when gay people do it."
Lee dismissed the comparison as "ridiculous," saying:
"What a ridiculous, ridiculous question that is."
"Conflating something like that to sexualized entertainment in front of children, which is a very serious subject!"
The photo of Lee was taken during his high school's "Powderpuff" event—an event common in the South where high school boys dress as girls and girls dress as boys.
An event which the Daily Beast called:

"...essentially a drag show for minors in which the participants are minors."
Tennessee state Democratic Representative Vincent Dixie seemed to agree with that assessment, wondering on Twitter if Lee was a minor when the photo was taken.
Lee's press secretary, Jade Byers, later added to Lee's statement—doubling down hard on the double standard.
"The bill specifically protects children from obscene, sexualized entertainment, and any attempt to conflate this serious issue with lighthearted school traditions is dishonest and disrespectful to Tennessee families."
Stamper wasn't going to let Lee dismiss the comparison that easily, though.
Stamper said:
"He said it's supposed to be all in fun."
"But so is drag."
The idea to put the Governor's photo on billboards didn't originate with Stamper, but he was the one to make it happen.
He said:
"Everybody kept posting we should put this on a billboard."
"I said, 'If y'all all want to do that…'."
Stamper and his fellow Tennesseans weren't the only ones chastising Governor Lee over the law.
The White House also condemned Governor Lee's actions, saying his priorities are skewed. White House Press Secretary Karine Jean-Pierre condemned Lee during a White House press briefing.
She said:
"The governor of Tennessee has decided to go after drag shows."
"What sense does that make to go after drag shows? How is that going to help people's lives who are thinking about the economy, who are thinking about making sure their kids are going to be safe when they go to school or their communities are safe?"
"But that's what he wants to focus on."
Stamper also strongly questioned Lee's priorities.
He cited the nearly 8,200 children currently in state custody in the TTennesseefoster care system as proof Governor Lee has more important things to worry about than drag shows.
"We got kids sleeping on DCS floors and all [Lee] is worried about is banning drag shows."
"Why are you spending all your time on this instead of foster care?"
The billboard on Broadway is just the beginning.
Stamper said he plans to choose a billboard on Lee's commute to work and church next. Given how much the GoFundMe has raised, that likely won't be the last billboard either.