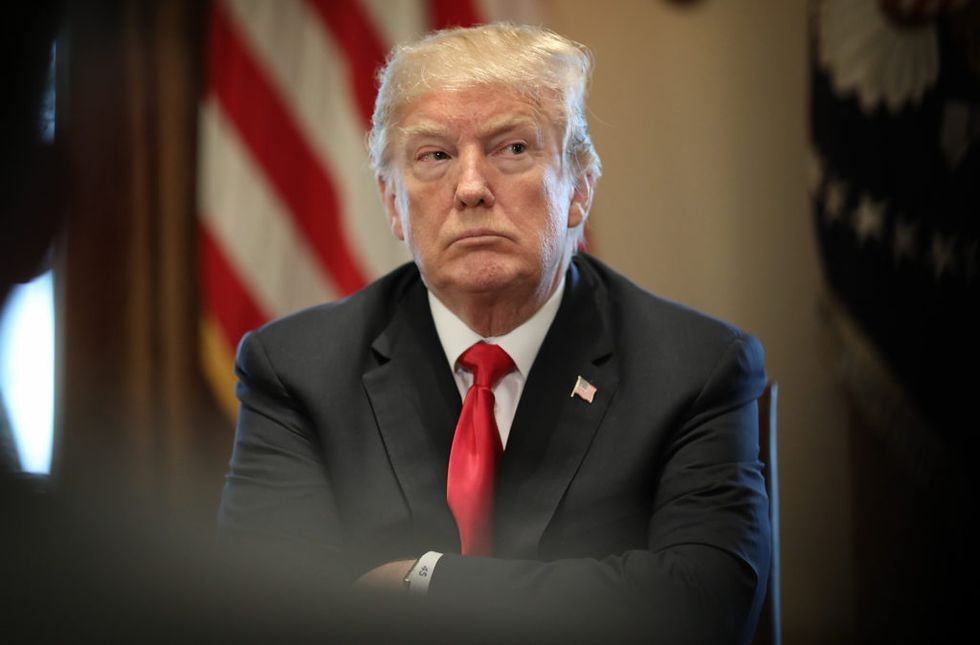 WASHINGTON, DC - MARCH 01: U.S. President Donald Trump participates in a meeting with leaders of the steel industry at the White House March 1, 2018 in Washington, DC. Trump announced planned tariffs on imported steel and aluminum during the meeting, with details to be released at a later date. (Photo by Win McNamee/Getty Images)
Aides to President Donald Trump are reportedly peeved with the president's decision to announce his Supreme Court nominee at 9 pm Monday over concerns the new White House communications director chose the slot to boost Sean Hannity's ratings.
Vanity Fair's Gabriel Sherman tweeted Monday afternoon that White House staffers "are annoyed" that Bill Shine, who joined the administration last week, "chose 9 pm hour to help Sean Hannity's ratings."
Inside the White House, some aides are annoyed Trump is announcing SCOTUS pick at 9pm because staffers think Bill S… https://t.co/AHvzUbDD7u

— Gabriel Sherman (@Gabriel Sherman) 1531164383.0
Shine, a former co-president of Fox News who was forced to resign last year over his mishandling of sexual harassment allegations involving Roger Ailes and Bill O'Reilly, "will serve as Assistant to the President and Deputy Chief of Staff for Communications."
"He brings over two decades of television programming, communications, and management experience to the role," the White House said in a statement on Thursday.
Trump and Hannity have an intimate relationship. In May, it was reported the two men speak every night, with Hannity serving as a sort of therapist and informal adviser to the president.
Shine will be the fifth communications director, filling the position which has been left vacant since Hope Hicks resigned in February.
Hannity joined the president at his Bedminster, New Jersey golf resort over the weekend and urged Trump to nominate Chicago Circuit Court of Appeals Judge Amy Coney Barrett as Justice Anthony Kennedy's replacement.
REPORT: Sean Hannity Joined Donald Trump in Bedminster to Push Him to Nominate Amy Coney Barrett to SCOTUS -… https://t.co/t6wZ17D3R2

— Second Nexus (@Second Nexus) 1531164483.0
FWIW Hannity has been telling Trump to pick Barrett

— Gabriel Sherman (@Gabriel Sherman) 1531165000.0
Barrett was also a law professor at the University of Notre Dame and served as a clerk to the late Justice Antonin Scalia, who died in 2016 and whom Trump replaced with Neil Gorsuch.
Sherman also reminded followers of Trump's nomination of Gorsuch, which took place at 8 pm in the East Room of the White House on Tuesday, January 31, 2017.
Flashback: Trump announced Gorsuch at 8pm in East Room ceremony

— Gabriel Sherman (@Gabriel Sherman) 1531164721.0
Hannity's 9 pm slot is currently the most-watched talk show in the country, with MSNBC's Rachel Maddow coming in a close second.
@nchaseteeples @JakeSherman @gabrielsherman @maddow Hannity has been leading in Q2 so far. https://t.co/11tZai6rt8

— Comfortably Awful (@Comfortably Awful) 1531165214.0
@nchaseteeples @JakeSherman @gabrielsherman @maddow Here is what an average day looks like. For those of you who ar… https://t.co/a5vK1DHswJ

— Comfortably Awful (@Comfortably Awful) 1531166740.0
Trump is renowned for his obsession with television ratings and media exposure and reportedly intended to build suspense over his SCOTUS pick. Trump has tweeted about ratings 343 times since 2010.
@gabrielsherman @doug_doug5 To Trump the Presidency is nothing more than a reality tv show...whatever will give him the highest ratings....

— CRS (@CRS) 1531166465.0
@gabrielsherman This is exactly the kind of showmanship his supporters want and love.

— Michael Horowicz (@Michael Horowicz) 1531164712.0
On his radio show Monday afternoon, Hannity shared his excitement over Trump's 9 pm announcement, saying he "kind of likes that it's right at the start of Hannity and we get to talk about it first."
@gabrielsherman Apropos, Hannity on radio just now said: "Trump will announce his pick tonight...i kind of like tha… https://t.co/qfADQAKXDC

— Angelo Carusone (@Angelo Carusone) 1531165989.0
There are two other frontrunners for Kennedy's seat: D.C. Circuit Court Judge Brett Kavanaugh of the United States Court of Appeals, and Raymond Kethledge, a United States Circuit Judge of the United States Court of Appeals for the Sixth Circuit.
The Twitterverse was, not shockingly, unsurprised at the showmanship surrounding Trump's SCOTUS nomination, noting that his presidency has resembled a reality show since he took office last year.
@gabrielsherman This reality show needs to be canceled. #MUELLER

— Delfina Valdez (@Delfina Valdez) 1531164776.0
@gabrielsherman @allahpundit I think he was trying to ruin @BachelorABC, his former rival in reality television.

— Veronica Charles (@Veronica Charles) 1531164850.0
@gabrielsherman Well, it was either Hannity or Fox and Friends. What I don't get is that there's supposedly one n… https://t.co/ceDb8S3RsN

— techweenie 🌊 (@techweenie 🌊) 1531165400.0
@gabrielsherman and the marriage between Fox and the White House has been consummated cc: @brianstelter @ReliableSources

— Mags (@Mags) 1531168109.0
Keep reading...Show less