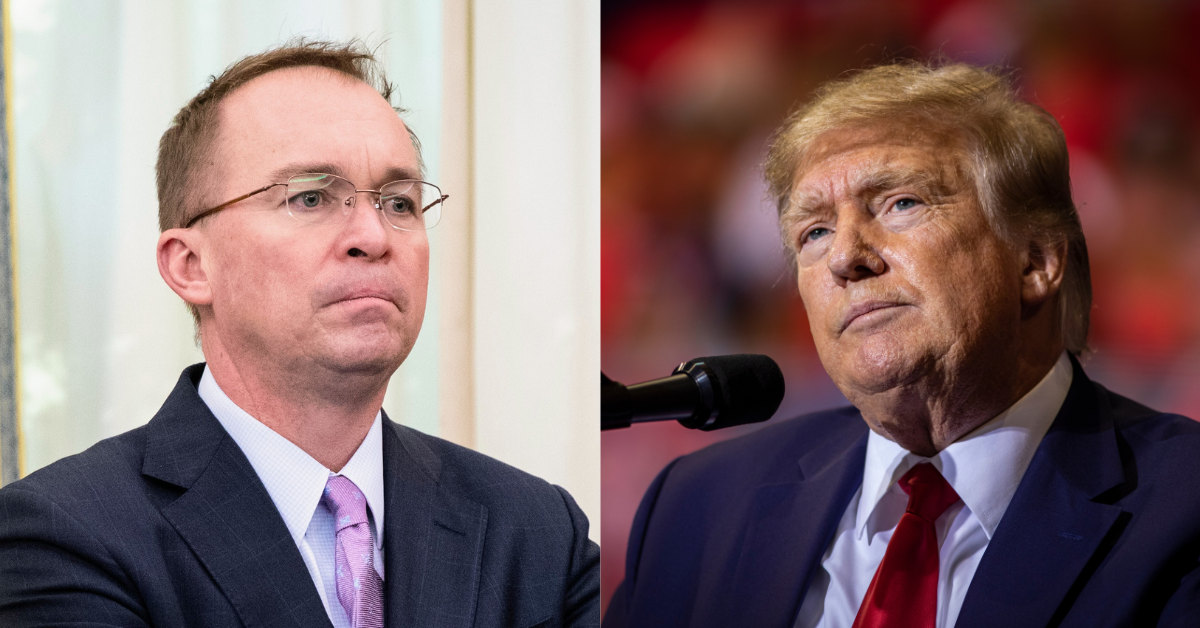 Drew Angerer/Getty Images; Chet Strange/Getty Images
Former South Carolina Republican Representative Mick Mulvaney served in several capacities—official and acting—within the Trump administration. During his presidency, Republican President Donald Trump experienced historic levels of staff turnover with some offices and positions never being filled with a confirmed candidate in four years and several of those confirmed quickly resigning amid scandals.
As one of the few members of the administration to be both confirmed and not forced to resign in disgrace, Mulvaney had a unique view and perspective on Trump's handling of the office.

But Mulvaney's opinion of who Trump chose to surround himself with is less than favorable.
He tweeted:
"Trump's inner circle at the end was...Giuliani, Sidney Powell, Lin Wood, Peter Navarro..."
Mulvaney then concluded:
"Garbage in. Garbage out."
People concurred with Mulvaney's assessment of the quality of Trump's handpicked legal team, but almost all didn't think much more highly of Mulvaney for enabling Trump for almost four years.
Like many who spent time in Trump's administration, Mulvaney pointed out the competent and qualified were pushed out to be replaced by sycophants who would only tell the President what he wanted to hear—no matter how false, illogical or impossible.

In testimony during the House select committee hearings on the events of January 6, 2021, Trump's former campaign manager Bill Stepien stated Trump's inner circle were people like Giuliani and Powell because they fed Trump extravagant, baseless claims to allow him to think he hadn't lost the popular vote—again—and the 2020 electoral vote by a wide margin.
Former Trump Attorney General Bill Barr said of the post election loss White House:
"There was never an indication of interest in what the actual facts were."
Mulvaney later tweeted regarding the January 6 hearings:
"I'm not sure how today's hearing will establish that Trump 'knew' he lost—indeed, all the evidence is that he never accepted that—but I do wish that every person who thinks Trump really did win watched what we just saw."
Trump appointed Mulvaney from his position in the House of Representatives to head the Office of Management and Budget—a position for which he was confirmed by the Senate in 2017.
Trump then made Mulvaney the acting Director of the Consumer Financial Protection Bureau then made him the White House Chief of Staff—all while still head of OMB.
After leaving all his overlapping positions—reportedly after telling Trump "no" too many times as Chief of Staff—Mulvaney was made United States Special Envoy for Northern Ireland until he resigned on the evening of January 6, 2021 in response to the Capitol riot and attempted coup.
The morning of January 7, Mulvaney told CNBC his resignation was based on principles:
"We didn't sign up for what you saw last night."
"We signed up for making America great again, we signed up for lower taxes and less regulation."
He added:
"[President Trump is] not the same as he was eight months ago."