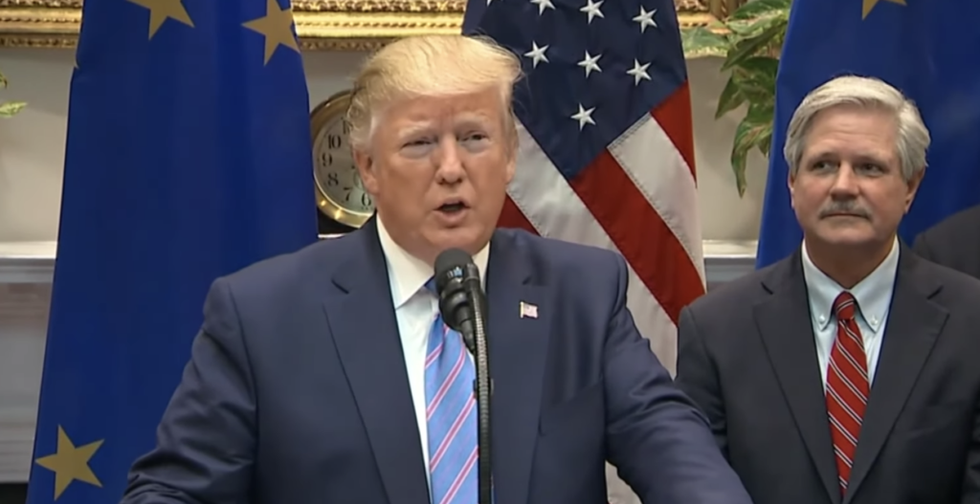 CNBC
On Friday afternoon, President Donald Trump put aside his past beef with the European Union to boost exports of literal beef to its countries.
Surrounded by American beef workers and European trade officials, Trump signed the deal to triple United States beef exports from $150 million to $420 million.
After triumphantly posing for pictures with the deal, Trump suddenly took the microphone again to make an announcement.
"We're working on a deal where the European Union will agree to pay a 25% tariff on all Mercedes-Benzes, BMWs coming into our nation," Trump said, "So we appreciate that."
Trump then announced he was just joking.
"I'm only kidding. They started to get a little bit worried."
Watch below:
Watch the expression on @SenJohnHoeven's face as Trump cracks this joke https://t.co/lkCDc5jzFW

— Aaron Rupar (@Aaron Rupar) 1564770605.0
Trump threatened earlier this year to slap tariffs onto European automobiles and their parts, leading some to fear that the EU would introduce retaliatory tariffs as it did with steel and aluminum in 2018.
Considering the tensions ignited by earlier European Union tariffs imposed by Trump, few people were laughing.
@mmcassella Yup, disrupting the global economy, hysterical

— Daniel Tannebaum (@Daniel Tannebaum) 1564772733.0
@atrupar @SenJohnHoeven yeah funny like root canal with a bad infection.

— virgiliocorrado (@virgiliocorrado) 1564770741.0
@atrupar @SenJohnHoeven This is unwatchable. The people who appear in these videos will soon want to have themselves edited out of them

— Mona Sigal M.D.🆘 (@Mona Sigal M.D.🆘) 1564770745.0
@atrupar @SenJohnHoeven I feel physically ill.

— 🐾 Costumed Vole🐾 (@🐾 Costumed Vole🐾) 1564771348.0
@atrupar @SenJohnHoeven Because comedy coming from a joke President is perfectly apropos.....

— Earth Momma (@Earth Momma) 1564770821.0
Some observed that the "joke" may not be a joke at all, but a veiled threat.
@atrupar @SenJohnHoeven He is not joking about that he's been trying to do that for a long time

— Al Figueroa (@Al Figueroa) 1564772651.0
@atrupar @SenJohnHoeven This is not a joke. This is classic bullying and a veiled threat straight out of Goodfellas

— freecloud11 (@freecloud11) 1564771350.0
@mmcassella It's not a joke. He is serious, kind of like when Cliff kicks Bruce Lee's ass in Ince upon a time in Hollywood.

— Sung Lee (@Sung Lee) 1564780335.0
In fact, after the meeting, Trump told reporters that auto tariffs are still on the table.
Keep reading...Show less