bears ears national monument
Powerful interests persuaded the president.
12 December 2017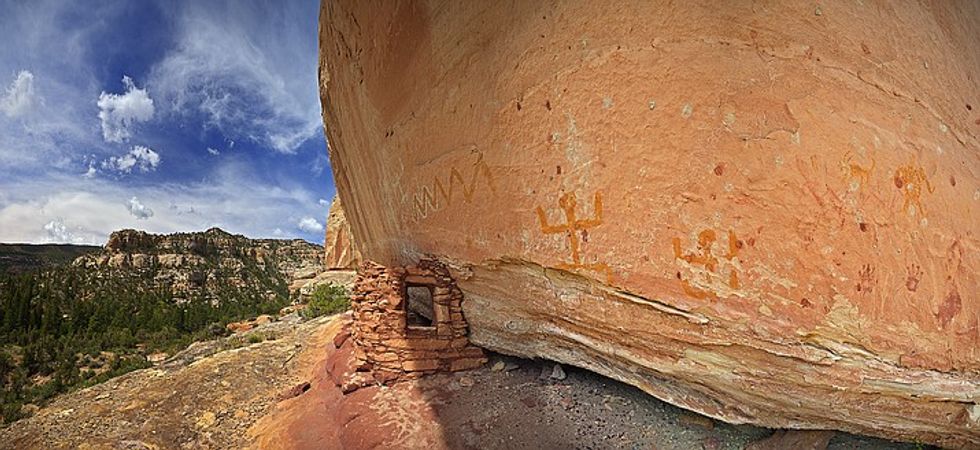 Petroglyphs and a dwelling at one of many ancient Native American cultural sites protected at Bears Ears National Monument. (Photo Natl. Park Service)
Earlier this month Donald Trump announced reducing Utah's Bears Ears National Monument by 85% would be a great move for Americans. But it's a Canadian based special interest that benefits far more, namely Energy Fuels Resources, a U.S. subsidiary of a Canadian mining company that lobbied for the change in the hopes of gaining access to uranium on the public land. Trump's incoming EPA deputy secretary led their lobbying team.
A campaign by Energy Fuels Resources urged the Trump administration to dramatically reduce Bears Ears. The company reached out just months before Trump announced he was slashing the 1.35 million acre site down to 202,000 acres.
Company CEO Mark Chalmers complained in a May 25 letter to Interior Secretary Ryan Zinke that the national monument protections could "affect existing and future mill operations" of the company, which owns a mill adjacent to Bears Ears.
There are also many other known uranium and vanadium deposits ... that could provide valuable energy and mineral resources in the future."
Zinke insisted the president's push to reduce national monuments is unrelated to mining special interests.
This is not about energy. There is no mine within Bears Ears."
But the president's redrawn boundaries of Bears Ears now puts those uranium deposits Energy Fuels Resources referenced outside the protected area.
Energy Fuels Resources paid $30,000 to lobbying firm Faegre Baker Daniels to push for the change throughout this year, according to federal records. Andrew Wheeler, whom Trump has tapped to be deputy secretary of the Environmental Protection Agency, headed the lobbying team. Wheeler awaits Senate confirmation. Members of the energy firm also held a private meeting about Bears Ears with Zinke advisers.
Trump blasted the national monuments as a "massive giveaway" to the public. He ordered Zinke earlier this year to review 27 sites and make recommendations about their future.
"Quantity and quality of archaeological sites" – let's #SaveGrandStaircase & #StandWithBearsEars to protect our Ame… https://t.co/jEdCumY5l6

— The Wilderness Society 🌳 (@The Wilderness Society 🌳) 1512339993.0
Keep reading...Show less