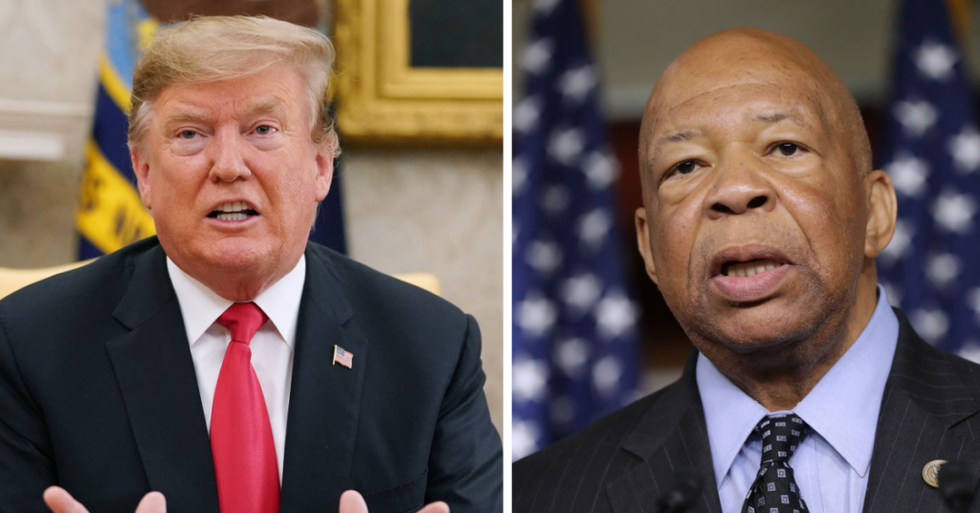 Chip Somodevilla/Getty Images (left and right).
President Donald Trump still can't stop talking about Baltimore or lodging personal attacks against Congressman and civil rights activist Elijah Cummings (D-MD), who represents the city.
Reports emerged on Thursday night that Cummings's home had been broken into on Saturday, hours before Trump began his original tweets calling Baltimore a "rat and rodent infested mess" where "no human being would want to live," and before he called Cummings a "brutal bully" and a "racist."
Apparently the existence of crime in Baltimore was all that Trump needed to vindicate his assertions, because he soon took to Twitter to gloat.
Really bad news! The Baltimore house of Elijah Cummings was robbed. Too bad!

— Donald J. Trump (@Donald J. Trump) 1564747122.0
Trump, who describes himself as "the least racist person in the world," has repeatedly attacked Cummings and Baltimore barely two weeks after saying four American congresswomen of color should "go back" to their countries instead of being critical of American policies.
People were astonished at how petty and unpresidential Trump's tweet was, even for him.
Takes a morning look at Twitter, sees Cheeto Caligula mock Elijah Cummings being robbed. Realizes my thoughts would… https://t.co/75ibqt5BRw

— Tynisa Wakandan Witch of Sass Walker (@Tynisa Wakandan Witch of Sass Walker) 1564750620.0
@realDonaldTrump You are a sick, twisted evil sociopath. How DARE you joke about a US Congressman's (or anyone else… https://t.co/adTLEFXNEj

— Andy Ostroy (@Andy Ostroy) 1564752088.0
@yashar @RepCummings . With #Trump I think all Americans have been robbed...... . Of their dignity, pride, honor, s… https://t.co/Qotu8rm6Kh

— Joey Bag o' Donuts (@Joey Bag o' Donuts) 1564748182.0
@realDonaldTrump Yuk how despicable to post this 😲

— Free Syria Media Hub (@Free Syria Media Hub) 1564747277.0
@realDonaldTrump imagine being this broken inside

— Jeff Tiedrich (@Jeff Tiedrich) 1564747358.0
Trump's supporters soon followed his lead in celebrating the robbery and home invasion of one of the country's most esteemed lawmakers.
@realDonaldTrump King Elijah Cummings has just learned a very valuable lesson… You reap what you sow.

— CC (@CC) 1564748256.0
@realDonaldTrump Trump haters, when will you finally open your eyes and show love to our God appointed President?

— BadAsVlad (@BadAsVlad) 1564747180.0
@realDonaldTrump https://t.co/Ln95KZf5Ny

— Katrina Pierson (@Katrina Pierson) 1564748272.0
There is, however, one consolation against the indecency.
@realDonaldTrump The ONLY great thing about your potato brained tweets is that they HAVE to be preserved for all et… https://t.co/F9RTydqOLn

— Emma Kennedy (@Emma Kennedy) 1564747764.0
Deplorable.
Keep reading...Show less