Rep. Marjorie Taylor Greene paid $100,000 in an auction to benefit House Republicans to buy McCarthy's used Aaron Bean chapstick.
24 May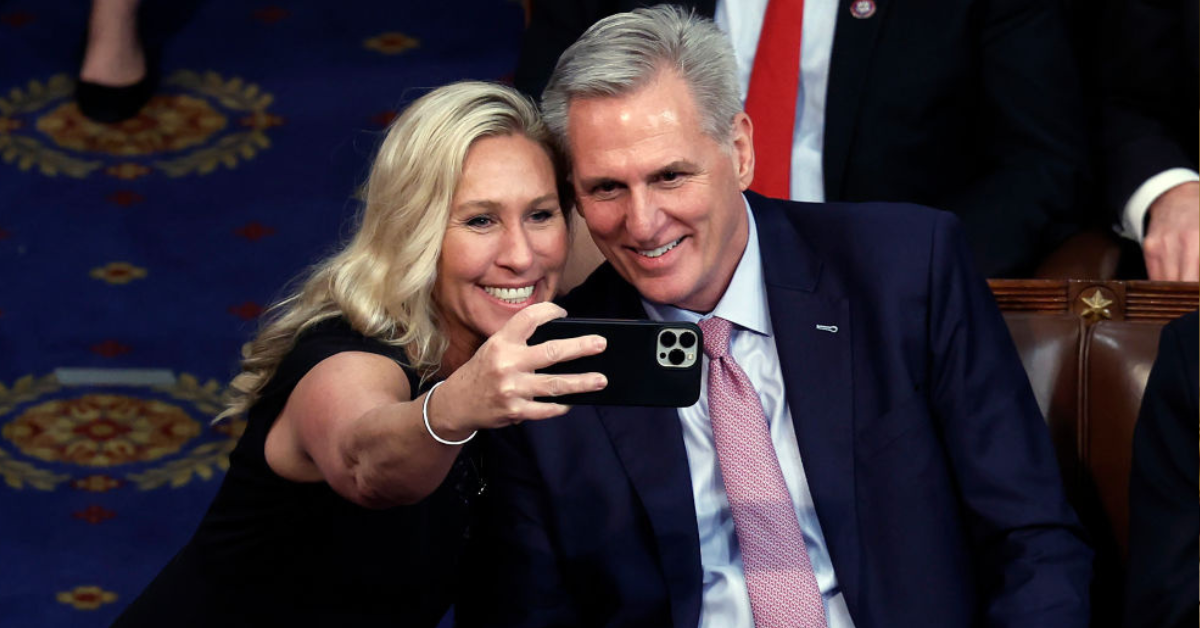 Anna Moneymaker/Getty Images
Georgia Republican Representative Marjorie Taylor Greene raised eyebrows by placing a six-figure bid on House Speaker Kevin McCarthy's chapstick during a GOP fundraising auction.
The auction, held on Tuesday, saw Greene secure McCarthy's cherry-flavored chapstick by offering $100,000 for it. The proceeds from the auction will go to the National Republican Campaign Committee (NRCC).
The news—first reported by Politico reporter Olivia Beavers—reflects the evolving relationship between Greene and McCarthy, which has transformed from initial skepticism to a close alliance.
Initially, McCarthy and other House Republican leaders did not endorse Greene during her congressional campaign in 2020.
They considered her an unserious candidate who did not align with the values of the GOP.
However, since Greene's arrival on Capitol Hill in 2021, she and McCarthy have developed a close alliance. The New York Timesreported that the two lawmakers frequently exchange text messages and hold private meetings in McCarthy's office. McCarthy has defended Greene on numerous occasions, while Greene has become an influential voice within McCarthy's inner circle.
Greene, a member of the far-right House Freedom Caucus, also played a significant role in McCarthy's successful bid for House Speaker.
Contrary to other Republican colleagues such as Representatives Lauren Boebert (Colorado) and Matt Gaetz (Florida), Greene endorsed McCarthy during his contentious speakership campaign. McCarthy expressed his gratitude for Greene's support, declaring that he would always support and protect her, even telling a friend that he will "never leave that woman."
Even so, news of the GOP auction—particularly Greene's extravagant bid for a chapstick—drew criticism.
Many were grossed out to say nothing of furious that the GOP was busy fundraising instead of tackling more pressing issues.
Following the conclusion of bidding and fundraising efforts for the NRCC, House Republicans shifted their attention back to the pressing issue of the debt ceiling.
During discussions, skepticism emerged regarding Treasury Secretary Janet Yellen's suggested "X-date" of June 1 as a potential deadline for a debt default.
Negotiations between the White House and House Republicans have been met with challenges, with key GOP negotiators expressing their discontent and McCarthy indicating a lack of progress towards a bipartisan agreement to avert a historic debt default.
As the nation faces a critical debt ceiling deadline, representatives from the White House and House Republicans convened on Tuesday to engage in negotiations. However, key GOP negotiators reported that the talks were not progressing favorably.
McCarthy echoed this sentiment, stating that a bipartisan deal with President Joe Biden to prevent a potential default remained distant.