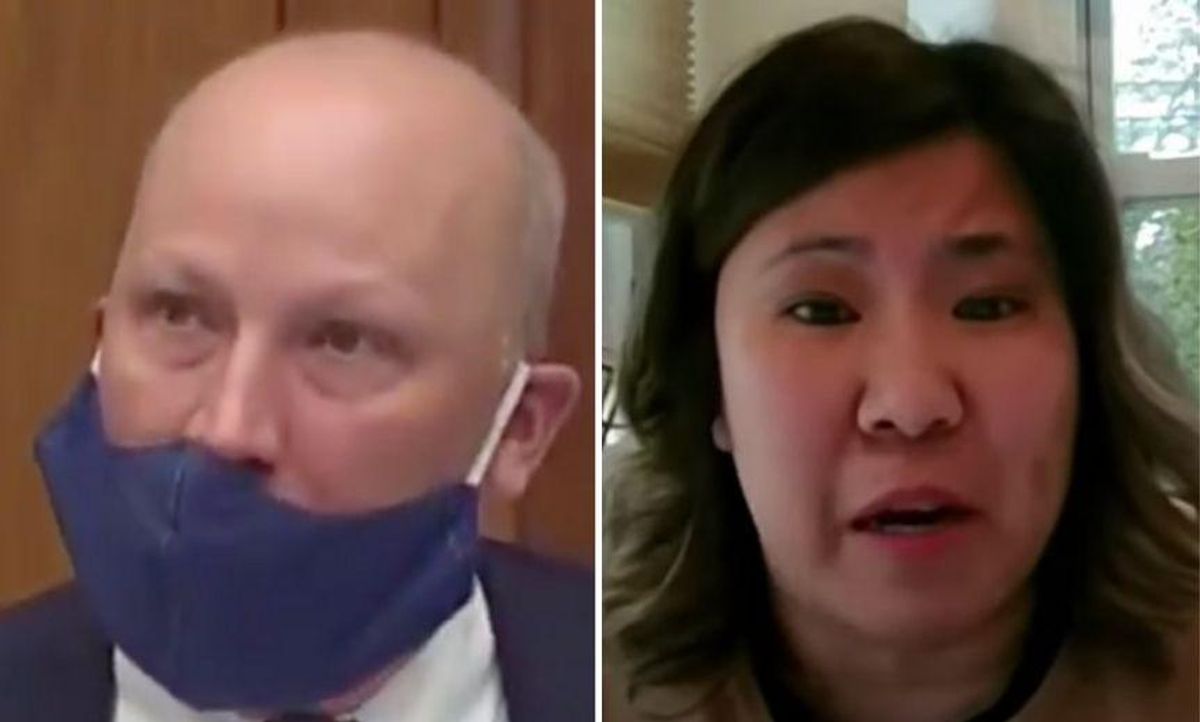 C-SPAN // C-SPAN
The year-long rise in hate crimes against Asian Americans saw a devastating crescendo Tuesday night in Atlanta, Georgia, when a 21-year-old white shooter targeted three Asian-owned and operated massage parlors, killing eight people, the majority of whom were Asian women.
Law enforcement parroted the shooter's claim that his atrocities were due to the "temptation" the parlors instilled in him, a claim used to dismiss assertions that his murders were racially motivated. But one of Korea's most widely circulated newspapers, Chosun Ilbo, reported that a witness to the murders heard the killer say he was there to "kill all the Asians."
While racist violence against Asian-Americans has occurred in the United States for well over a century, this violence saw a massive surge in 2020, after then-President Donald Trump and his allies scrambled to lay all blame on China for the pandemic that's killed over 500 thousand Americans.
In the effort to scapegoat China for Trump's own botched pandemic response, the administration welcomed suspicion and ostracism toward Asian Americans with its embrace of anti-Asian rhetoric, characterizing the infectious disease as the "China Virus" and "Kung-Flu." Even after Trump acknowledged the rise in hate crimes against Asian Americans, he continued to gleefully use these terms when speaking to his supporters.
And though Trump is out of office, the Republican party is still stoking the flames of hatred against them.
In a House Judiciary Committee hearing on the uptick of violence against Asian-Americans in the U.S., Republican Congressman Chip Roy used his time to glorify lynching.
Watch below.

Roy embarked away from the hearing's topic and onto a tangent about violence committed by undocumented immigrants and by racial justice activists.
The Congressman then claimed:

"There's old sayings in Texas about 'find all the rope in Texas and get a tall oak tree.' You know, we take justice very seriously, & we ought to do that. Round up the bad guys."
The saying is not, in fact, old. It's from a 2005 country song by Toby Keith and Willie Nelson waxing nostalgic for vigilante justice, extrajudicial murder, and lynching.
He then went on a diatribe against China.

After advocating for extrajudicial murder, Roy implied that his ability to criticize the Chinese government was being limited by backlash against rhetoric proven to provoke violence against Asian-Americans.

"As a former federal prosecutor, I'm kind of predisposed and wired to wanna go take out bad guys ... I think the Chinese Communist Party running the country of China, I think they're the bad guys."
Roy's callous words coupled with the solemnity of the setting generated immediate rebuke from Congresswoman Grace Meng (D-NY), who noted his and his party's willingness to put Asian-Americans in harm's way.
Watch below.

In an impassioned rebuttal, the Congresswoman said:

"I want to go back to something that Mr. Roy said earlier. Your president, your party, and your colleagues can talk about issues with any other country that you want, but you don't have to do it by putting a bull's eye on the back of Asian Americans across the country, on our grandparents, on our kids!"
She continued:

"This hearing was to address the hurt and pain of our community, to find solutions, and we will not let you take our voice away from us."
Her pushback against Roy's comments was universally praised.
Others leapt to decry Roy's stunt as well.

Sadly, Mr. Roy has only doubled down on his outburst, saying in part:
"Apparently some folks are freaking out that I used an old expression about finding all the rope in Texas and a tall oak tree about carrying out justice against bad guys. ... We should restore order by tamping out evil actors, not turn America into an authoritarian state like the Chinese communists who seek to destroy us. No apologies."
Days before the attack in Atlanta, Congresswoman Meng and Senator Mazie Hirono (D-HI) introduced a bill designed to curb the rise in anti-Asian hate crimes.