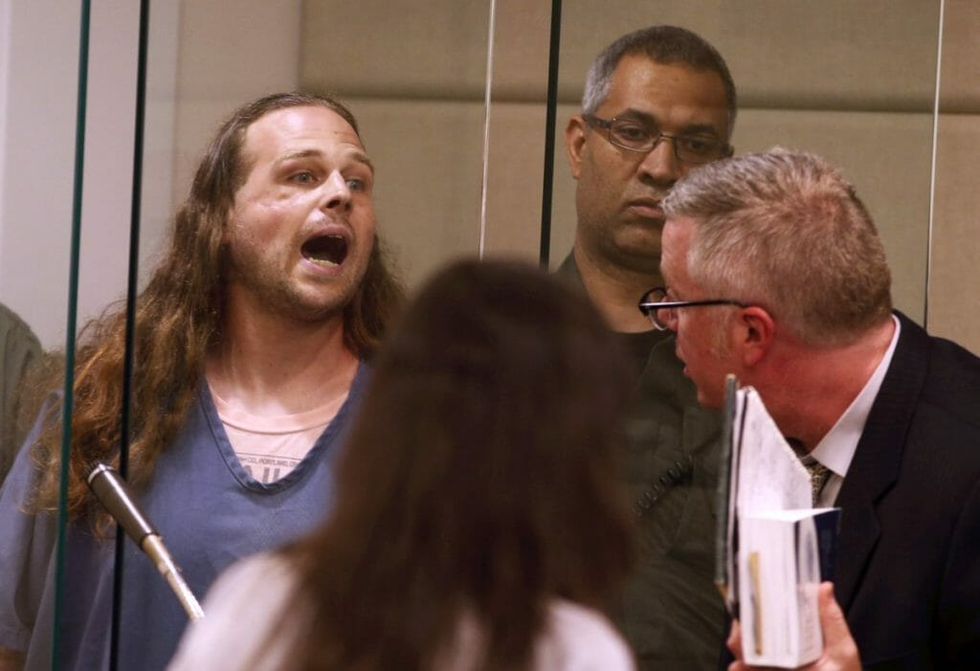 Jeremy Christian, the man arrested in the stabbing deaths of two men and serious injury of a third in Portland, Oregon over Memorial Day weekend, was arraigned on nine felony and misdemeanor charges yesterday. The victims had intervened after Christian hurled anti-Muslim hate speech at two young women on a light rail train. At his arraignment, Christian entered the courtroom shouting.
"Free speech or die, Portland," he yelled. "You've got no safe place. This is America. Get out if you don't like free speech. Death to the enemies of America. Death to antifa [anti-fascists]. You call it terrorism. I call it patriotism. Die."
The courthouse later erupted with anger at an unidentified male who came to support Christian but would not tell local reporters how he knew him. He was shouted out of the building under the protection of the sheriff's office.
Christian's raucous arraignment lay in stark contrast to the gentle words of Micah Fletcher, who survived the stabbing. Fletcher spoke publicly about the attack for the first time since being released from the hospital earlier this week. In statements to reporters, he called on his fellow Portlanders to protect each other and condemn intolerance.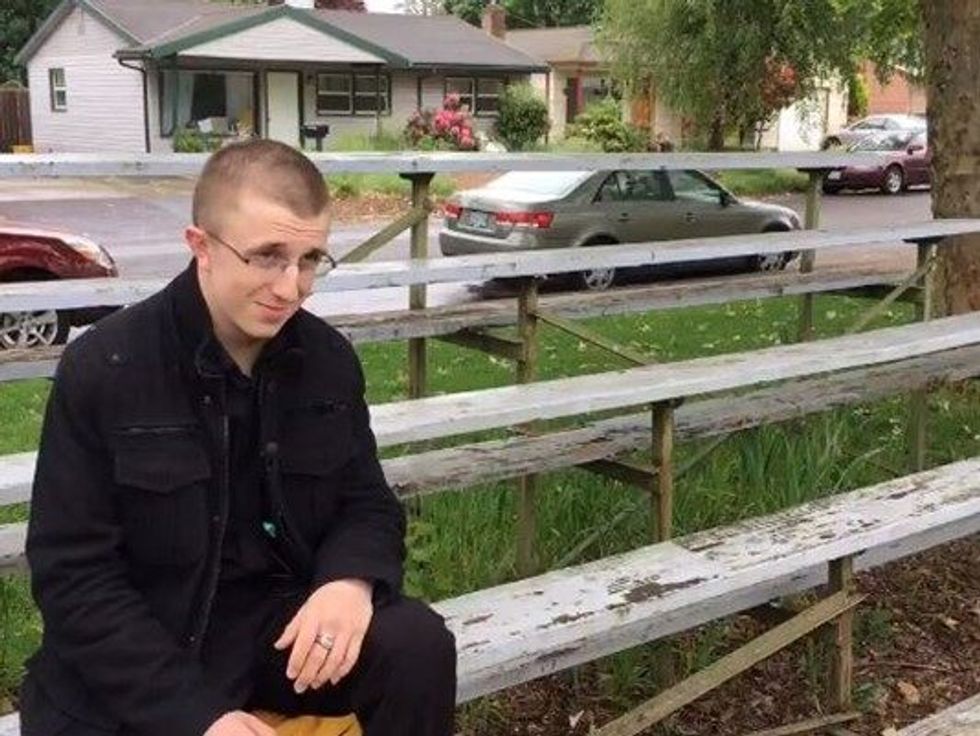 Micah Fletcher. (Credit: Source.)
"If you live here, move here, or if you want to call this city home––it is your home," Fletcher said. "The Muslim community, especially in Portland, needs to understand that there are a lot of us that are not going to stand by and let anybody––whether they are from here or not––scare you into thinking you can't be a part of this town, this city, this community, or this country."
Fletcher also urged the community to support the families of the victims.
"We must stand hand-in-hand with one another and find a way to start ending the anger and the hatred and to not allow anger and hatred to flood our city streets with violence and with the destruction that can come with it," he said.
Fletcher is expected to make a full recovery.
Another member of the community has also spoken out.
Asha Deliverance, the grieving mother of slain 23-year-old Taliesin Myrddin Namkai Meche, penned a letter to President Donald Trump asking him to formally condemn the attack as an act of intolerance. Her full letter is below:
May 29, 2017

Memorial Day

Dear President Trump,

I'm writing to you today, Memorial Day, to share my heart after losing my son.

Taliesin died a hero, like many other Americans who have died defending freedom. He was just 23, a year out of college with a degree in economics, working, had just bought his first home and was thinking about starting a family. Our family grieves, but we are proud that through his selfless action he, along with the other two men, has changed the world, when in the face of hate he did not hesitate to act with love.

Two precious lives were lost this Memorial Day weekend in Portland and one more, nearly so. All three were strangers to each other, and to those they were defending. They fearlessly risked their lives for two young women who were threatened by an act of bigotry & terror. These brave men saw the immediate injustice and didn't hesitate to act. They recognized the truth: we are more alike than we are different. To ride the train home without being assaulted because of the color of your skin or your religious beliefs, is an inalienable right.

You have said that you will be President for all Americans. So, I ask you Mr. President to take action at this time. Your words and actions are meaningful, here in America and throughout the world.

Please encourage all Americans to protect and watch out for one another. Please condemn any acts of violence, which result directly from hate speech & hate groups. I am praying you will use your leadership to do so.

It would deeply honor Taliesin's sacrifice, which has been amplified by the millions of voices who have supported our family in response to this tragedy.

With Peace In My Heart,

Asha Deliverance
Though Trump did acknowledge the attack in a tweet on Monday, a family representative told reporters that the family was dismayed it took the president so long to respond. Trump also tweeted his message from @POTUS, his official White House Twitter account, which has fewer followers than @realDonaldTrump.
Keep reading...Show less