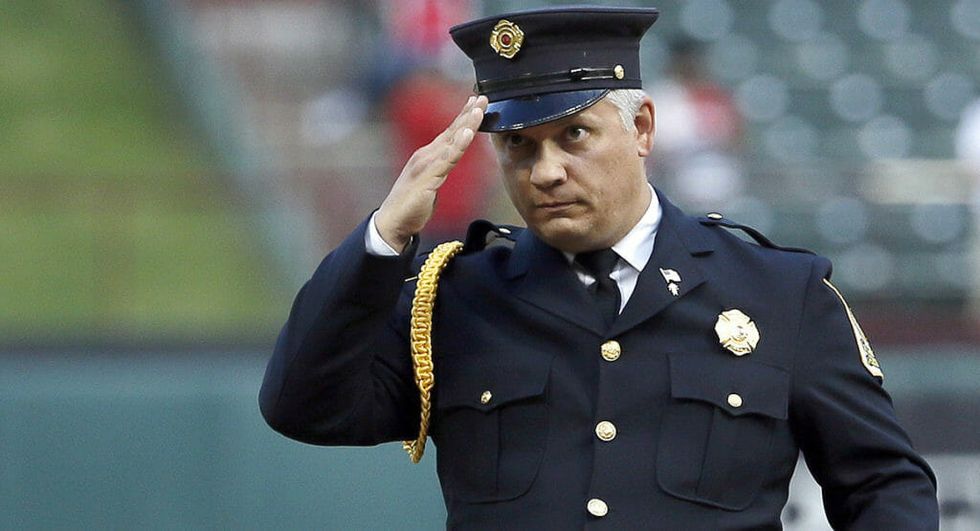 A Republican member of the electoral college from Texas has indicated he will not cast his ballot––one of his state's 38 electoral votes––for President-elect Donald Trump. Christopher Suprun, a Dallas paramedic, previously supported Trump, but now says that Trump's continued attacks on the First Amendment and his numerous financial conflicts of interest have changed his mind. Although Suprun and the state's other Republican electors signed a pledge at a Dallas convention last summer promising to vote for their party's nominee, their signatures are not legally binding, and Texas law does not mandate that electors vote according to the results of the state's presidential election.
"I'm expecting backlash, but that has been par for the course this campaign. People are unhappy. They're angry. But I'm angry, too," said Suprun, who revealed that prior to changing his mind, he received hundreds of emails from concerned citizens urging him not to vote for the president-elect.
The nation's electoral college system "is fine as it currently exists," said Suprun, but he cannot bring himself to vote for the winner. "I was told if we elected Donald Trump he would transform his personality into being presidential. He isn't," he said. "I wanted him to be presidential, but since the election he hasn't grown into our institution, he's attacked them. I am here to elect a president, not a king."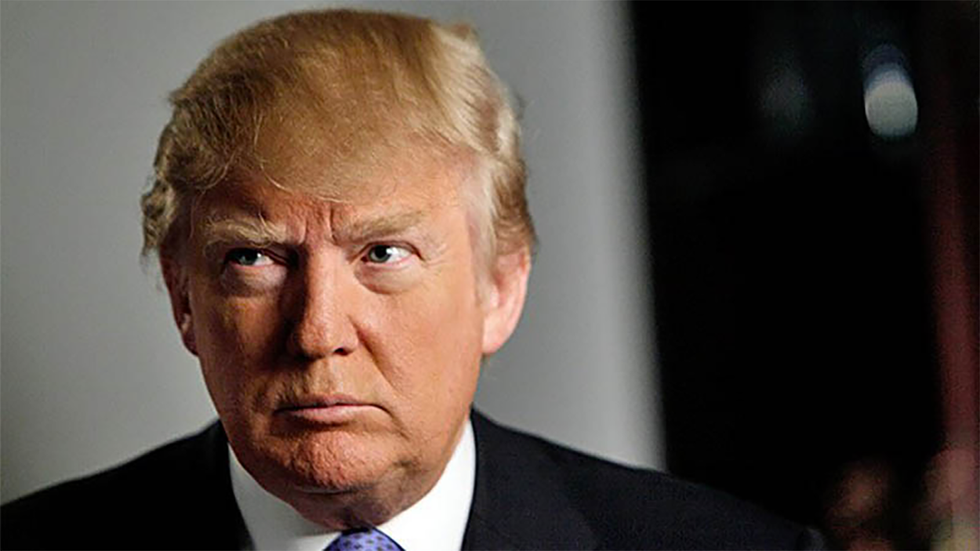 Credit: Source.
But Suprun will not throw his support behind Hillary Clinton, Trump's former Democratic opponent. "I am not sure of who I will vote for, but would have to strongly consider someone like [Ohio Gov. John] Kasich who has both executive and legislative experience bringing people together," he said. "I'm looking for someone we can all unify behind."
In a New York Times op-ed published earlier this week, Suprun detailed the reasons why he will not vote for the president-elect. They include, but are not limited to:
Trump's tendency to discourage civil discourse, preferring, instead, to "stoke fear and outrage."
Trump lacking both "foreign policy experience and the demeanor needed to be commander in chief."
The fact that "more than 50 Republican former national security officials and foreign policy experts co-signed a letter opposing him," cautioning that he would be "a dangerous president."
That he has "urged violence against protesters at his rallies during the campaign" and "speaks of retribution against his critics."
That he has appointed advisers such as Steve Bannon, the executive chair of Breitbart News; earlier this year, Bannon referred to Breitbart as "the platform for the alt-right." Bannon, wrote Suprun, "claims to be a Leninist and lauds villains and their thirst for power, including Darth Vader."
His pick of Gen. Michael T. Flynn for national security adviser. Flynn "has his own checkered past about rules" and installed a secret internet connection in his Pentagon office despite rules to the contrary. Sound familiar?"
Suprun also criticized the president-elect for his many financial conflicts of interest, writing that "Mr. Trump does not understand that the Constitution expressly forbids a president to receive payments or gifts from foreign governments. We have reports that Mr. Trump's organization has business dealings in Argentina, Bahrain, Taiwan and elsewhere." Trump, he says, could face impeachment in his first year "given his dismissive responses to financial conflicts of interest" and has "played fast and loose with the law for years. He may have violated the Cuban embargo, and there are reports of improprieties involving his foundation and actions he took against minority tenants in New York. Mr. Trump still seems to think that pattern of behavior can continue."
Moreover, he points out, Alexander Hamilton set up a "blueprint" for the states' votes in Federalist 68, which argued that the electoral college "should determine if candidates are qualified, not engaged in demagogy, and independent from foreign influence." Trump has "shown again and again that he does not meet
these standards. Given his own public statements, it isn't clear how the Electoral College can ignore these issues, and so it should reject him."
In perhaps his piece's most striking section, Suprun, who was one of the first responders during the September 11 attacks fifteen years ago, writes that the connection between the attack and this year's election "becomes clearer every day." He commends former President George W. Bush for his leadership, saying that while "imperfect," his leadership "showed that America was a great nation." But that was also, he says, the last time he recalls the nation united: "I watch Mr. Trump fail to unite America and drive a wedge between us... This is unacceptable. For me, America is that shining city on a hill that Ronald Reagan envisioned. It has problems. It has challenges. These can be met and overcome just as our nation overcame Sept. 11."
"Fifteen years ago," Suprun concludes, "I swore an oath to defend my country and Constitution against all enemies, foreign and domestic. On Dec. 19, I will do it again."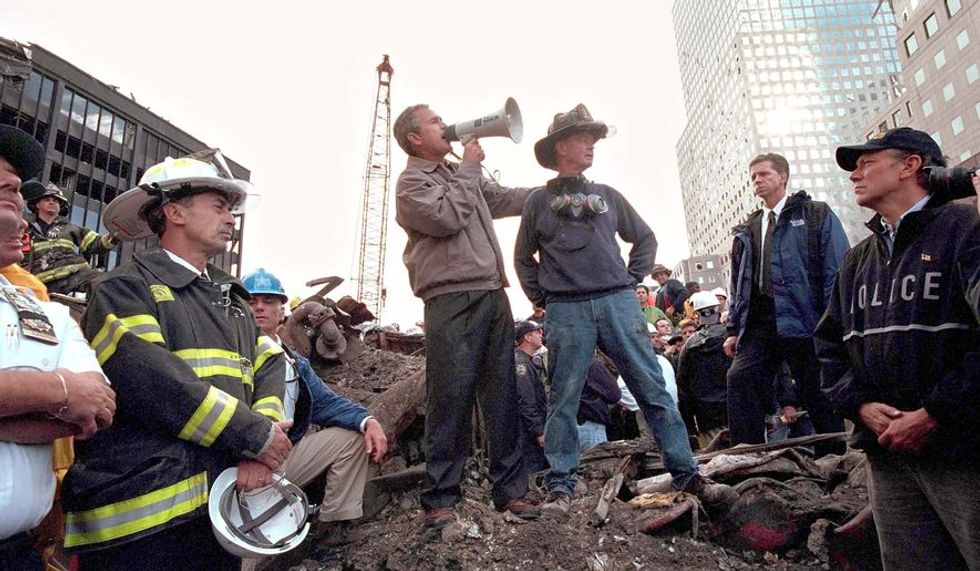 Former President George W. Bush speaks to rescue workers at Ground Zero. (Credit: Source.)
Suprun is not the only Texas Republican elector to break rank with Trump. Art Sisneros, who expressed reservations about the president-elect, decided to resign his position and turn it over to an alternate elector. In a blog post, Sisneros said that he believes he cannot stop Trump from becoming President: "If Trump is not qualified and my role, both morally and historically, as an elected official is to vote my conscience, then I can not and will not vote for Donald Trump for President. I believe voting for Trump would bring dishonor to God," Sisneros wrote. "The reality is Trump will be our President, no matter what my decision is."
"Since I can't in good conscience vote for Donald Trump, and yet have sinfully made a pledge that I would, the best option I see at this time is to resign my position as an Elector," Sisneros continued. "This will allow the remaining body of Electors to fill my vacancy when they convene on Dec 19 with someone that can vote for Trump. The people will get their vote … I will sleep well at night knowing I neither gave in to their demands nor caved to my convictions. I will also mourn the loss of our republic."
Texas Republican Party chairman Tom Mechler said the remaining Texas electors will select Sisneros' replacement when the electors meet to cast their ballots on December 19."We respect Mr. Sisneros' decision and appreciate his willingness to step down from his position as a Presidential Elector in Texas," Mechler said in a statement.
Keep reading...Show less