People want her to stay right where she is.
30 July 2018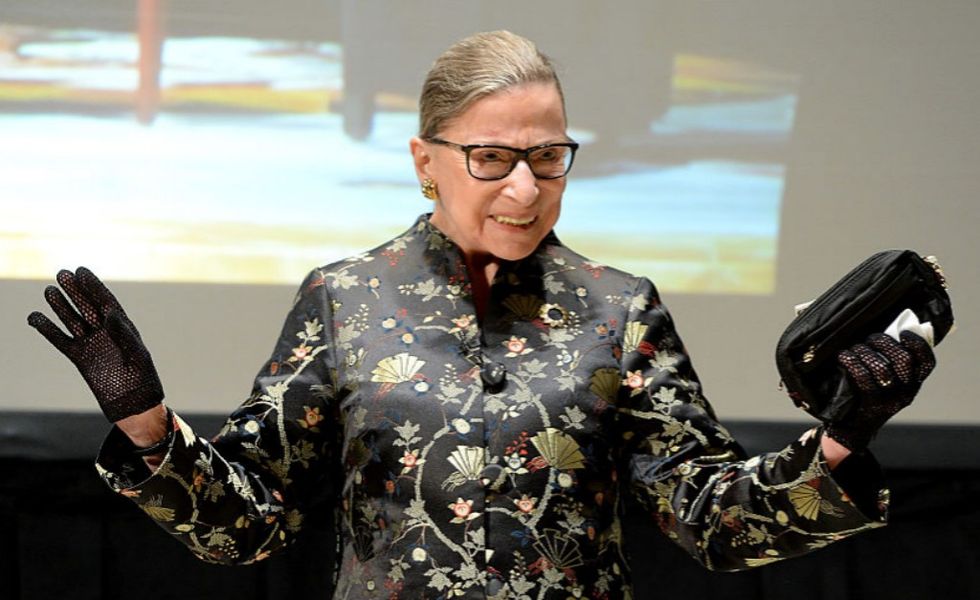 Supreme Court Justice Ruth Bader Ginsburg onstage at the Temple Emanu-El Skirball Center on September 21, 2016 in New York City. (Photo by Michael Kovac/Getty Images)
When Justice Anthony Kennedy announced his retirement from the Supreme Court of the United States (SCOTUS), he was the longest serving Justice at over 30 years, having been appointed in 1988 —an election year— by Republican President Ronald Reagan.
But at 82 years of age, Kennedy was not the oldest Justice on the SCOTUS bench. That distinction belongs to Justice Ruth Bader Ginsburg, a 1993 appointee of President Bill Clinton.
Justice Ginsburg is 85 years old, 3 years Kennedy's senior. 70 year old Justice Clarence Thomas —a President George H. W. Bush appointee in 1991— beats Ginsburg in years on the SCOTUS bench at just shy of 27 to her just shy of 25.
So with Kennedy's announcement, speculation began on the retirements of Ginsburg and Thomas. Would they wait until after the 2018 midterms to retire? Or would they wait until after the 2020 presidential election?
Conservatives would rather see Thomas and Ginsburg retire under President Donald Trump or another Republican president. Liberals would prefer the opposite which means both Justices would need to retire, at minimum, after January 2021.
Considered a liberal Justice, Ginsburg fans voiced concern over the balance of the SCOTUS if she retired while Trump or Pence remain in office. Her detractors expressed hope that her retirement drew near, giving Trump a third SCOTUS pick after Republicans blocked President Barack Obama's last SCOTUS pick.
Now the woman herself has addressed the issue. Ginsburg says she plans to remain on the bench for at least the next five years, or until 2023.
Speaking in New York City Sunday after a play based on her former colleague, Justice Antonin Scalia, Ginsburg relieved some fears while disappointing others.
"I'm now 85," Ginsburg stated. "My senior colleague, Justice John Paul Stevens, he stepped down when he was 90, so think I have about at least five more years."
SCOTUS Retirement → •Since 1900, thirty-six justices have retired at avg age of about 74 •Avg age of retirement for… https://t.co/8NFMiV2EYS

— Fox News Research (@Fox News Research) 1532957348.0
Ginsburg maintains a strict workout regimen which includes weight training and planking, as shown in the documentary film RBG.
@Amy_Siskind https://t.co/dCW0U3Fxel

— Lisa Rene (@Lisa Rene) 1532921522.0
If 85 year old Ruth Bader Ginsburg can do planks to help protect the reproductive rights of women, you can certainl… https://t.co/sNgqLxNYau

— Siddhartha Khosla (@Siddhartha Khosla) 1530131975.0
The news of her intention to remain on the bench received high praise and gratitude from liberal leaning United States citizens on Twitter.
From her lips to God's ears, and may she live many more years to enjoy retirement after Trump hits the dustbin of h… https://t.co/HbXsAv1hMO

— John Dean (@John Dean) 1532931160.0
@adamcbest https://t.co/YwoG1U6A9F

— pccrasher (@pccrasher) 1532913265.0
Ruth Bader Ginsburg now there is a true hero willing to forego retirement so her job won't go to whatever #Nazi… https://t.co/9Cl7CQVSxJ

— Stephen Sipila (@Stephen Sipila) 1532958989.0
Retirement at 90! Are you listening Anthony Kennedy? Eh??? 90! Packing it in at 82 is for quitters! https://t.co/3FvT4RO2n2

— Go Asia Recruitment (@Go Asia Recruitment) 1532957203.0
@adamcbest #RBG #Novote #IMPEACHTRUMPNOW https://t.co/YZr6atPfus

— sherry ❤️Reality Winner🆘 (@sherry ❤️Reality Winner🆘) 1532960596.0
Ruth Bader Ginsburg says she wants to stay on the Supreme Court for "at least five more years," which means she'll… https://t.co/tenjCV6mN1

— Adam Best (@Adam Best) 1532911447.0
So thankful for Ruth Bader Ginsburg for sacrificing her retirement and family time to protect the American people,… https://t.co/G50EWxohac

— Sonia Prince (@Sonia Prince) 1532912466.0
@adamcbest https://t.co/bSafuIRqMW

— Lisa Rene (@Lisa Rene) 1532912089.0
Of course, not everyone is happy about Ginsburg's decision to hold off on retirement.
@krassenstein Wait and see ... In @POTUS second term he will pick a Justice to take Ginsburg's seat if not sooner… https://t.co/gN2JF7nq3q

— Harry Lane (@Harry Lane) 1532950110.0
But Ginsburg addressed term limits as well in her Sunday remarks. The purpose of a lifetime SCOTUS appointment is to allow the Justices and the court to remain minimally influenced by executive and legislative branch personnel changes.
"You can't set term limits, because to do that you'd have to amend the Constitution. Article 3 says ... we hold our offices during good behavior," Ginsburg stated. Then she joked,
And most judges are very well behaved."
Keep reading...Show less